Scientists in Egypt Improves Oil Plants
October 19, 2016
Dr. Mohamed Tawfik, Head of the Oil Crops Biotechnology Lab (OCBL) at the Agricultural Genetic Engineering Research Institute (AGERI), Giza, Egypt, discussed the status of developing oil plants in Egypt with Prof. Naglaa Abdallah, Director of the Egypt Biotechnology Information Center (EBIC) during an interview.
According to Dr. Tawfik, Egypt's production of vegetable oils is limited and only covers about 3-5% of its need. Over the past 25 years, vegetable-oil consumption in Egypt increased from 8.7 kg up to 23.4 kg/ capita. Therefore, the only way to minimize this gap is by changing the consumer's consumption pattern and increasing cultivation of oil-producing crops via expanding into new reclaimed arid areas.
"The fact that we are lacking new genotypes of sesame that could be planted into new reclaimed desert-areas is a major restricting factor, limiting expansion of sesame cultivation into new lands. We are working on providing plant breeders with new sesame lines as a new genetic materials based on a commercial variety which is well adapted to the Egyptian conditions," Dr. Tawfik added.
Dr. Tawfik and his research team aimed to minimize yield loss in sesame by understanding the mechanisms determining seed shattering and engineering enhanced dehydration stress tolerance in sesame plant. "We are addressing the enhancement seed-shattering resistance in sesame via understanding the different genes involved in the maturation, and cell-wall degrading enzymes of sesame capsules. Several candidates were identified and currently we have both partial and full-length gene clones of some of the key gene plays; we are currently in the process of introducing the different constructs into sesame plants. Also, we are working on enhancement of dehydration-stress tolerance in sesame by introducing the LOS5 gene, encoding for an ABA biosynthesis enzyme needed in the last step of ABA biosynthesis in plants. So far we have 14 overexpressing transgenic lines of sesame and currently, several T1 lines are being tested and evaluated under greenhouse conditions," said Dr. Tawfik.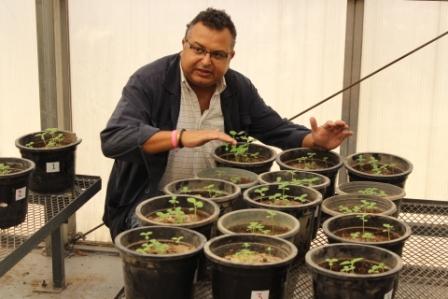 For more information about biotechnology in Egypt, contact Dr. Naglaa Abdallah at naglaa.abdallah@agr.cu.edu.eg.
Biotech Updates is a weekly newsletter of ISAAA, a not-for-profit organization. It is distributed for free to over 22,000 subscribers worldwide to inform them about the key developments in biosciences, especially in biotechnology. Your support will help us in our mission to feed the world with knowledge. You can help by donating as little as $10.