Largest-Ever Study of GM Crops Reveals their Environmental Impacts
September 21, 2016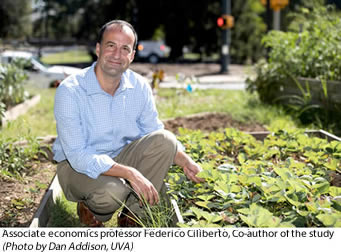 University of Virginia economics professor Federico Ciliberto leads the largest-ever study of the environmental impacts of genetically modified (GM) crops in the U.S.
Alongside Edward D. Perry of Kansas State University, David A. Hennessy of Michigan State University, and Gian Carlo Moschini of Iowa State University, the four economists studied annual data from more than 5,000 soybean and 5,000 maize farmers in the U.S. from 1998 to 2011, exceeding previous studies that have been limited to one or two years of data.
The study found that maize farmers who planted insect resistant seeds used significantly less insecticide (about 11.2 percent less) than farmers who did not use GM maize; and that they also used 1.3 percent less herbicides over the 13-year period. On the other hand, adopters of GM soybean used 28 percent more herbicides than non-adopters.
For more details, read the news release at the University of Virginia website.
The Crop Biotech Update is a weekly newsletter of ISAAA, a not-for-profit organization. The CBU is distributed for free to over 23,000 subscribers worldwide to inform them about the key developments in biosciences, especially in agricultural biotechnology. Your support will help us in our mission to feed the world with knowledge. You can help by donating as little as $10.
See more articles:

News from Around the World

Research Highlights

Plant Breeding Innovations

Beyond Crop Biotech

From the BICs

Resources


Read the latest:


Subscribe to CBU: