Plant Defensin from Legume Confers Resistance to Leaf Rust in Wheat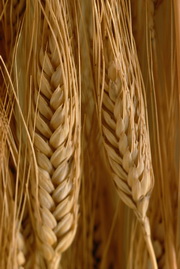 Leaf rust caused by fungus Puccinia triticina (Pt) is known as an economically important disease of wheat globally, causing up to 50 percent yield loss. For the past years, producers used resistant wheat cultivars to control the disease, but genetic resistance lasts only for a short time and breaks down with the arrival of new virulent Pt strains. Thus, Jagdeep Kaur of Donald Danforth Plant Science Center and colleagues developed a transgenic wheat with durable resistance to leaf rust.

A biweekly update on gene editing research, regulations, and impact
produced by ISAAA Inc.

A monthly update on gene drive research and development provided by ISAAA in collaboration with the Outreach Network for Gene Drive Research
Biotech Updates is a weekly newsletter of ISAAA, a not-for-profit organization. It is distributed for free to over 22,000 subscribers worldwide to inform them about the key developments in biosciences, especially in biotechnology. Your support will help us in our mission to feed the world with knowledge. You can help by donating as little as $10.