Kenyan Scientist Receives the 2016 Norman Borlaug Award
August 31, 2016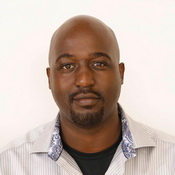 Dr. Andrew Mude, a young Kenyan scientist, is the winner of the 2016 Norman Borlaug Award for Field Research and Application, endowed by the Rockefeller Foundation. The award recognizes exceptional, science-based achievement in agriculture and food production by individuals under 40 who demonstrate intellectual courage, stamina, and determination in the fight to eliminate global hunger and poverty.
Mude was awarded for his work in developing insurance for communities whose livelihoods depend on herding cattle, goats, sheep, and camels in remote, arid and drought-prone lowlands of the Horn of Africa. He did this by using satellite data to achieve an innovative and highly effective solution that helps pastoral livestock herders reduce the considerable and costly drought-risk they face.
The selection was made by Ambassador Kenneth Quinn, President of the World Food Prize Foundation, at an event hosted by Director General Jimmy Smith of the International Livestock Research Institute (ILRI), on August 30, 2016, in Nairobi, Kenya. "Dr. Mude reflects Borlaug-like persistence in his science-based, community mediated, and innovative approach to providing financial protection, through insurance, to millions of poor herders and their families who care for and depend upon their livestock as they move across the vast rangelands of East Africa," Quinn said. Honorable Willy Bett, Cabinet Secretary in the Kenya Ministry of Agriculture, Livestock and Fisheries said that the government is "planning to replicate this novel insurance scheme across all of northern Kenya, where some 4 million pastoralists depend primarily on livestock."
Dr. Mude is a principal economist at ILRI. He spearheads a program called "Index-Based ivestock Insurance" (IBLI), which is greatly reducing the vulnerability of East Africa's livestock herding families to recurring droughts. "We draw inspiration from Borlaug's lifelong commitment to make his research make a difference" he said. "Together with many partners and the herders themselves, we're determined to find new ways to help millions of people continue to practice the oldest form of sustainable food production the world has ever seen."
For more information about the event, contact Dr. Jimmy Smith on J.Smith@cgiar.org
Biotech Updates is a weekly newsletter of ISAAA, a not-for-profit organization. It is distributed for free to over 22,000 subscribers worldwide to inform them about the key developments in biosciences, especially in biotechnology. Your support will help us in our mission to feed the world with knowledge. You can help by donating as little as $10.
See more articles:

News from Around the World

Research Highlights

Beyond Crop Biotech

Resources

Plant


Read the latest:


Subscribe to BU: