ARGOS8 Variants Generated via CRISPR-Cas9 Improve Maize Grain Yield
August 31, 2016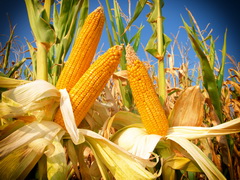 The maize gene ARGOS8 negatively regulates ethylene responses. In a previous study, transgenic plants overexpressing ARGOS8 have exhibited reduced ethylene sensitivity and improved grain yield under drought stress conditions. To explore further, researchers from DuPont Pioneer, led by Jinrui Shi, evaluated 400 maize inbreds for ARGOS8 mRNA expression, aiming to use ARGOS8 in drought-tolerance breeding.
The team then used a CRISPR-Cas-enabled breeding technology to generate novel variants of the ARGOS8 gene. The native maize GOS2 promoter, which promotes a moderate level of expression, was introduced into the untranslated region of the native ARGOS8 gene or was used to replace the native promoter of ARGOS8. The generated ARGOS8 variants exhibited elevated levels of ARGOS8 transcripts that were detectable in all the tissues tested.
Further field studies showed that the ARGOS8 variants also had increased grain yield under flowering stress conditions and had no yield loss under well-watered conditions. These results prove the value of the CRISPR-Cas9 system in generating novel allelic variation for plant breeding.
For more information on this promising study, read the full article in Plant Biotechnology Journal.
Biotech Updates is a weekly newsletter of ISAAA, a not-for-profit organization. It is distributed for free to over 22,000 subscribers worldwide to inform them about the key developments in biosciences, especially in biotechnology. Your support will help us in our mission to feed the world with knowledge. You can help by donating as little as $10.
See more articles:

News from Around the World

Research Highlights

Beyond Crop Biotech

Resources

Plant


Read the latest:


Subscribe to BU: