Kenyan County Executives of Health, Environment and Agri Call for Lifting of GMO Ban
August 31, 2016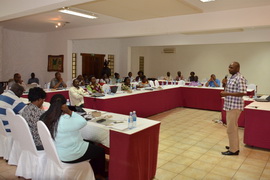 Several Kenyan County Executive Committee members (county ministers) for health, environment and agriculture expressed their support for crop biotechnology and called for lifting of the 2012 GM foods import ban. Dr. Andrew Mulwa, Chair of the 47 County Executives of Health, expressed concern that the country was still holding onto a ban that was informed by a flawed study. He urged all County Executives to take up the matter and engage the national government to address this issue, and create an environment that would enable Kenyan farmers benefit from GM crops. Dr. Mulwa was speaking during a biotechnology and biosafety sensitization workshop held on August 24-25, 2016, in Kenya's coastal region. Dr. Alice Musimbi, a medical oncologist, echoed his sentiments, adding that "there has not been any direct link to cancer from consumption of GM foods."
During the meeting, Hon. Mwalimu Menza, County Executive for Agriculture from coastal Kilifi County regretted that his region was once full of vibrant cotton growers who had been forced to abandon production due to challenges of pest infestation. "The cotton ginneries in this area have all closed down resulting in loss of hundreds of jobs and income for workers and farmers" he said. Hon. Menza added that the "government is sitting on a potential solution to the problem" and urged the National Biosafety Authority to fast-track the approval of Bt cotton which he said will greatly benefit his county and country at large.
The workshop was attended by a broad range of stakeholders, including some heads of intergovernmental relations, several county directors of environment from the National Environment Management Authority, directors of policy from key ministries, members of the Biosafety Appeals Board, academia, as well as experts from Kenya Agricultural and Livestock Research Organization, led by their Director General, Dr. Eliud Kireger. It was co-organized by ISAAA AfriCenter, the Biosafety Appeals Board, and the Program for Biosafety Systems.
For more information about this workshop, contact Dr. Margaret Karembu of ISAAA AfriCenter at mkarembu@isaaa.org.
The Crop Biotech Update is a weekly newsletter of ISAAA, a non-for-profit organization. The CBU is distributed for free to over 23,000 subscribers worldwide to inform them about the key developments in biosciences, especially in agricultural biotechnology. Your support will help us in our mission to feed the world with knowledge. You can help by donating as little as $10.
See more articles:

News from Around the World

Research Highlights

Plant Breeding Innovations

Beyond Crop Biotech

Resources


Subscribe to CBU: