Agri Technology Seminar Concluded in Tegal, Indonesia
May 11, 2016
"Research and technology is important to support the improvement and sustainability of food production," said Mr. Enthus Susmono, Tegal's Regent, who was the featured speaker during a seminar on Agricultural Technology to Support Food Security in Indonesia at Regency Administrative Office, Slawi, Tegal, Central Java on March 29, 2016.
The seminar organized by the National Outstanding Farmer Association (NOFA); Indonesian Biotechnology Information Centre (IndoBIC); Indonesia Society for Agricultural Biotechnology (ISAB); and CropLife Indonesia aimed to introduce the development and strategic role of biotechnology to the Head of Regency in Tegal, Central Java. Some eighty-five (85) people included farmers, agricultural officers, government officials, scientists were brought together to discuss about the biotechnology development and its strategic role to help increasing crop productivity in order to support food self-sufficiency in Indonesia.
"Biotechnology is one alternative that can be used to create superior seeds that are expected to boost agricultural production. The application of biotechnology has been able to increase the quantity and quality of agriculture, such as crop pest resistant, stress resistant, drought resistant, plants with high nutrient content, and many others. Biotechnology application can also be used to create seeds, crop varieties, biopesticides and biofertilizers which are environment friendly. Indonesia has large areas, but only a few of it can be planted. The total land area is not comparable to an increasing population. Several pests interfere agricultural plantation including biotic and abiotic pests. The technology application is considered to be very important in increasing agricultural production hence it can benefit many farmers in Indonesia," Mr. Susmono explains.
Ir. Winarno Tohir, Chairman of farmers group NOFA and Prof. Dr. Ir. Parulian Hutagaol of Bogor Agricultural University discussed Farmers' Perspective on Biotechnology Adoption in Indonesia and Socio-Economic Consideration for Biotechnology Application in order to Support National Food Security and Economy, respectively.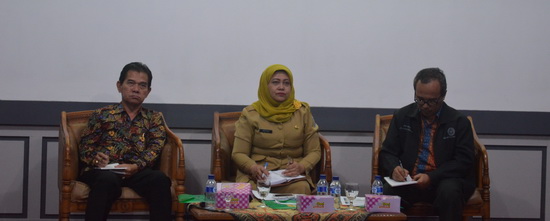 For more information, send a message to Dewi Suryani at catleyavanda@gmail.com.
The Crop Biotech Update is a weekly newsletter of ISAAA, a non-for-profit organization. The CBU is distributed for free to over 23,000 subscribers worldwide to inform them about the key developments in biosciences, especially in agricultural biotechnology. Your support will help us in our mission to feed the world with knowledge. You can help by donating as little as $10.
See more articles:

News from Around the World

Research Highlights

Beyond Crop Biotech

From the BICs


Subscribe to CBU: