ISAAA Report on Biotech Crops Launched in Burkina Faso
May 4, 2016
ISAAA AfriCenter in collaboration with the Africa Seed Trade Association (AFSTA) and the Association Nationale des Entreprises Semencières du Burkina Faso (ANES-BF), a local seed trade association, launched the ISAAA Brief 51: 20th Anniversary (1996 to 2015) of the Global Commercialization of Biotech Crops and Biotech Crop Highlights in 2015 in Burkina Faso on April 20, 2016. The event was also an occasion to raise awareness for seed traders on GM crops. It was attended by 40 participants, including seed traders, media, regulators, and scientists.
Hon. Henri Koubizara, a member of the parliamentary commission on economic development, environment and climate change was the guest of honor at the event. In his speech, Hon. Koubizara underlined the importance of cotton for the agricultural sector as the country's first cash crop, saying that Bt cotton had made a difference for local farmers in Burkina Faso. He urged for more awareness on GMOs, saying that most information in the public domain on GMOs is negative. "Much needs to be done to improve awareness on GM crops even as the country is gearing towards adoption of more GM crops," said Hon. Koubizara. He pledged his own support to facilitate meetings between scientists and parliamentarians, for broader sensitization on issues of biotechnology and biosafety, among the country's legislators.
Dr. Margaret Karembu presented the highlights of the ISAAA report, emphasizing the role of seed traders in adoption and commercialization of GM crops. Local scientists and regulators shared the status of GM crop research and regulation in Burkina Faso, and the West Africa region at large.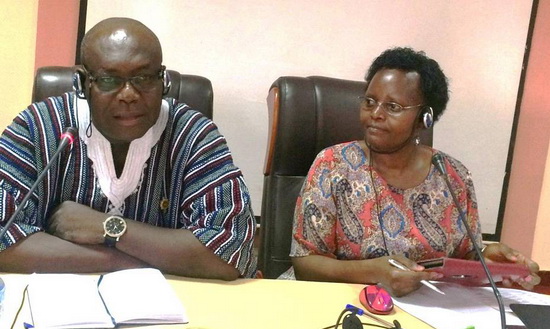 Read the Executive Summary of the report from ISAAA.
Biotech Updates is a weekly newsletter of ISAAA, a not-for-profit organization. It is distributed for free to over 22,000 subscribers worldwide to inform them about the key developments in biosciences, especially in biotechnology. Your support will help us in our mission to feed the world with knowledge. You can help by donating as little as $10.
See more articles:

News from Around the World

Research Highlights

Beyond Crop Biotech

From the BICs

Announcements


Read the latest:


Subscribe to BU: