Policy Makers Attend Biotech and Biosafety Sensitization Seminar Burkina Faso
May 4, 2016
The African Biosafety Network of Expertise (ABNE-NEPAD), in partnership with Burkina Faso National Agricultural Research Institute and the Open Forum on Agricultural Biotechnology in Africa (OFAB- Burkina Faso) organized a biotechnology and biosafety sensitization seminar on April 19, 2016 in Ouagadougou, Burkina Faso. It was attended by more than 80 participants including high level government officials, representatives from leading African biotechnology and biosafety organizations, civil society members, and the media.
Hon. Prof. Filiga Michel Sawadogo, Minister of Higher Education Scientific Research and Innovation, guest of honour at the event, pledged support for the ongoing research to address fiber length on current Bt cotton varieties. "My ministry will ensure that scientists work to address the issue of fiber length of the present Bt cotton varieties in order to satisfy the market." He recommended increased awareness initiatives on biotechnology and biosafety for decision-makers such ministers, members of parliament and other regional governing bodies.
ISAAA AfriCenter Director, Dr. Margaret Karembu, also presented the ISAAA Brief 51: 20th Anniversary (1996 to 2015) of the Global Commercialization of Biotech Crops and Biotech Crop Highlights in 2015.
The meeting brought together leading African biosafety and biotechnology stakeholders with the aim of sharing information and experiences with local decision makers on biotechnology and biosafety. It provided an opportunity for participants to have a better understanding of the context and status of biotechnology and biosafety in Burkina Faso and discuss strategies to enhance related science communication in the country.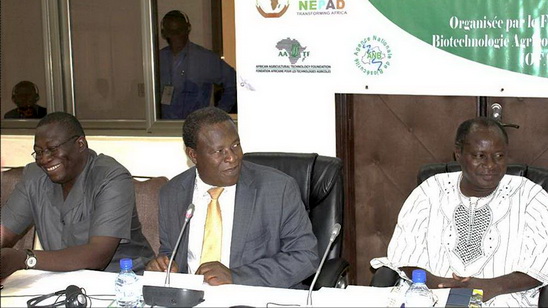 For more information about the event, contact Dr. Margaret Karembu at mkarembu@isaaa.org.
The Crop Biotech Update is a weekly newsletter of ISAAA, a not-for-profit organization. The CBU is distributed for free to over 23,000 subscribers worldwide to inform them about the key developments in biosciences, especially in agricultural biotechnology. Your support will help us in our mission to feed the world with knowledge. You can help by donating as little as $10.
See more articles:

News from Around the World

Research Highlights

Beyond Crop Biotech

From the BICs

Announcements


Read the latest:


Subscribe to CBU: