UBIC-NARO Showcases Information on Modern Biotech at Agribiz Expo
May 4, 2016
The Generation Agripreneur, Shaping the Next 25 years of Ugandan Agribusiness - an Agriculture value chain summit and Expo was organized by the American Chamber of Commerce Uganda from April 19-21, 2016 with the theme, "Agribusiness Investment Opportunities in Uganda: Gifted by Nature".
The National Agricultural Research Organization (NARO) through its information and knowledge sharing hub-Uganda Biosciences Information Center (UBIC) participated in the event to showcase and share with the wider public, information on modern agricultural research and its relevance in addressing issues pertinent to the agricultural sector. During the three-day event, local and international exhibitors, policy makers, farmers, and a range of professionals among others were engaged with the UBIC team in constructive exchanges of information and ideas concerning topical issues on modern agricultural research and development both in Uganda and globally.
By close of the event, over 100 participants visited the UBIC stall and got to learn about the diverse modern agricultural research currently taking place in Uganda. One of the stall visitors was the U.S. Ambassador to Uganda - Deborah R. Malac who commended the biotech research of NARO. An appreciable number of participants acknowledged that they all along had negative perceptions on GM crops. Most of them did not know the difference between conventionally bred crops and GM crops. Many were shocked to learn that the current policy environment does not allow for public release of GM crops some of which they were demanding.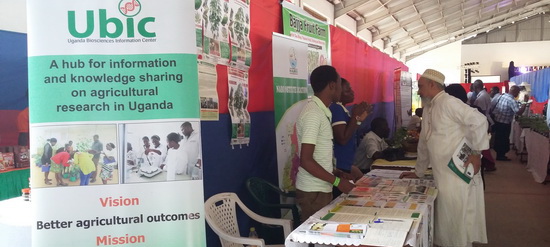 For more details, send email to ubic.nacrri@gmail.com.
The Crop Biotech Update is a weekly newsletter of ISAAA, a not-for-profit organization. The CBU is distributed for free to over 23,000 subscribers worldwide to inform them about the key developments in biosciences, especially in agricultural biotechnology. Your support will help us in our mission to feed the world with knowledge. You can help by donating as little as $10.
See more articles:

News from Around the World

Research Highlights

Beyond Crop Biotech

From the BICs

Announcements


Read the latest:


Subscribe to CBU: