Development of a Novel Transgenic Cotton to Control Bollworm
February 10, 2016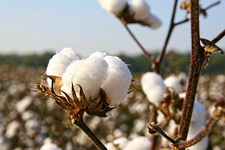 The cotton bollworm (Helicoverpa armigera) is an important pest of cotton causing great losses in production. To develop resistant cotton varieties, Zhen Yue and researchers from the China Agricultural University cloned the gene encoding for neuropeptide F (NPF) from cotton bollworm.
The npf gene was found to regulate feeding behavior of cotton budworm. Knock-down of larval npf using dsNPF resulted in decreases of food consumption and body weight. The researchers then produced transgenic tobacco plants expressing dsNPF and transgenic cotton plants with stably expressed dsNPF. Results showed that larvae that fed on the transgenic plants had lower food consumption, body size and body weight compared to controls.
The results indicate that NPF could be useful in the control of feeding of H. armigera and for the production of potential transgenic insect resistant cotton.
For more information, read the full article in Plant Biotechnology Journal.
Biotech Updates is a weekly newsletter of ISAAA, a not-for-profit organization. It is distributed for free to over 22,000 subscribers worldwide to inform them about the key developments in biosciences, especially in biotechnology. Your support will help us in our mission to feed the world with knowledge. You can help by donating as little as $10.
See more articles:

News from Around the World

Research Highlights

Beyond Crop Biotech

From the BICs


Read the latest:


Subscribe to BU: