BTI Scientists Develop New Technique to Boost Beta-carotene in Tubers
November 4, 2015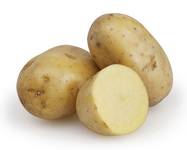 Scientists from Boyce Thompson Institute (BTI) and Donald Danforth Plant Science Center are working towards developing vitamin A-enriched tubers. Assistant Professor Joyce Van Eck of BTI developed a new technique for building up beta-carotene, the precursor of vitamin A, in potatoes. With the help of experts from Danforth, this technique will be used to develop
biofortified
cassava roots.
The new technique includes inserting of a specially designed
DNA
segment into the genome of potato to turn off the gene that codes for the enzyme that converts beta-carotene into zeaxanthin, a carotenoid like beta-carotene but cannot be converted into vitamin A. This then leads to accumulation of beta-carotene, in such amount that is enough to satisfy up to 18 percent of a toddler's required daily intake of vitamin A. The team is planning to add more strategies to further increase the levels of beta-carotene.
Van Eck is now working with the Danforth team to transfer the technology to cassava plants. If successful, the vitamin A-enriched cassava will help decrease the number of children with vitamin A deficiency (VAD), particularly in Africa and South Asia where VAD is prevalent.
Read more about the study from
BTI
.
Biotech Updates is a weekly newsletter of ISAAA, a not-for-profit organization. It is distributed for free to over 22,000 subscribers worldwide to inform them about the key developments in biosciences, especially in biotechnology. Your support will help us in our mission to feed the world with knowledge. You can help by donating as little as $10.