Stakeholders from Africa Visit Bt Cotton Fields in India
September 30, 2015
Delegates from 29 East and South African cotton growing countries participate in a week long study tour to Bt cotton fields in India from September 27 to October 2, 2015. The "Seeing is believing" study tour is being conducted by the South Asia Biotechnology Centre (SABC), New Delhi, in collaboration with the Common Market for Eastern and Southern Africa (COMESA), U.S. Department of Agriculture, and ISAAA AfriCenter. The delegation includes decision and policy makers, regulators, government officials, researchers, and consumer representatives from six cotton growing countries—Kenya, Sudan, Malawi, Ethiopia, Swaziland, and Zambia.
The objectives of the study tour are to enable the delegates to witness the performance of Bt cotton hybrids in farmers' fields and to give them the opportunity to interact with officials of both public and private sector institutions and discuss the benefits and risks of approving Bt cotton based on India's experience in Bt cotton adoption. In the first leg of the study tour (September 28-29), they visited the irrigated cotton growing belt in Haryana and Punjab States. The next leg of the study tour (September 30 to October 2) includes a visit to the dry land areas of Maharashtra.
Participants had the opportunity to interact with scientists and cotton breeders of CCS Haryana Agricultural University (HAU), Hisar and Central Institute for Cotton Research (CICR), Regional Research Station, Sirsa. Hisar Dr. K.S. Kokhhar, Vice Chancellor of HAU lauded the transformation of cotton in the Northern India and alluded that the "success of Bt cotton is exemplary and has helped in revolutionizing the cotton sector in India." Hon. Moses Mwaje, Chair of the Kenya's Ministry of Agriculture and Livestock said that "African countries cannot be left behind in technology adoption. African countries want to adopt and need to move forward with the latest technology available for their benefit. Indian farmers were repeatedly growing Bt cotton, which is a testimony that it is addressing the need of people."
It is expected the tour would help build the necessary confidence among the African stakeholders on cotton hybrid seed market and regulatory processes, biosafety communications, and commercialization of GE crops.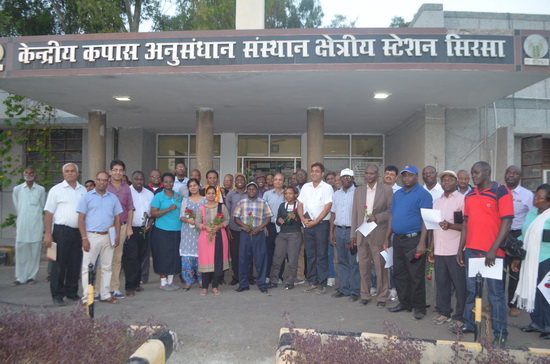 For more information about the study tour please contact bhagirath@sabc.asia or kadambini@sabc.asia.
Biotech Updates is a weekly newsletter of ISAAA, a not-for-profit organization. It is distributed for free to over 22,000 subscribers worldwide to inform them about the key developments in biosciences, especially in biotechnology. Your support will help us in our mission to feed the world with knowledge. You can help by donating as little as $10.