3,000 Rice Genomes Data Available on the AWS Cloud
September 30, 2015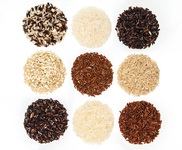 The International Rice Research Institute announced that the 3,000 Rice Genomes Project (3K RGP) has successfully sequenced 3,024 rice varieties from 89 countries. This big data is a massive source of information for understanding the natural genetic variation in rice and for discovery of novel genes linked to economically important traits. It is expected that this project will help speed up the development of better rice varieties to provide food for the growing world population. The desirable traits for improvement in rice include nutritional quality, tolerance to pest and diseases, resistance to flood and drought, and reduced greenhouse gas emissions.
The 3K RGP is a collaboration of three research institutions — IRRI, Chinese Academy of Agricultural Sciences (CAAS), and the Beijing Genomics Institute (BGI) Shenzhen. Majority (82%) of the rice varieties with sequenced genomes are housed in the IRRI gene bank, while the remaining portion (18%) is in CAAS gene bank. The results are available online for free as an Amazon Web Services (AWS) Public Data Set.
"The great thing about the release of this dataset is that it is immediately useable," said Dr. Kenneth McNally, senior scientist at IRRI. "It comes with tools to help researchers visualize and analyze genetic information," he added.
Read the news release from IRRI for more information.
Biotech Updates is a weekly newsletter of ISAAA, a not-for-profit organization. It is distributed for free to over 22,000 subscribers worldwide to inform them about the key developments in biosciences, especially in biotechnology. Your support will help us in our mission to feed the world with knowledge. You can help by donating as little as $10.