New Publication: 50 Biotech Bites
September 30, 2015
ISAAA releases the book entitled 50 Biotech Bites, which contains 50 topics relevant to the science, applications, and issues behind agricultural biotechnology. It is based on pocket-sized publications called Pockets K or Pockets of Knowledge which have been developed by ISAAA for the last 15 years. Each topic is discussed using "bite-sized" information to "feed" hungry minds and engage with others on the technology to make informed decisions about its adoption and use.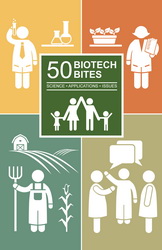 Download a copy of the book for free at http://www.isaaa.org/resources/publications/50biotechbites/download/default.asp.
Biotech Updates is a weekly newsletter of ISAAA, a not-for-profit organization. It is distributed for free to over 22,000 subscribers worldwide to inform them about the key developments in biosciences, especially in biotechnology. Your support will help us in our mission to feed the world with knowledge. You can help by donating as little as $10.