Rothamsted Research Releases Results of GM Wheat Field Trials
July 1, 2015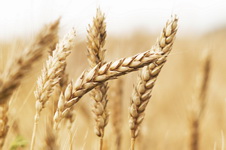 Results of the GM wheat field trial conducted by Rothamsted Research in 2012-2013 show that GM wheat producing aphid alarm pheromone did not repel aphids in the field. Their findings are published in Scientific Reports journal.
Aphids are known to be a destructive pest of wheat, transmitting viruses and decreasing yield. Farmers turn to insecticides to address aphid infestations. Thus, scientists at Rothamsted Research developed GM wheat that produces aphid alarm pheromone (E)-β-farnesene (Eβf). Laboratory studies showed that aphids were successfully repelled by the pheromone. Then the scientists tested the GM wheat expressing the pheromone in open field conditions. However, no significant differences in aphid infestation were found between GM wheat and conventional wheat.
"The research project overall provided us with fascinating results. We now know that in order to repel natural aphid populations in the field, we may need to alter the timing of release of the alarm signal from the plant to mimic more closely that by the aphid, which is a burst of release in response to a threat rather than continuous…This may require altering release rates of alarm pheromone from the plants, but also engineering the wheat plant to release the pheromone only when the aphid arrives, " said Professor John Pickett, one of the authors of the study.
Read the news release from Rothamsted Research and the journal article from Scientific Reports.
The Crop Biotech Update is a weekly newsletter of ISAAA, a not-for-profit organization. The CBU is distributed for free to over 23,000 subscribers worldwide to inform them about the key developments in biosciences, especially in agricultural biotechnology. Your support will help us in our mission to feed the world with knowledge. You can help by donating as little as $10.
See more articles:

News from Around the World

Research Highlights

Beyond Crop Biotech

From the BICs

Resources


Read the latest:


Subscribe to CBU: