Gene Associated with Morphine Production in Poppy Plant Discovered
July 1, 2015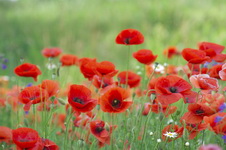 Researchers from University of York and GlaxoSmithKline (GSK) Australia conducted a study which led to the discovery of the gene in poppy plants that is necessary in morphine production. Morphine is a natural compound found in poppy plant and used in painkillers.
The researchers discovered that the gene, STORR is the one producing morphinans and evolved with two other genes that result in morphine production. This was identified when the researchers examine the poppy plant varieties that were unable to produce morphine or codeine. These plants carry mutations in STORR gene that serve as a barrier in morphine production pathway in poppy plants.
STORR gene discovery in poppy plant will help in developing breeding of poppy plant varieties targeting the production of anti-cancer compound such as noscapine and aid in genetic engineering of morphine production in microbes.
Read the whole story of their study at the University of York's website.
The Crop Biotech Update is a weekly newsletter of ISAAA, a non-for-profit organization. The CBU is distributed for free to over 23,000 subscribers worldwide to inform them about the key developments in biosciences, especially in agricultural biotechnology. Your support will help us in our mission to feed the world with knowledge. You can help by donating as little as $10.
See more articles:

News from Around the World

Research Highlights

Beyond Crop Biotech

From the BICs

Resources


Subscribe to CBU: