Journalists Applaud Increased Engagement with Agricultural Scientists
July 1, 2015
Journalists who attended a media sensitization workshop on biotechnology organized by Uganda Biosciences Information Center, urged the agriculture communication and information hub to increase deliberate efforts to link them to scientists so as to promote better science reporting.
During the workshop which was held on June 23, 2015 at the National Crops Resources Research Institute (NaCRRI), the journalists appreciated the efforts of scientists to help them understand modern agricultural processes such as genetic engineering. The journalists expressed need for more engagements to enhance objective reporting and dissemination of information on improved varieties to farmers. They also commended the National Agricultural Research Organisation- which established UBIC, for championing the linkage between scientists and the media. This is done through organizing such workshops to help the latter appreciate the relevance of interpreting scientific research that influences policy and farming choices in Uganda.
The journalists also visited the biotechnology and biosafety facilities at two of NARO's research stations, which became an eye opener regarding the safe development, application, and regulation of GM technology in Uganda. They also recognized the need for the media to understand biotechnology so as to help demystify some of the publicly-held myths about this modern science. They pointed out the need for NARO to interface with civil society organizations to increase their understanding of GM technology as they conduct agricultural outreach activities.
Mr. Simon Muyanga Lutaaya, a participant and Head of Current Affairs at NBS TV, further called on his fellow journalists to better appreciate the relevance of adopting modern agricultural technologies.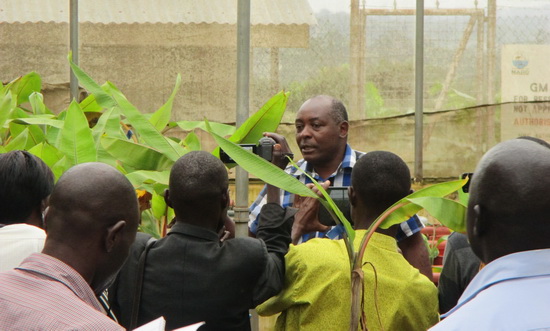 For more information, write to the Coordinator via ubic.nacrri@gmail.com
The Crop Biotech Update is a weekly newsletter of ISAAA, a non-for-profit organization. The CBU is distributed for free to over 23,000 subscribers worldwide to inform them about the key developments in biosciences, especially in agricultural biotechnology. Your support will help us in our mission to feed the world with knowledge. You can help by donating as little as $10.
See more articles:

News from Around the World

Research Highlights

Beyond Crop Biotech

From the BICs

Resources


Subscribe to CBU: