RTD for Media Practitioners in Jakarta "A Tribute to the 69th Anniversary of the Republic of Indonesia from Biotechnology Community"
September 3, 2014
A roundtable discussion (RTD) that centered on "Seed Technology to Support Food Self-Sufficiency" was convened for media practitioners in Hotel Mulia, Jakarta on August 14, 2014. The event was conducted as a tribute to the 69th anniversary of the Republic of Indonesia from the Biotechnology Community.
The RTD was facilitated by Dr. Erna Maria Lokollo of The Indonesian Centre for Agricultural Socio Economic and Policy Studies of Indonesian Agency for Agricultural Research and Development, Ministry of Agriculture and featured Prof. Dr. Agus Pakpahan of Ministry of Agriculture, Dr. Arief Daryanto of Management and Business School of Bogor Agricultural University (IPB), Ms. Nurmalasari of PT Perkebunan Nusantara XI and Mr. Winarno Tohir of National Outstanding Farmers and Fishermen Association (NOFA).
The discussion was focused on enhancing awareness and understanding of the media on the science of agri-biotechnology and its contributions to agricultural development, food security, and environmental sustainability in a changing climate. The event was also conducted to enhance media capacities in communicating crop biotechnology, as well as promote science-based, responsible, and accurate reporting on biotechnology among media practitioners in Indonesia. Some 44 tri-media practitioners, government officials, universities and industries participated
The event was organized by IndoBIC, Croplife Indonesia, Indonesia Consortium of Agricultural Biotechnology (ICAB), National Outstanding Farmers and Fishermen Association (NOFA), Indonesian Society for Agribusiness and Agroindustry (ISAA), and Indonesia Seed Association (ISA) supported by SEAMEO BIOTROP and the International Service for the Acquisition of Agri-biotech Applications (ISAAA).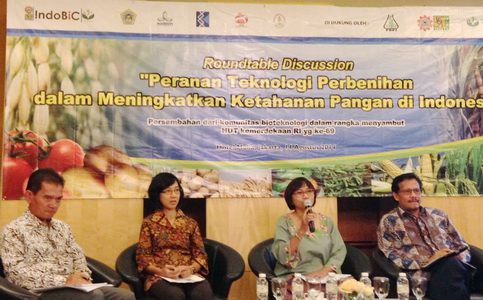 For details, contact Dewi Suryani of Indonesia BIC at catleyavanda@gmail.com.
Biotech Updates is a weekly newsletter of ISAAA, a not-for-profit organization. It is distributed for free to over 22,000 subscribers worldwide to inform them about the key developments in biosciences, especially in biotechnology. Your support will help us in our mission to feed the world with knowledge. You can help by donating as little as $10.