Vietnam Grants Licenses to Four GM Corn Varieties
September 3, 2014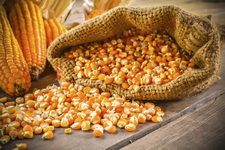 Vietnam's Ministry of Agriculture and Rural Development (MARD) has granted licenses to four genetically modified (GM) corn varieties to be used for both human consumption and animal feed.
This process started four years ago when Vietnam announced it would start field trials of these four varieties of GM corn. The varieties have gone through extensive testing and evaluation since then, as well as being approved by Vietnam's Council of Food Safety for Genetically Modified Food and Animal Feed.
The four GM corn varieties, includes Bt 11 and MIR162 developed by Syngenta Vietnam Co., Ltd as well as MON 89034 and NK603 by Monsanto's Dekalb Vietnam Co., Ltd. The licensing agencies say they have determined to their satisfaction that the products have no harmful health effects. Licensing is considered a first step in the creation of a legal framework regarding GM foods, and the Vietnamese government is in the process of speeding up the application of such technologies in agriculture. This is in line with the plan for sustainable agriculture through 2020.
For more details, read: http://www.geneticliteracyproject.org/2014/08/19/first-four-gm-corn-varieties-approved-in-vietnam/ and http://grains.org/news/20140828/vietnam-grants-licenses-four-genetically-modified-corn-varieties.
Biotech Updates is a weekly newsletter of ISAAA, a not-for-profit organization. It is distributed for free to over 22,000 subscribers worldwide to inform them about the key developments in biosciences, especially in biotechnology. Your support will help us in our mission to feed the world with knowledge. You can help by donating as little as $10.