Egypt Minister of Agriculture and Land Reclamation: Agri-biotech to Benefit Country
June 4, 2014
The adoption of agricultural biotechnology can benefit Egypt, particularly in withstanding the challenges of current and anticipated future climate and environmental changes. This was forwarded by Dr. Ayman F. Abou Hadid, Minister of Agriculture and Land Reclamation, Arab Republic of Egypt, in a meeting with U.S. experts. The group, which included representatives from the International Food Information Council Foundation, was accompanied by Professor Naglaa A. Abdallah, Egypt Biotechnology Information Center (EBIC) Director, and USDA Agricultural Specialist Dr. Ahmed Wally.
Professor Abu Hadid elaborated on his views regarding agricultural biotechnology in Egypt, and how the government intended to overcome the suspension of a previously approved variety of biotech maize, and a halt in the approval process for many promising developments in biotech crops such as wheat, cotton, tomatoes, potatoes, and sugar beet. The Minister was keen on work related to drought resistant traits, tolerance to changes in water and salinity levels, and pest resistant properties. Also important would be a reduction in the reliance on a wide variety of pesticides, many of which were reputed to be being used illegally, even counterfeit or unapproved.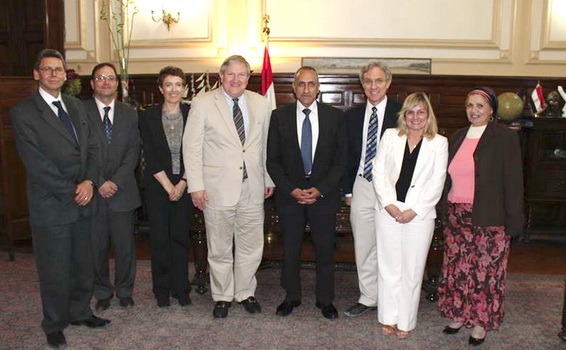 The IFIC Foundation team had earlier spearheaded biotech communication workshops in collaboration with EBIC. In a recorded interview with IFIC Foundation, Professor Naglaa Abdallah expressed her views on the two workshops and the outreach program. For more details visit the IFIC website http://www.foodinsight.org/about-ific-and-food-safety.aspx. To watch the full interview, and the IFIC presentation, visit the following YouTube channel https://www.youtube.com/channel/UCM2eUNyRkPDj0Ga9lR8QEUg.
The Crop Biotech Update is a weekly newsletter of ISAAA, a non-for-profit organization. The CBU is distributed for free to over 23,000 subscribers worldwide to inform them about the key developments in biosciences, especially in agricultural biotechnology. Your support will help us in our mission to feed the world with knowledge. You can help by donating as little as $10.
See more articles:

News from Around the World

Research Highlights

Beyond Crop Biotech

Announcements

Resources


Subscribe to CBU: