Policy Roundtable Discussion and Media Workshop Tackle Biotech in Southeast Asia
June 4, 2014
Two parallel learning events convened policymakers and media practitioners from Cambodia, Laos, Myanmar, Vietnam (CLMV) and the Philippines to discuss and get updated on crop biotech developments in the region on May 26-27, 2014 at Baoson International Hotel, Hanoi, Vietnam. Spearheaded by the Southeast Asian Regional Center for Graduate Studies and Research in Agriculture (SEARCA), the Eleventh Policy Roundtable on Building Capacities for Agricultural Competitiveness in Transition Southeast Asia focused on the theme "Modern Biotechnology for Food Security in a Climate Change Scenario and ASEAN Integration". The Regional Workshop for Media Practitioners centered on "Communicating Biotechnology for Food Security and Sustainable Agriculture."
The two workshops featured presentations by Mr. Graham Brookes of PG Economics, UK and Dr. Muhammad Herman of Indonesian Center for Agricultural Biotechnology and Genetic Resources Research and Development (ICABIOGRAD). Mr. Brookes presented their study on the economic and environmental benefits of biotech crops, adding that insect resistant technology has primarily delivered high yield, and increased productivity and return to farmers while herbicide tolerant technology helped mostly in the reduction of farm costs (no tillage) and also contributed to greenhouse gas (GHG) emission savings. Dr. Herman explained the need for modern biotech. With the unfavorable effects of climate change in agriculture, modern biotech is a highly beneficial tool that would help tackle problems that cannot be addressed by conventional plant breeding such as acquiring some specific desired crop traits that are necessary in adapting to changing climate.
The Policy Roundtable was facilitated by the Chair of the Biotechnology Advisory Team of the Philippine Department of Agriculture Dr. Saturnina C. Halos. Discussions were focused on the impacts of biotech on agriculture, food security, and poverty in the region and explored possible areas for collaboration and cooperation in the development of biotechnology products as adaptation strategy for climate change in the CLMV. Participants were representatives from the Royal University of Agriculture of Cambodia, the Ministry of Science and Technology of Lao PDR, the Food Security Working Group in Myanmar, and the Institute of Agricultural Genetics of Vietnam.
The Tri-Media Workshop was facilitated by ISAAA Senior Program Officer Dr. Rhodora R. Aldemita, and SEARCA Biotechnology Information Center (BIC) Special Project Coordinator Ms. Maria Monina Cecilia A. Villena. It became a venue for the media practitioners in CLMV and the Philippines to share their experiences on how biotechnology is reported in their respective countries. It also imparted lessons for more accurate and science-based biotech reporting.
This back-to-back activity was co-organized with ISAAA, CropLife Asia, Ag Biotech Vietnam, and the Agricultural Genetics Institute (AGI) of Vietnam Academy of Agricultural Sciences.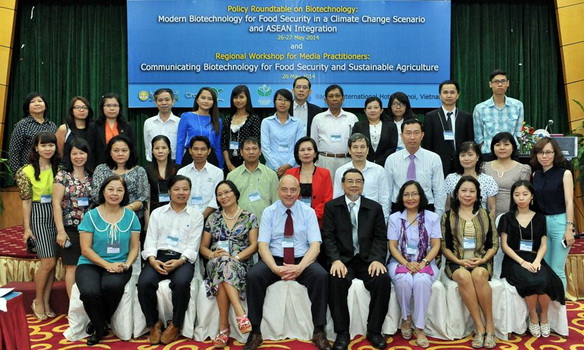 For more information on biotechnology developments in the Philippines or in the Southeast Asian region, visit SEARCA BIC's website at http://www.bic.searca.org/ or send an e-mail to bic@agri.searca.org
The Crop Biotech Update is a weekly newsletter of ISAAA, a non-for-profit organization. The CBU is distributed for free to over 23,000 subscribers worldwide to inform them about the key developments in biosciences, especially in agricultural biotechnology. Your support will help us in our mission to feed the world with knowledge. You can help by donating as little as $10.
See more articles:

News from Around the World

Research Highlights

Beyond Crop Biotech

Announcements

Resources


Subscribe to CBU: