ISAAA Report on GM Crops Launched in Burkina Faso, South Africa, and Kenya
April 2, 2014
Burkina Faso was the first country to launch ISAAA Brief 46 Global Status of Commercialized Biotech/GM crops: 2013 on 19th February 2014. The 5th Vice –President of the National Assembly, Mrs Korotimi Séré presided over the launch which was attended by high officials from the Ministry of Science and Technology, a representative of the ambassador of the United States to Burkina Faso, the Director of the country's Agricultural Research Institute and the technology manager of the lead cotton company, SOFITEX. A total of 25 journalists from electronic and print media attended the launch.
In her remarks, Mrs Séré expressed her satisfaction for the socioeconomic benefits Bt cotton has brought to farmers in the country and encouraged stakeholders to continue efforts in sharing knowledge on the biotechnology.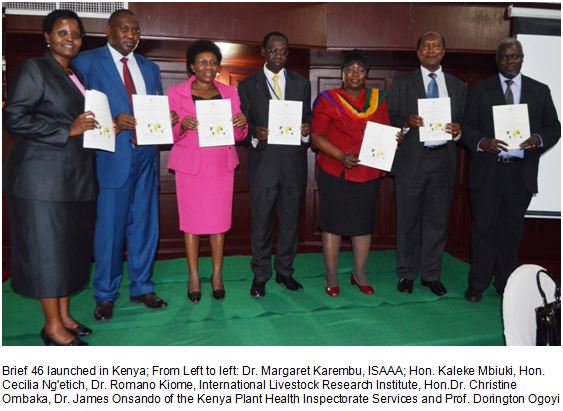 South Africa and Kenya launched the report on the same day, on 28th February 2014. South Africa launched the report at a press release and was extensively covered by local electronic and print media to a tune of 2,200,000 media impressions. In Kenya, the launch was attended by three members of parliament; Hon. Cecelia Ng'etich, Hon. Kaleke Mbiuki and Hon. Dr Christine Ombaka. Discussions centered mainly on the need to lift the ban on GM food imports to Kenya. While launching the report, Hon. Mbiuki, a member of the parliamentary Agriculture Committee expressed hopes that the government will lift the ban and noted that Kenyan farmers would benefit a great deal from biotechnology, especially by using biotech maize in the newly launched irrigation schemes.
The Crop Biotech Update is a weekly newsletter of ISAAA, a non-for-profit organization. The CBU is distributed for free to over 23,000 subscribers worldwide to inform them about the key developments in biosciences, especially in agricultural biotechnology. Your support will help us in our mission to feed the world with knowledge. You can help by donating as little as $10.