Philippine Policy Makers Recognize Local Biotech Researches and Products
February 6, 2013
Philippine policy makers including the House of Representatives Speaker Jose Belmonte, Jr. and Chair of the House Committee on Science and Technology Congressman Julio Ledesma IV recognized the potentials of biotechnology in improving the country's food security during a four-day biotech exhibit and seminars conducted at the House of Representatives last January 21-24, 2013.
The activity aimed to showcase local biotech efforts and raise awareness among policy makers and other constituents on the technology's benefits and potentials for the country. It involved biotech seminars for media practitioners and policy makers which served as an avenue to clarify the issues and concerns. The scientists and expert-resource speakers explained the importance of continuing public biotech researches such as the research and field trials on the insect resistant Bt eggplant. They said that these were government-funded projects, hence, the technology benefit should go back to the Filipino people. These upcoming biotech crops and technologies were also shown by studies to hold great potentials in bringing socio-economic benefits to its adopters.
The activity was organized by legislative committees in science and technology, and food security, public sector organizations, ISAAA, SEARCA - Biotechnology Information Center, and Philippine Science Journalists Association, Inc. (PSciJourn).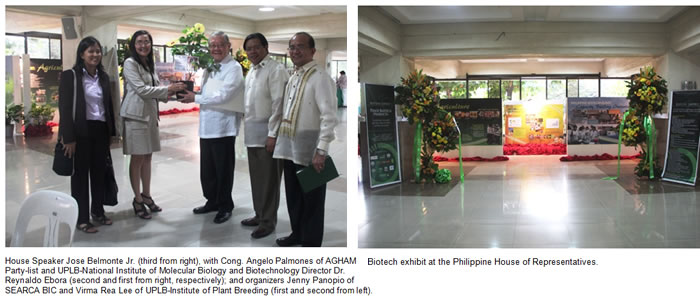 For more information about crop biotech in the Philippines, visit SEARCA BIC's website, http://www.bic.searca.org/, or e-mail bic@agri.searca.org.
The Crop Biotech Update is a weekly newsletter of ISAAA, a non-for-profit organization. The CBU is distributed for free to over 23,000 subscribers worldwide to inform them about the key developments in biosciences, especially in agricultural biotechnology. Your support will help us in our mission to feed the world with knowledge. You can help by donating as little as $10.