News
Global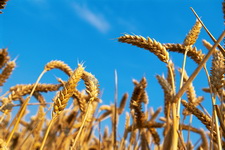 Dr. Rachid Lahlali from the Canadian Light Source (CLS), together with a research team from the CLS, National Research Council Canada, University of Saskatchewan, and Agriculture and Agri-Food Canada used the synchrotron to image both healthy and infected wheat spikes and florets to understand the development and progression of the Fusarium head blight disease.
Fusarium head blight (FHB) is a huge global problem, caused by a fungus that attacks the head of the wheat plant, causing the kernels to shrivel up and produce toxins. The disease affects wheat and barley crops in Canada, China, parts of southern Africa, Eastern Europe, South America, and the US.
"What we were trying to do using the synchrotron is to understand how the fungus infects the plant and see what changes are happening. What we found are biochemical markers at the point of where the infection begins," said Dr. Lahlali. The research team used novel techniques developed at the CLS to image living wheat plants. According to Dr. Lahlali, they saw the differences in the wheat infected by the fungus and experiments showed that the structures could be lost or altered, and traits can be changed for the plants to become FHB resistant.
For more details, read the news release at the CLS website.
Africa
More than thirty stakeholders from Kenya, mainly farmers, participated in a one week study tour to South Africa from April 19-23, 2015. The objective of the visit is to showcase to the Kenyan farmers how farmers in South Africa have adopted useful technologies that address their challenges.
The participants visited 5 farms, including Ephraim Mogale's municipality in Limpopo Province and Boekenhoutskloof in Gauteng Province. They held discussions with farmers, government officials, biosafety officers, and technology developers. From these engagements, it emerged that adoption of GM crops in South Africa was farmer driven.
"We were fed up with weeding and spraying pesticides to control bollworms and weeds. When the technology was introduced, we rapidly picked it up," said Frans Mallela, one of the large-scale farmers in Limpopo Province. According to Mr. Mallela, since he started growing GM cotton, he recorded an increase in yields, from 4 hectares to 150 hectares. He has moved from GM cotton with a single trait to stacked traits (insect resistance and herbicide tolerance). "Cotton with the two traits does not require a big land for refugia. This helps me to maximize on yields," said Mallela. "When I first went into farming, as a part time job, I used to plant conventional maize and the harvest never went beyond one tonne per hectare. Now with biotechnology, I get up to 7 tonnes per hectare if the rain is good," Mr. Mallela added.
The participants were impressed with the way South African farmers are enthusiastic about the benefits of GM crops. "Some of us have heard negative stories about the GM technology. We are going to urge our own government to avail this technology to Kenyan farmers because we have similar circumstances with South African farmers" said Mr. Titus Ndalemia, a farmer from Machakos, Eastern Kenya.
The study tour was organized by AfricaBio in partnership with the African Agricultural Technology Foundation and ISAAA AfriCenter.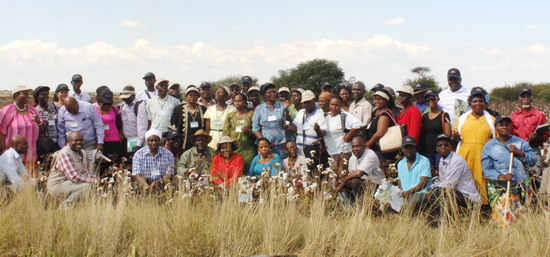 For more information, contact Daniel Otunge at d.otunge@aatf-africa.org.
Americas
The USDA Animal and Plant Health Inspection Service (APHIS) released the draft environmental assessment (EA) and preliminary plant pest risk assessment (PPRA) of genetically engineered (GE) potato available for public comment this week in the Federal Register. This is in line with the petition of J.R. Simplot Company to deregulate the GE potato with resistance to late blight. The documents will be available for public review for 30 days.
Read the announcement from USDA APHIS.
[ Send to a Friend | Rate this Article ]
---
The Canadian government revised its proposed Policy on the Management of Low-Level Presence of Genetically Modified Crops in Imported Grain, Food and Feed and its Associated Implementation Framework for Grain. The policy was developed to provide transparency and predictability, and minimize disruptions to trade while protecting the health and safety of people, animals and the environment. It also aims to facilitate an efficient risk-based approach to manage an expected increase in occurrences of low-level presence (LLP) in international trade, while promoting compliance with Canadian regulatory requirements.
Public comments on the policy were solicited in 2012-2013, which served as bases for the revisions in the drafted policy. The revisions include the addition of important technical details to help clarify different parts of the Policy and Implementation Framework and to ensure consistency with Canada's legislative framework with respect to compliance promotion and enforcement actions.
Read the revised policy at Agriculture and Agri-Food Canada.
[ Send to a Friend | Rate this Article ]
---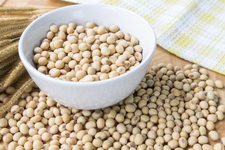 University of Arizona scientists Monica Schmidt and Eliot Herman and University of Illinois scientist Theodore Hymowitz have created a new soybean with significantly reduced levels of three key proteins responsible for both its allergenic and anti-nutritional effects. Herman and his colleagues at the U.S. Department of Agriculture have identified in 2003 that P34 is soybean's key allergen.
The research team screened 16,000 different varieties of soybean and they found one that almost completely lacked the allergen P34. The team stacked the P34 null with two varieties previously identified by Hymowitz that lacked soybean agglutinin and trypsin inhibitors, proteins that are responsible for soybean's anti-nutritional effects in livestock and humans. After nearly a decade, the team has produced a soybean that lacks most of the P34 and trypsin inhibitor protein, and completely lacks soybean agglutinin. They have called the new variety "Triple Null."
For more about this research, read the news article at the University of Arizona website.
Asia and the Pacific
A native plant from New Zealand called ice plant (Disphyma australe) can be a key in enhancing crop tolerance to salinity. Ice plant exhibits red pigmentation that was believed to be the one responsible for its resistance to salinity due to its varying intensity depending on its distance from the shore. The red pigments, called betalains, contained in the ice plant was analyzed and examined by Gagardep Jain, a Victoria University of Wellington PhD student.
In his study, the incorporation of betalains in green leaved ice plant made the plant tolerant of saline conditions. This finding suggests that betalains functions as a shield for plant tissues against free radical damage caused by salt and too much sunlight. This result indicates the potential of betalain to be used in developing and breeding crops to enhance tolerance under saline condition.
Details of the study can be read at Victoria University of Wellington's website.
[ Send to a Friend | Rate this Article ]
---
Drought is the major stress threatening crop productivity worldwide. Identification of new genes and metabolic pathways involved in adaptation to drought stress at the reproductive stage is of great interest for research. The team led by Zvi Peleg from the Hebrew University of Jerusalem in Israel conducted a cross-Species meta-analysis of drought stress at the reproductive stage (CSA:Drought) to identify drought adaptive genes and mechanisms.
Using microarray experiments of Arabidopsis, rice, wheat, and barley, the team was able to identify 225 differentially expressed genes shared across studies and taxa and classified these shared genes into functional categories. The universal nature of the identified drought-adaptive genes was further validated in a fifth species, Brachypodium distachyon. Analysis of 27 randomly selected, shared orthologs showed similar expression patterns as was found by the CSA: Drought.
The CSA:Drought strategy identified major drought-adaptive genes and metabolic pathways that were only partially reported in the original studies. These genes include unclassified genes that could be involved in new adaptation mechanisms. The identified shared genes can prove to be useful for subsequent research.
For more on the study, read the full article on BMC Plant Biology.
[ Send to a Friend | Rate this Article ]
---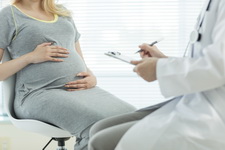 Folate biofortified rice (FBR) could help decrease birth defects, according to a new study of Ghent University in Belgium and Liaoning Academy of Agricultural Sciences in China.
About 50-70 percent of all neural tube defects are attributed to maternal folate deficiency. The researchers suggest that the FBR they have developed could be one of the solutions to this health concern, particularly in Balrampur, India and Shanxi, China, where there is prevalent folate deficiency.
In their study, the researchers used Disability-Adjusted Life Year (DALY), which is the standard metric of the World Health Organization. DALY reflects the sum of Years of Life Lost (YLL), a measure of premature mortality, in addition to the Years Lost due to Disability (YLD), which accounts for both morbidity and mortality for those with health problems. By the team's count, folate biofortification could eliminate between 29 and 111 DALYs per year in Balrampur per 1,000 births and between 47 and 104 DALYs in Shanxi.
Read more at Genetic Literacy Project and Ghent University.
Europe
Mycorrhizal fungus in plants aid in the uptake and utilization of phosphorus (P) from the soil limiting the needs of farmers for phosphate fertilizers to attain maximum yield. This capability of mycorrhizal fungus suggests its possible use as a biofertilizer. University of Cambridge researchers examined this capability of mycorrhizal fungus by analyzing its mutualistic relationship with rice.
The findings of their study reveal that the colonization of mycorrhizal fungus in adult rice causes changes in genetic expression. This has resulted to softening of crown roots triggering lateral root growth that enables more nutrient absorption. Dr. Uta Paszkowski, one of the researchers in the study believed that this result will help in breeding and designing crops with better root architecture to attain the best possible root for greater yield.
Read full details of the story at University of Cambridge's website.
Research
Scientists from Federal University of Santa Catarina in Brazil used principal component analysis (PCA) to differentiate the proteomic profile of transgenic bean (Embrapa 5.1) from its non-GM counterpart.
Perola and Pontal bean varieties were used in the study. GM and non-GM seeds of each variety were planted under the same controlled conditions and the leaves were harvested. The proteins were extracted and subjected to 2D gel electrophoresis to produce protein maps which were examined by image analysis software.
Results showed that GM and non-GM Perola varieties were separated from the GM and non-GM Pontal varieties. However, within each variety the GM and non-GM types could not be distinguished indicating that the effects of genetic modification on plant gene expression are weaker than those of conventional plant breeding. In another analysis, the GM and non-GM lines were differentiated. Results showed significant differences in the proteomic profile of the GM variety and its non-GM counterpart.
The researchers concluded that the results showed higher similarity between GM variety and its counterpart than between two common bean varieties. Thus, PCA is a useful tool to compare proteomes of GM and non-GM plant varieties.
Read the research article at the Journal of the Science of Food and Agriculture.
[ Send to a Friend | Rate this Article ]
---
Sugar metabolism is related to flowering transition in many plants. In Arabidopsis, the transcription factor IDD8 regulates flowering time by modifying sugar metabolism under sugar-limiting conditions. Meanwhile, the SUCROSE NONFERMENTING-1-RELATED PROTEIN KINASE 1 (SnRK1) is activated by sugar deprivation. Thus, SnRK1-overexpressing plants and IDD8-deficient mutants have similar phenotypes, including delayed flowering, hinting that SnRK1 is involved in IDD8-mediated control of flowering.
A team led by Chung-Mo Park, from the Seoul National University, examined if SnRK1 is associated with IDD8 in flowering time control. Overproduction of AKIN10, the catalytic subunit of SnRK1, delayed flowering in Arabidopsis, as was observed in IDD8-deficient mutant. Researchers found that AKIN10 phosphorylates IDD8, and reduces its activity.
This shows that AKIN10 counters the IDD8 function in flowering time control, explaining the delayed flowering phenotypes of AKIN10-overexpressing plants and IDD8-deficient mutants.
For more information, read the full article on BMC Plant Biology.
Beyond Crop Biotech
Scientists from the Swiss Institute of Bioinformatics and partners decoded the genome sequences of key bumblebee species: the European buff-tailed bumblebee (Bombus terrestris) and the North American common eastern bumblebee (Bombus impatiens). Bees are vital in pollination, thus, understanding their genome would be important for their conservation as well as for crops that feed the world.
The genomes of the bumblebees provide the first insights into the genetics behind the differences in their behaviors and responses to their environments. "These genomic resources help us to understand what it is that makes these bumblebees particularly at risk from challenges to their well-being, such as diseases and pesticides," said Dr. Seth Barribeau of ETH Zurich, one of the authors of the study.
Read the media release from the Swiss Institute of Bioinformatics.
[ Send to a Friend | Rate this Article ]
---
Researchers from National Chung Hsing University in Taiwan have found the proteins responsible for determining the shape of orchid lips. In the study, the researchers took a closer look at plant genes A,B,C,D and E, which prior research has shown as responsible in general for plant shape. They looked at the proteins that are expressed by the B class in orchids as it has been found to be heavily involved in petal formation.
The research team found that there were two types of protein complexes, one called the L complex (for Lip) and another called the SP complex (for sepa-petal). Both protein complexes were made up of four proteins, and they found that there was a tug-of-war between the complexes. When one exerted more influence, the plant exhibited more of that attribute. To prove their findings, they introduced a virus that was capable of knocking out one or the other of the protein complexes—in the absence of an L complex, the lip was replaced by a normal petal, whereas in the absence of an SP complex, the lip was prominent.
For more details, read the abstract of the paper published in Nature Plants.
[ Send to a Friend | Rate this Article ]
---
Colorado State University and University of Virginia researchers conducted a study to examine how the mitochondrial genome of Silene noctiflora is maintained. S. noctiflora has a diverse genome with over 50 circular-mapping chromosomes totaling ~7 mb in size.
By employing intraspecific variation in S. noctiflora genome, findings indicate that the complete genome of its two population only shares similarities with its sequence, structure and relative abundance of mitochondrial chromosomes. The difference was observed in the presence of 19 chromosomes that lacks unidentifiable gene or contain duplicate gene copies.
The presence or absence of the 19 chromosomes helps in maintaining the stability of S. noctiflora genome. This indicates that the S. noctiflora mitochondrial genome undergo a non-adoptive process of whole-chromosome gain/loss to maintain its genome.
Read full details of the study at PNAS' website.
From The BICs
A biotechnology residential internship for Miss Uganda, together with nine other regional queens was held at the National Crops Resources Research Institute on March 9-12, 2015. The beauty queens were trained on the basics of modern agricultural biotechnology and science communication. The training was a timely move to engage key opinion leaders, to rally support for passing Uganda's biotechnology and biosafety bill into law. The training, organized by Uganda Biosciences Information Center (UBIC) in partnership with Miss Uganda Foundation, was part of UBIC's strategy to interest young people in agriculture by engaging key groups that can champion this cause.
In her speech, Leah Kalanguka -the reigning Miss Uganda, called on the youth to be more proactive and find out more about the different ways to improve agriculture. "Biotechnology is the way to go; and the proposed Biotechnology and Biosafety law is very important because it will help to regulate what comes in and what is being produced. It's about ensuring the safety of the technology. I highly recommend the proposed law so that farmers and consumers know that what they are consuming is safe" she said. She added that the youths should stop being naïve by simply listening to people that do not know what they are talking about.
The beauty queens were primed on the basics of modern biotechnology tools including DNA analysis, tissue culture, GMO technology, confined field management, and regulatory aspects of GMO research. The queens were also taught on how to communicate science to non-scientists, and participated in several practical sessions in the field and laboratories.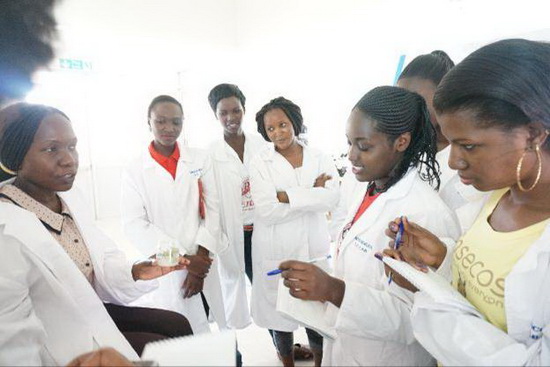 For more information about UBIC activities, please contact the Coordinator- Dr. Barbara Zawedde Mugwanya ubic.nacrri@gmail.com.