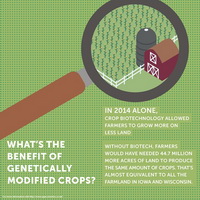 Crop biotechnology continues to deliver significant economic and environmental benefits, allowing farmers in developing countries to grow more with fewer resources, according to PG Economics report.
"In 2013, the 18th year of widespread adoption of crops using biotechnology innovations, the technology has continued to provide more productive agriculture, higher incomes to farmers and a better environment for citizens. A majority of these benefits continues to go to farmers and rural communities in developing countries," said Graham Brookes, PG Economics Director and co-author of the report. The other author of the report is Peter Barfoot, also the Director of PG Economics.
The highlights of the report include the following:
GM crops enabled the farmers to grow more without using additional land. Without biotechnology, farmers would have needed 44.7 million acres of more land (equivalent to 11% of arable land in the US) to get the same yield.
Biotechnology helped farmers produce improved yields. With the use of insect resistant crops, 11.7% more corn, 17% more cotton and 10% more soybeans were produced.
GM crops planting practices helped reduce tilling and greenhouse gas emissions equivalent to removing 12.4 million cars off the road.
Download the full report from PG Economics.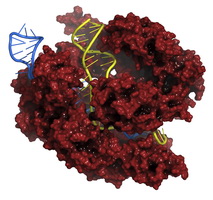 Since 2013, scientists have used the gene editing tool CRISPR/Cas9, to excise a gene, alter its function, or introduce desired mutations. The method employs a bacterially derived protein (Cas9) and a synthetic guide RNA to induce a double-strand break at a specific location in the genome. The CRISPR (Clustered Regularly Interspaced Short Palindromic Repeats of DNA base sequences) method has shown tremendous promise to enable researchers to treat cystic fibrosis and sickle-cell anaemia, create laboratory animals that mimic human disease, and create a strain of wheat resistant to powdery mildew.
Farmers from the Cereal Growers Association have expressed their support for the introduction and commercialization of GM maize in Kenya.
Australia's Office of the Gene Technology Regulator (OGTR) issued a license to Bayer CropScience, allowing the field trials of genetically modified (GM) cotton with insect resistance and herbicide tolerance traits. The field trials were allowed to take place in July 2015 to July 2021 in New South Wales, Queensland, and Western Australia. For the first two years, the maximum planting area allowed is 120 hectares/year and 600 hectares/year for the remaining 4 years. The field trials will be conducted to evaluate the agronomic performance and pest resistance of GM cotton under Australian field conditions.
The Crop Biotech Update is a weekly newsletter of ISAAA, a non-for-profit organization. The CBU is distributed for free to over 23,000 subscribers worldwide to inform them about the key developments in biosciences, especially in agricultural biotechnology. Your support will help us in our mission to feed the world with knowledge. You can help by donating as little as $10.