India's PM Modi Calls for Second Green Revolution
July 8, 2015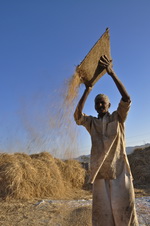 India's Prime Minister Mr. Narendra Modi calls for a second Green Revolution, saying it should start immediately as Indian agriculture has been lagging in several areas including inputs, irrigation, value addition and market linkages. The Prime Minister said his government is committed to modernizing the sector and making it more productive. He also emphasized the need in using the scientific method for farming to increase productivity.
During an event at the Indian Agriculture Research Institute (IARI) at Jharkhand, Mr. Modi said, "Unless we prepare a balanced and comprehensive integrated plan, we will not be able to change the lives of farmers." The scientists and experts feel that technology and improvement in infrastructure are key to higher agricultural production.
In an exclusive interview with the Press Trust of India (PTI) the experts quoted, "Conventional cultivation will not be able to meet the food demand of our growing population. Shrinking land, declining water level, and environmental problems can only be addressed through technological intervention. This is where biotechnology, genetically modified (GM) crops and marker assisted breeding technology will help," said Dr. G Padmanaban of Indian Institute of Science (IISc), Bangalore. Dr. K C Bansal, Director of the Indian Council of Agricultural Research (ICAR) said the 'second green revolution' is essentially required to meet the growing demand of people both due to increase in population and income levels. "With the advent of modern tools of biotechnology, it has become possible to address those challenges of agriculture like climate change, control of pests or malnutrition, which have been difficult to be overcome by conventional plant breeding methods."
More details are available at the ICAR website and in The Economic Times article.
The Crop Biotech Update is a weekly newsletter of ISAAA, a non-for-profit organization. The CBU is distributed for free to over 23,000 subscribers worldwide to inform them about the key developments in biosciences, especially in agricultural biotechnology. Your support will help us in our mission to feed the world with knowledge. You can help by donating as little as $10.
See more articles:

News from Around the World

Research Highlights

Beyond Crop Biotech

Announcements


Subscribe to CBU: