Africa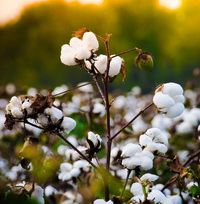 Cotton stakeholders in Nigeria have agreed that Bt cotton has the potential to revive the deteriorating cotton textile industry in the country. A stakeholders meeting held in Abuja on November 8, 2017 attended by representatives from seed companies, government ministries, agencies, and farmers resolved that embracing Bt cotton is a viable way of addressing cotton farming challenges.
Nigeria's Minister of State for Trade and Investment, Aisha Abubakar, said the country has no option but to embrace the technology to help improve the lives of farmers and create jobs for the teeming population. "We cannot allow people to import Bt cotton into Nigeria, we now have the people, the technology, and the land to practice how to take full advantage of the technology to address our own challenges," she said.
All Farmers Association of Nigeria president, Arc. Kabiru Ibrahim, said that it is important that Nigeria take its pride in cotton production by embracing Bt cotton, and exuding confidence that it will alleviate poverty among the farmers.
The National Biosafety Management Agency approved Bollgard II cotton for on-station/on-farm trials in Nigeria in 2016 and it is currently undergoing last stage of multi-location trials in over 72 locations in the nation's cotton growing zones. The project has already been endorsed by Agriculture and Rural Development Minister, Audu Ogbe, and stakeholders in the country are now strategizing on eventual uptake and release of Bollgard II cotton to farmers.
For more information on biotech/biosafety developments in Nigeria, contact Alex Abutu at alexyabutu@gmail.com.
Asia and the Pacific
The office of the Gene Technology Regulator (OGTR) of Australia has released "Community Attitudes to Gene Technology," a report on the 2017 study of public attitudes towards genetically modified organisms (GMOs), gene technology and its regulation.
The overall finding of the 2017 survey is that attitudes to GMOs have settled, mirroring very closely the results from the 2015 study, and not showing the degree of change seen between previous studies. Other key findings state that knowledge about what foods in Australia were GM is generally poor.
The survey also reports that most respondents (71%) felt that biotechnology would improve life in the future, while only 46% felt that GMOs would improve life in the future. Although only 43% of people had any awareness or knowledge of synthetic biology, there was significant support for it (62%) once respondents were given a definition.
More than half of respondents (56%) stated they were aware of gene editing and 57% thought it might improve life in the future, but 17% thought it might make things worse. Gene editing received quite high acceptance (42%) relative to other techniques, when asked about making a small change to an existing gene within a plant, as is done in gene editing.
For more details, download the report at the OGTR website.
[ Send to a Friend | Rate this Article ]
---
Twenty-nine (29) senior high school students and their science teachers from Isabela, Laguna, Iloilo, Cebu, Davao, and Cagayan De Oro were enlightened on the issues and trends in agriculture and agri-biotech through lectures on biotech principles and applications in crops, livestock, and fisheries; the agriculture landscape in Southeast Asia; and hands on exercises on DNA extraction and edible landscaping during the Agri-biotech Boot Camp for Senior High School Students on November 15-17, 2017 at the Southeast Asian Regional Center for Graduate Study and Research in Agriculture (SEARCA) Headquarters, Los Baños, Laguna.
The activity was conducted to create awareness and build interest in agriculture and introduce traditional and modern biotech as a career among the students. The boot camp is a build-up activity for the 13th National Biotechnology Week celebrated on November 20-24, 2017 at Fisher Mall, Quezon City.
The activity also involved briefings and study visits to the biotech laboratories and facilities of the University of the Philippines Los Baños - Institute of Plant Breeding (UPLB-IPB) and UPLB-National Institute of Molecular Biology and Biotechnology (UPLB-BIOTECH), and the Rice World Museum of the International Rice Research Institute (IRRI). Interactive games related to biotech were also facilitated by student organizations University of the Philippines League of Agricultural Biotechnology Students (UP LABS) and UP Genetic Researchers and Agricultural Innovators Society (UP GRAINS) for both student and teacher participants.
The boot camp was organized by the SEARCA – Biotechnology Information Center (SEARCA BIC), UPLB-IPB, Philippine Genome Center for Agriculture, Department of Agriculture - Biotech Program Office (DA-BPO), UP LABS, and UP GRAINS.
The National Biotechnology Week this year is spearheaded by the DA. Congresswoman Sharon Garin served as guest speaker in the opening program and acknowledged that biotech is indeed one of the solutions to food security. She said that farmers who choose to plant biotech corn reap benefits through increased yield and low production costs.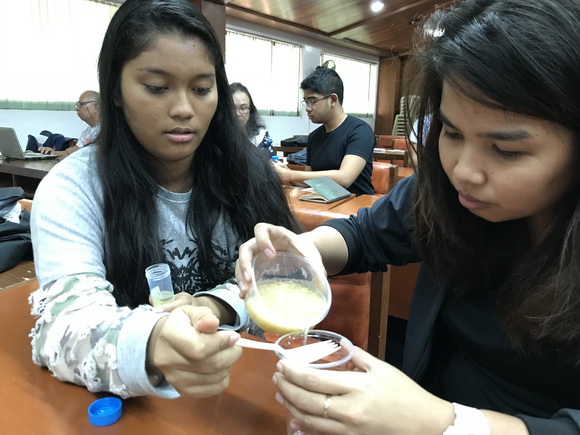 For more information on biotechnology in the Philippines, visit the SEARCA BIC website.
[ Send to a Friend | Rate this Article ]
---
Dr. Mahaletchumy Arujanan, Executive Director of the Malaysian Biotechnology Information Centre, and Muthu Singaram of VibaZone Private Limited in Malaysia, discussed the landscape of biotechnology and bioeconomy in Malaysia in a review article published in New Biotechnology journal.
According to the paper, Malaysia released its biotechnology agenda in 1990s and came up with strong policies and initiatives to make the technology a key engine of economic growth. Since the inception of the National Biotechnology Policy in 2005, there have been significant achievements in Gross Domestic Product (GDP), investments, and employment.
The paper also discusses the public policies, initiatives and funding mechanisms in place in Malaysia that drive its research, development, and commercialization in the area of biotechnology and bioeconomy. Challenges in implementing the policies were also discussed in the paper.
Download the paper in New Biotechnology.
[ Send to a Friend | Rate this Article ]
---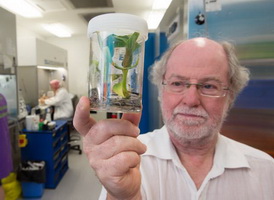 Researchers from Queensland University of Technology (QUT) have developed and grown modified Cavendish bananas that are resistant to the devastating soil-borne fungus Fusarium wilt tropical race 4 (TR4), also known as Panama disease.
Led by Distinguished Professor James Dale from QUT's Centre for Tropical Crops and Biocommodities, the field trial, which ran from 2012 to 2015 was conducted on a commercial banana plantation that was previously affected by TR4. The soil was heavily reinfested with disease for the trial.
In their world-first GM field trial conducted in heavily TR4-infested soil, Cavendish Grand Nain was modified by the researchers with the RGA2 gene, taken from the TR4-resistant wild, southeast Asian banana subspecies, Musa acuminata ssp malaccensis. One modified Cavendish line (RGA2-3) remained TR4-free for three years of the trial, while three other lines modified with RGA2 showed strong resistance, with 20% or fewer plants exhibiting disease symptoms in three years.
By contrast, 67%-100% of control banana plants after three years were either dead or TR4-infected, including a Giant Cavendish variant 218 generated through tissue culture in Taiwan and reported to be tolerant to TR4. The researchers found RGA2 gene activity level in the modified bananas was 'strongly correlated' with TR4 resistance.
For more details, read the QUT news release.
[ Send to a Friend | Rate this Article ]
---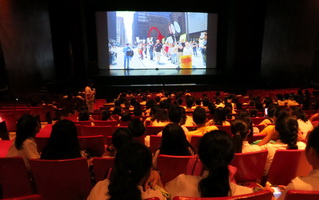 Around 400 high school and college students and faculty in Laguna, as well as regulators, researchers and scientists from the University of the Philippines Los Baños (UPLB), were informed about various perspectives on the international debate on genetically modified organisms (GMOs) in the special screening of the documentary film Food Evolution held on November 21, 2017 at DL Umali Hall, UPLB, College, Laguna. Food Evolution is narrated by Neil deGrasse Tyson and features GMOs and its food products, their contribution to food security, and how misinformation affects public perception despite being scientifically documented in terms of safety and benefits. The film showing was an activity for the 13th National Biotechnology Week which is celebrated on November 20-24, 2017 at Fisher Mall, Quezon City.
After the film, the audience commended the balanced presentation of pro and anti-biotech sentiments. They also asked the scientists about the safety of GM crop planting and research. UPLB genetics professor Dr. Rita Laude emphasized that GM crops in the market have been rigorously studied and tested by regulators.
The activity was organized by SEARCA BIC, ISAAA, the International Rice Research Institute (IRRI), CropLife Asia, CropLife Philippines, Biotechnology Coalition of the Philippines, University of the Philippines League of Agricultural Biotechnology Students (UP LABS), and UP Genetic Researchers and Agricultural Innovators Society (UP GRAINS).
For more information, visit the SEARCA BIC website.