News
Global
Over 150 stakeholders from government, universities, research institutions, local and international companies, and 13 traditional and online media practitioners participated in the Crop Biological Breeding Industrialization Seminar 2018 co-organized by the Chinese Society of Biotechnology, Chinese Society of Plant Physiology and Molecular Biology, the Crop Science Society of China, China Society of Plant Protection, Chinese Society of Agri-biotechnology, and ISAAA at the Chinese Academy of Agricultural Sciences (CAAS) in Beijing, China on July 11, 2018.
Professor Zhu Zhen from the Institute of Genetics and Developmental Biology, Chinese Academy of Sciences and Professor Zhang Chunyi, Director of China Biotechnology Information Center (ChinaBIC) moderated the event. Professor Xu Zhihong, Academician of Chinese Academy of Sciences and Former President of Beijing University served as the Chairman and gave a message during the Seminar. He stressed the importance of agri-biotechnology education in China and criticized rumors about GM crops.
Dr. Paul Teng, ISAAA Chair, presented the Global Status of Commercialized Biotech/GM Crops in 2017. Dr. Rhodora Aldemita, Director of ISAAA Global Knowledge Center on Crop Biotechnology reviewed the Biotech Crop Adoption in Asia-Pacific. Prof. Liu Yaoguang, Academician of Chinese Academy of Science and Professor of South China Agricultural University gave a presentation entitled Plant Genome Editing Technology and Its Application in Gene Function Research and Genetic Modification. Ms. He Xiaodan, Vice director of the Sector of GMO Safety and Intellectual Property Rights, Science and Education Department, Ministry of Agriculture and Rural Affairs explained the Safety Regulation Framework of Agri-biotechnology in China.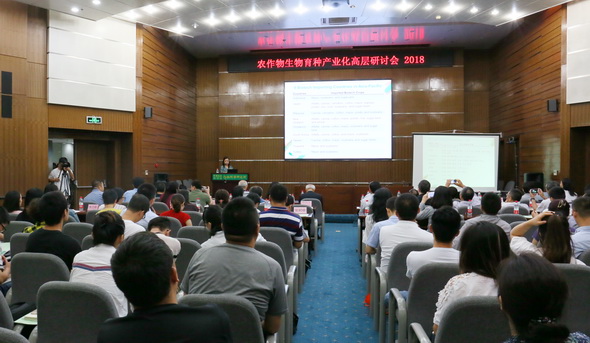 For more information about agri-biotech development and biotech crops in China, contact ChinaBIC at zhangt@mail.las.ac.cn. Download the Global Status of Commercialized Biotech/GM Crops in 2017 from ISAAA.
Africa
Young African scientists have been challenged to invest in honing skills that enable them to effectively communicate to non-technical audiences. This would help policy and decision makers appreciate and prioritize research as a sustainable tool in the fight against food insecurity and malnutrition in the continent. This emerged during a science communication workshop for bioscience research fellows and interns held on July 10, 2018 in Nairobi, Kenya.
Speaking at the event, Dr. Iain Wright, Deputy Director General, Research and Development at the International Livestock Research Institute (ILRI) emphasized the need for young scientists to learn from best communication practices, how to effectively reach out to government officials and convince them on importance of agricultural research. "In order to attract sufficient funding into agricultural research projects, scientists must articulately justify how the projects impact farmers, government and the society as a whole," Dr. Wright told the young researchers.
ILRI's head of Capacity Development Dr. Wellington Ekaya regretted the inability of most scientists to simplify their language when communicating to different stakeholders. ISAAA AfriCenter Director Dr. Margaret Karembu echoed Dr. Ekaya's sentiments decrying the wide communication gap between scientists and key decision makers. This calls for concerted efforts to build capacity of science researchers to repackage their complex project results into easy-to-comprehend knowledge products. "Effective science communication is about putting science into use by helping the 'public' meaningfully interpret research results good enough to make informed choices," Dr. Karembu explained.
The fellows and interns learned a wide range of communication fields including principles of effective communication, message development, stakeholder engagement strategies and media relations. The workshop was organized by ISAAA AfriCenter in collaboration with the Biosciences eastern and central Africa-International Livestock Research Institute (BecA-ILRI) Hub.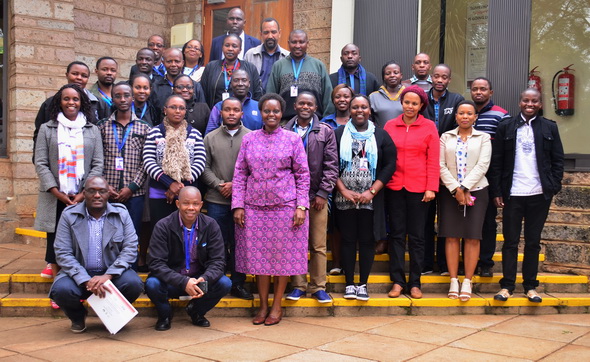 For more information on this and other bioscience developments in Africa, contact Dr. Margaret Karembu at mkarembu@isaaa.org.

Americas
An international research team comprised of Takeshi Kuroha of Tohoku University, Motoyuki Ashikari of Nagoya University, Susan R. McCouch of Cornell University and research collaborators in Japan and the U.S.A., have discovered a gene in rice that is critical to its survival in flooded conditions. The team has also shed light on its molecular function and evolutionary history.
The research team identified a rare allele of the semi-dwarf 1 (SD1) gene to be responsible for rice's adaptation to deep water. A transcriptional gain-of-function allele of the SD1 gene enables deepwater rice to adapt to flooding via the opposite phenotypic response - an increase in plant height.
Expression of SD1 is triggered by a build-up of ethylene gas in the water that occurs when a plant is submerged. As the plant chemically senses the ethylene gas, a genetic response that activates the expression of the SD1 gene is triggered; the protein gene expression then causes a rapid increase of a unique form of the hormone gibberellin, GA4, which promotes rapid stem elongation and growth of the plant.
For more details, read the news releases from Cornell University and Tohoku University.
[ Send to a Friend | Rate this Article ]
---
Michelle Miller, popularly known as the Farm Babe, is an Iowa-based farmer, public speaker, and writer. She debunked myths about GMOs from the point of view of a real farmer of GM corn and soybeans. Farm Babe stresses that 90 to 95 percent of certain crop farmers choose to plant GMOs, and they must have a good reason for that decision.
According to Farm Babe, farmers are not forced to grow GMOs. "We grow them because we want to and they help us, you, and the planet. Since the inception of certain GMO crops, insecticide spray is down 85 percent, while overall pesticide spray is down 37 percent, crop yields are up on average 21 percent. If farmers can produce more crops on less land while using fewer inputs, less pesticides, fuel, etc., we are going to jump on it. Please allow us to do our jobs," Farm Babe shares.
She also stressed that GMOs are the most regulated and tested products of plant breeding and are proven safe by nearly every major food safety authority globally. No peer-reviewed report has shown that GMOs are risky, while there are peer reviewed evidence that they are safe.
Read the entire article from AgDaily.
Asia and the Pacific
Buckwheat researchers from Japan led by Dr. Yasuo Yasui, a renowned buckwheat scientist, in cooperation with GeneBay, NRGene's Japanese partner, have assembled the first accurate buckwheat genome.
Buckwheat is neither a grain nor a grass, but a pseudocereal which is more related to rhubarb. Buckwheat grains are eaten as groats, and the flour is used in noodles and other foods. It is gluten-free and high in protein, so its popularity has been increasing recently.
The homozygous diploid genome is estimated to have ~1.3 Gbp haploid genome size, and NRGene has assembled 1.27 Gbp with an N50 of 28.8 Mbp, with a negligible gap percentage of 0.5%. As compared to previous publicly available assemblies, this assembly presents a significant-increase of the N50 value and higher accuracy.
For more information, read the news release from NRGene.
[ Send to a Friend | Rate this Article ]
---
The Cornell Alliance for Science calls for supportive written comments and testimony for the field trial of Golden Rice in the Philippines. The public consultations are scheduled on July 18 and 19 in Nueva Ecija and Isabela provinces, respectively.
Golden Rice is a beta-carotene enriched rice developed through genetic engineering to address vitamin A deficiency, a serious health problem faced by millions of children and pregnant women all over the world. This new type of rice is currently understudy by International Rice Research Institute and Philippine Rice Research Institute. The proposal for field trial requires public consultations. The Alliance is seeking the support of those who understand the value of this new product to speak up to ensure that the research about Golden Rice continues to field trials.
Golden Rice has been proven to be safe by leading regulatory agencies, namely the US Food and Drug Administration, Food Standards Australia New Zealand, and Health Canada.
Comments are particularly welcomed from areas where the trials will be held—Brgy. Maligaya and and Brgy. Malasin, as well as nearby localities. Written comments and statements of support can be sent to Mr. George Y. Culaste, OIC-Director, Bureau of Plant Industry, San Andres, Malate, Manila. His telephone number is 02-404-0409 and his email address is bpibiotechsecretariat@gmail.com.
Read the original post from Cornell Alliance for Science.
[ Send to a Friend | Rate this Article ]
---
In 2015, Vietnam allowed the cultivation of biotech maize in the country. According to the ISAAA Report for 2017, farmers in Vietnam planted approximately 45,000 hectares of biotech maize.
Le Thanh Hai, one of the earliest adopters of the technology from Vinh Phuc Province, said that there was limited information about the food safety of the product after it was commercialized. "However, GMM (genetically modified maize) is pest resistant and suitable for the local crop structure. GMM has helped revive maize farming in our locality," Hai said, and stressed that many farmers now grow GMM.
Tran Quang, Director of the Xuan Tien Trade & Agriculture Service Cooperative in Dong Nai province, said that 150 hectares of the cooperative is now covered with biotech maize and the products have been selling well.
Huynh Van Dang from An Giang province has been testing to grow biotech maize on 6,000 square meters since early this year. Dang found that there are many advantages of biotech maize farming such as less labor and less time to look after the crops. "As we don't have to spend much time on the GMM field, we have time to take other work to earn extra money," he said.
Read more from Vietnam Net.
[ Send to a Friend | Rate this Article ]
---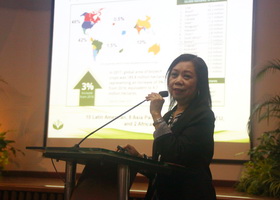 Science and economics merged during The Economics of Biotech Crops: A Symposium to Promote Economic and Financial Literacy symposium held on July 17, 2018 at the SEARCA Umali Auditorium, Los Baños, Laguna, Philippines.
The half-day event was a joint collaboration of the Southeast Asian Regional Center for Graduate Study and Research in Agriculture through its Biotechnology Information Center (SEARCA BIC) in partnership with the International Service for the Acquisition of Agri-biotech Applications (ISAAA), International Rice Research Institute (IRRI), and the Philippine Economic Society (PES) toward the implementation of Republic Act No. 10922 (Economic and Financial Literacy Act of 2016) and in observance of Nutrition Month this July.
More than 60 participants composed of scientists and experts as well as representatives from the academe, national and international agencies/institutions, partners from the biotech and business sectors, and media practitioners were informed on topics centered on the socio-economic aspect of GM crops, including the global status of biotech crops presented by ISAAA's Dr. Rhodora Aldemita, IRRI's research on biotech rice by Dr. Russel Reinke, the socio-economics of Bt Eggplant by Dr. Cesar Quicoy, and the social and economic impact of biofortification through genetic modification by Dr. Matty Demont.
Dr. Maja-Leah Ravago, PES President, underlined the significance of looking at the economic and financial prospects of biotech crops because ultimately, maximizing the profits of the farmers is most important. She also expressed PES' support in ensuring that accurate information from the experts is communicated to the public. Meanwhile, Dr. Desiree Hautea, Project Leader of the Bt Eggplant Project, agreed and commented during the open forum that one of the things that will always make bottomline to anyone is economics. She added that this poses a challenge to the economics partners on how they can impact the communications discourse with science-based information.
For more information on biotechnology developments in the Philippines, visit the SEARCA BIC website.
[ Send to a Friend | Rate this Article ]
---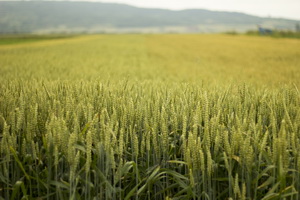 Australia's Office of the Gene Technology Regulator (OGTR) has issued a license to the Commonwealth Scientific and Industrial Research Organisation (CSIRO) authorizing the field trials of wheat genetically modified (GM) for rust disease resistance. The field trials for License Application DIR 162 will be carried out between September 2018 to September 2023 with the proposed locations at Ginninderra Experiment Station in the Australian Capital Territory (ACT) and Boorowa Agricultural Research Station, Shire of Boorowa in New South Wales for up to 1 hectare per year.
The final Risk Assessment and Risk Management Plan (RARMP) concludes that this field trial poses negligible risks to people and the environment and does not require specific risk treatment measures. The finalized RARMP, together with its summary, a set of Questions and Answers on this decision and a copy of the license are available online from the DIR 162 page in the OGTR website.
Europe
The European Food Safety Authority (EFSA) Panel on Genetically Modified Organisms (GMO Panel) has published the Scientific Opinion on the safety of genetically modified (GM) herbicide‐tolerant and insect‐resistant maize Bt11 × MIR162 × 1507 × GA21 (referred to hereafter as 'four‐event stack maize') and its subcombinations independently of their origin (referred to hereafter as 'subcombinations'). The scientific opinion is published based on the application EFSA–GMO–DE–2010–86 under Regulation (EC) No 1829/2003 from Syngenta.
The scope of application EFSA‐GMO‐DE‐2010‐86 is for the placing on the market of maize Bt11 × MIR162 × 1507 × GA21 and three subcombinations (Bt11 × MIR162 × 1507, MIR162 × 1507 × GA21 and MIR162 × 1507), independently of their origin, for food and feed uses, import and processing.
For application EFSA‐GMO‐DE‐2010‐86, the previous assessments of the four single maize events and seven subcombinations provided a basis to evaluate the four‐event stack maize and the three subcombinations included in the scope of the application. The four single maize events (Bt11, MIR162, 1507 and GA21) and seven subcombinations (Bt11 × GA21 × MIR162, Bt11 × 1507 × GA21, Bt11 × GA21, MIR162 × GA21, Bt11 × MIR162, Bt11 × 1507 and 1507 × GA21) were previously assessed by the GMO Panel and no concerns on their safety were identified.
No safety issue concerning the four single maize events was identified by the updated bioinformatic analyses nor reported by the applicant since the publication of the previous GMO Panel Scientific Opinions. Therefore, the GMO Panel considers that its previous conclusions on the safety of the single maize events remain valid.
For more details, read the scientific opinion in the EFSA Journal.
[ Send to a Friend | Rate this Article ]
---
An international team coordinated by the French Agricultural Research Centre for International Development (CIRAD) has released the genome sequence of sugarcane.
The sugarcane's genome is so complex that conventional sequencing techniques were proven useless. It comprises between 10 and 12 copies of each chromosome, when the human genome has just two. This meant that sugarcane was the last major cultivated plant to have its genome sequenced.
The team used a discovery made in CIRAD 20 years ago: the genome structure of sorghum, which is very similar to that of the sugarcane. Olivier Garsmeur, CIRAD researcher and lead author of the study, used the sorghum genome as a template to assemble and select the sugarcane chromosome fragments to sequence.
According to the research team, the sugarcane genome is complex for several reasons:
high polyploidy (large number of copies of each chromosome category)
aneuploidy (variable number of copies depending on the chromosome category)
bispecific origin of the chromosomes
structural differences and interspecific chromosome recombinants.
For more details, read the news release from CIRAD.
Research
Nucleotide-binding site-leucine-rich repeat (NBS-LRR) proteins are immune sensors and play roles in plant disease resistance. Researchers from Anhui Agricultural University in China recently characterized a new NBS-LRR gene in maize, ZmNBS25.
The team found that ZmNBS25 could respond to pathogen inoculation and salicylic acid (SA) treatment in maize. Furthermore, overexpression of ZmNBS25 in tobacco induced a hypersensitive response. ZmNBS25 overexpression in Arabidopsis and rice resulted in higher SA levels compared to control plants.
By triggering the expression of certain defense-responsive genes, ZmNBS25-overexpressing lines enhanced the resistance of Arabidopsis and rice to Pseudomonas syringae pv. tomato and sheath blight disease, respectively. Moreover, there was also a little change in grain size and 1000-grain weight between ZmNBS25-overexpressing rice lines and the controls.
These results suggest that ZmNBS25 can function as a disease resistance gene across different species. It could be a valuable candidate for engineering resistance in breeding programs.
For more information, read the article in Frontiers in Plant Science.
[ Send to a Friend | Rate this Article ]
---
Production of the storage lipid triacylglycerol in vegetative plant tissues has emerged as a promising strategy to meet the world's need for vegetable oil. Sorghum (Sorghum bicolor) is an attractive target crop due to its high biomass, drought resistance and C4 photosynthesis. While oilseed-like triacylglycerol levels have been engineered in the C3 model plant tobacco, progress in C4 monocot crops has been relatively slow. This prompted researchers from CSIRO Agriculture and Food in Australia to modify sorghum so its leaf tissues produce and accumulate triacylglycerol.
The team overexpressed the maize (Zea mays) WRI1 transcription factor gene, the UrDGAT2a acyltransferase gene from the fungus Umbelopsis ramanniana and Oleosin‐L oil body protein from sesame (Sesamum indicum). Overexpressing these three genes led to the upregulation of lipid synthesis in the transgenic sorghum. The resulting transgenics exhibited increased oil content, which was visible as lipid droplets in the leaf mesophyll cells.
These results present the first step forward towards the development of sorghum as a biomass oil crop.
For more information, read the article in Plant Biotechnology Journal.
New Breeding Technologies
Sucrose non-fermenting related protein kinases (SnRKs) play important roles in plant growth, development, metabolism and resistance to environmental stresses. The soybean genome has four SnRK1 genes, of which GmSnRK1.1 and GmSnRK1.2 are predominant and participate in multiple stress response pathways. To study the role of these genes in response to ABA and alkaline stresses, a research team from the Northeast Agricultural University in China used CRISPR-Cas9 to knock out both GmSnRK1.1 and GmSnRK1.2.
Analysis of the genome-edited soybeans showed that both genes were efficiently knocked out in 48.6% of the resulting hairy roots. The team, led by Hui Qing Li, also generated control hairy roots that overexpressed GmSnRK1. The wildtypes, knockout lines, and overexpressing lines were all treated with abscissic acid for 15 days. Results showed that the growth of the wildtypes and GmSnRK1-overexpressing roots were significantly inhibited compared to the double-knockout roots. The overexpressing roots also notably displayed less root lengths and fresh weights.
However, after treatment with sodium bicarbonate for 15 days, the growth of the double-knockout roots were significantly inhibited compared to the wildtype and GmSnRK1 overexpressed control roots. These results imply that knockout of GmSnRK1.1 and GmSnRK1.2 improved hairy root sensitivity to ABA but also lessened its resistance to alkaline stress.
For more information, read the article in Europe PMC.
[ Send to a Friend | Rate this Article ]
---
The B-class of MADS-box transcription factors has been studied in many plant species, but remain uncharacterized in the Rosaceae family. APETALA3 (AP3), a member of this class, is known to control the petals and stamens in Arabidopsis thaliana. Carmen Martín-Pizarro, together with her colleagues from the Universidad de Malaga in Spain, aims to learn AP3's role in the cultivated strawberry (Fragaria × ananassa) by studying an AP3 member, FaTM6.
Using CRISPR-Cas9 system, the team aimed to knockout the FaTM6 to characterize the function of FaTM6 in flower development. An analysis of the target sites showed a high efficiency genome editing already in the T0 generation. Phenotypic characterization of the mutant lines indicates that FaTM6 plays a key role in petal and especially in anther development in strawberry.
These results validate that FaTM6 plays a role in flower development in strawberry. This study also confirms that CRISPR-Cas9 can be applied in an octoploid species such as the cultivated strawberry.
For more information, read the article in the University de Malaga website.
[ Send to a Friend | Rate this Article ]
---
Seed vigor is an imperative trait for the direct seeding of rice. Isopropylmalate synthase (IPMS) is known to catalyze an important step in leucine (Leu) synthesis, but its effect on seed vigor remains unclear. Nanjing Agricultural University researchers led by Yongqi He investigated the role of rice OsIPMS1 and OsIPMS2 genes in seed vigor.
Both OsIPMS1 and OsIPMS2 catalyze Leu synthesis, and Leu feedback inhibits their activities. Disruption of OsIPMS1 via CRISPR-Cas9 resulted in low seed vigor under various conditions, which might be associated with the reduction of amino acids in germinating seeds. Eleven amino acids involved in stress tolerance, gibberellic acid synthesis and tricarboxylic acid cycle were significantly reduced in osipms1 mutants compared to wildtypes during seed germination.
A total of 1,209 differentially expressed genes (DEGs) were found in the osipms1a mutant, most of which were involved in glycolysis, protein processing, pyruvate, carbon, fructose and mannose metabolism. Further analysis confirmed that the role of OsIPMS1 in seed vigor is involved in starch hydrolysis, glycolytic activity and energy levels in germinating seeds.
This study provides insights into the function of OsIPMS1 on seed vigor and should have practical applications in the improvement of rice.
For more information, read the article in Plant Biotechnology Journal.
[ Send to a Friend | Rate this Article ]
---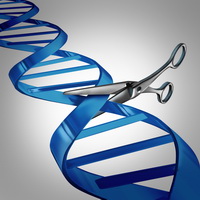 The CRISPR-Cas9 system has been widely used for inducing targeted mutations in a variety of species. In Arabidopsis, CRISPR relies on the edited cells where the Cas9 protein does its activity to obtain heritable and stable mutated lines. Fudan University researchers designed an improved CRISPR-Cas9 system, named MSC (meiocyte-specific CRISPR-Cas9) system. In this system, the Cas9 expression is driven by an experimentally approved meiocyte-specific promoter.
To test the system, the team, led by Penghui Xu, targeted two endogenous genes, the vegetative gene AtDET2, and reproductive gene AtDMC1. In the T1 generation, heterozygous plants for the targeted genes were obtained in high efficiency. Meanwhile, homozygous plants were abundant in the T2 generation.
The team also made a suicide-MSC system, which can edit the targeted endogenous gene and the exogenous Cas9 gene simultaneously, maintaining the stable mutated alleles for functional studies.
These two new systems provide new approaches to generate mutations for gene functional studies.
For more information, read the article in Frontiers in Plant Science.
Document Reminders
Zachary Lippman, a plant biologist at Cold Spring Harbor Laboratory in New York with an expertise in genetics and development, shares about the wonders of gene editing in the August 2018 issue of Wired.
Dr. Lippman explains how Jointless tomatoes were developed through gene editing. "We can now use Crispr to go in and directly target that gene for the molecular scissors to cut, which leads to a mutation," ­Lippman said. Read more from Wired.
From The BICs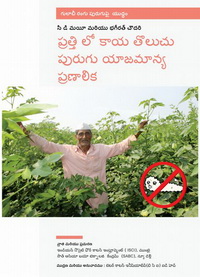 Supported by Better Cotton Initiative (BCI) and The Sustainable Trade Initiative (IDH), the book Cotton Pink Bollworm Management Strategy produced by the South Asia Biotechnology Centre (SABC) and Indian Society for Cotton Improvement (ISCI) is now available in Telugu. The book is authored by Dr. CD Mayee and Bhagirath Choudhary of SABC as a part of the campaign War on Pink Bollworm implemented jointly by SABC, ISCI, and Agrovision Foundation.
In the past, the pink bollworm strategy was published in other Indian local languages including Gujarati, Hindi, and Marathi to cater to a large base of cotton farmers of Northern India, Gujarat, and Maharashtra. The Telugu version of Cotton Pink Bollworm Management Strategy highlights the nature of the dreaded pest, its life cycle, reasons of resistance development in pink bollworm and nature of symptoms and damage and proposes, farmers' friendly and easy-to-implement, strategies for both pre-cultivation, post-planting, and post-harvest of cotton. The Telugu version is meant to spread awareness, "dos & don'ts" on pink bollworm, and educate farmers of Andhra Pradesh and Telangana States of Southern cotton growing zones.
Download a free copy of Telugu version of Cotton Pink Bollworm Management Strategy from the SABC or ISCI website. For printed copies, contact the South Asia Biotechnology Centre by email addressed to bhagirath@sabc.asia or Rajeev Baruah of BCI at rajeev.baruah@bettercotton.org.