News
Global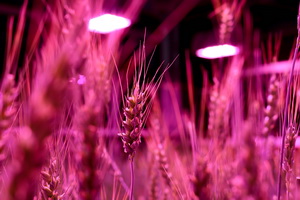 Speed breeding, together with other state-of-the art technologies such as gene editing, is the best way to develop a pipeline of new crops. This is according to an article in Nature Biotechnology authored by geneticists from the University of Queensland, Australia.
"We face a grand challenge in terms of feeding the world. If you look at the stats, we're going to have about 10 billion on the planet by 2050 and we're going to need 60 to 80 percent more food to feed everybody. It's an even greater challenge in the face of climate change and diseases that affect our crops that are also rapidly evolving," said lead author, Dr. Lee Hickey.
Traditional plant breeding, however, is a slow process. Inspired by the National Aeronautics and Space Administration (NASA)'s study on how to grow food on space stations, Dr. Hickey and team control light and temperature to send plant growth into overdrive. In their Nature article released in November 2018, they reported that they can grow up to six generations of wheat, barley, chickpeas, and canola in a year, while traditional techniques only enable 1-2 generations for that span of time.
In their latest article, Dr. Hickey reported the potential of speed breeding, as well as other techniques that may significantly contribute to food security. They have integrated new genetic techniques to optimize flowering times and make plants more resistant to the effects of climate change. For instance, they are currently working on using the CRISPR system to modify plants' genes while simultaneously speed breeding them.
One of the future plans of the team is to train plant breeders in India, Zimbabwe, and Mali in partnership with International Crops Research Institute for the Semi-Arid Tropics and support from the Bill and Melinda Gates Foundation.
Read about the benefits of speed breeding in Nature Biotechnology, Hickey Lab, The New York Times, and TEDx.
Americas
To help researchers identify high yielding crop traits, a team from the University of Illinois have stacked together six high-powered, machine learning algorithms that are used to interpret hyperspectral data. The team showed that the technique improved the predictive power of a previous study by up to 15 percent, compared to using just one algorithm.

A previous study by the team introduced spectral analysis as a means to quickly identify photosynthetic improvements that could increase yields. In a new study, published in Frontiers in Plant Science, the team improved their previous predictions of photosynthetic capacity by as much as 15 percent using machine learning, where computers automatically applied these six algorithms to their dataset without human help.
"We are empowering scientists from many fields, who are not necessarily experts in computational analysis, to translate their enormous datasets into beneficial results," said first author Peng Fu, a postdoctoral researcher at Illinois, who led the work for the project Realizing Increased Photosynthetic Efficiency (RIPE). He added that with the stacked algorithm, "scientists do not need to scratch their heads" to figure out which machine learning algorithms to use as they can apply six or more algorithms—for the price of one—to make more accurate predictions.
For more details, read the news article in the University of Illinois website.
[ Send to a Friend | Rate this Article ]
---
An international team of researchers from Spain, Switzerland, Denmark, and Italy has sequenced the first complete almond genome. The sequence represents almost 95 percent of the genes, or nearly 28,000 genes and roughly 246 million base pairs. The sequencing project sought to find the genetic differences between bitter and sweet almonds.

Almonds produced nowadays are sweet, tasty, and safe to eat, but they were not usually so. Years ago, almonds were bitter and poisonous. In early Greek writings, breeders inserted chunks of pine into the trunks of almond trees, resulting in sweeter fruit. It is now believed that doing so stressed the trees, preventing them from producing amygdalin, the toxin responsible for the bitter taste.

Over time, farmers bred domesticated almond trees to produce palatable seeds. The research reveals how a genetic mutation "turned off" almond's ability to make the toxic compound thousands of years ago. Amygladin gives wild almond seeds bitterness and toxicity. When ingested, amygladin breaks down into several chemicals, including benzaldehyde, which tastes bitter, and cyanide, a deadly poison. The team found that the protein called bHLH2 in wild almond trees binds to two genes, instigating the production of amygdalin. In sweet domestic varieties, there is a mutated version of bHLH2 that is not able to bind with the genes, thus, production of amygdalin does not occur.
For more details, read the news releases from Scientific American and NPR.
Asia and the Pacific
Scientists from four research institutes in China have sequenced the whole genome of 3,800-year-old wheat seeds unearthed from Xinjiang Uygur Autonomous Region, decoding the food crop's spreading route into China. The results of the study are published in The Plant Journal.

The research team extracted DNA from seven ancient wheat seeds discovered from Xiaohe and Gumugou cemeteries in Xinjiang, which is an essential geographic intersection between the East and the West. They found that dehusked and well-preserved seeds from the archaeological sites are similar to the wheat currently grown in southwest China. The scientists propose that the common wheat dispersed from the Qinghai-Tibet Plateau in west China to the Yangtze River valley in central and eastern China.
For more details, read the news from Xinhua or a summary of the paper in The Plant Journal.
[ Send to a Friend | Rate this Article ]
---
Around 1,500 farmers gathered in a field in Maharashtra to plant Bt brinjal and herbicide tolerant cotton seeds, which are not approved for planting in India. They planted the seeds because they believe that the seeds could improve their livelihoods and help decrease pesticide use in the farms. Bt brinjal has been planted by thousands of farmers in Bangladesh, where it is approved for planting since 2013.
According to Lalit Patil Bahale, the owner of the farm used in the protest, the act is a "satyagraha", a word coined by Mahatma Gandhi for campaigns of non-violent civil disobedience against unjust colonial-era laws.
The protest came after an incident in Haryana where farmers were found to be planting Bt brinjal, despite the GM brinjal ban that was implemented in 2010. The Bt brinjal farms in Haryana were destroyed by authorities. During the protest, the farmers demanded the government to compensate the farmers in Haryana and declared that they are currently raising funds to give assistance to the farmers affected by the incident.
Read the original article from Cornell Alliance for Science.
[ Send to a Friend | Rate this Article ]
---
New research at The University of Queensland (UQ) debunks the myth that modern wheat varieties are heavily reliant on pesticides and fertilizers. According to Dr. Kai Voss-Fels of UQ's Queensland Alliance for Agriculture and Food Innovation (QAAFI), modern wheat varieties have out-performed older varieties in adjacent field trials under both optimum and harsh growing conditions.

In a large-scale study spanning five decades of wheat breeding, the researchers compared 200 wheat varieties, essential to agriculture in Western Europe over the past 50 years, under contrasting input levels of fertilizers and pesticides. Dr. Voss-Fels and Dr. Ben Hayes developed a method to match the performance differences with the different wheat varieties' genetic make-up.

The study reveals that breeding for high performance not only enhances cultivar performance under optimal production conditions but also in production systems with reduced agrochemical inputs. New cultivars with accumulated genetic variants confer favorable effects on key yield parameters, disease resistance, nutrient use efficiency, photosynthetic efficiency, and grain quality.

For more details, read the article in UQ News.
[ Send to a Friend | Rate this Article ]
---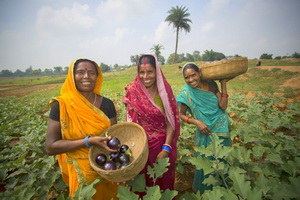 Bt eggplant or brinjal (Solanum melongena) as it is more commonly known in Bangladesh, has revived the country's eggplant industry by increasing fruit yield and reducing insecticide use, according to a study led by scientists from Cornell University and the Bangladesh Agricultural Research Institute (BARI).
Grown by an estimated 150,000 resource-poor farmers on 51,000 ha throughout Bangladesh, brinjal is the second-most important vegetable in the country. However, the prevalence of the eggplant fruit and shoot borer or EFSB (Leucinodes orbonalis) continues to plague eggplant production and has also caused severe economic damage. Farmers regularly spray broad-spectrum insecticides 2-3 times a week or even twice a day to control the insect, making the fruit unfit for consumption.
To address the EFSB pest, Bangladesh has developed and released four Bt brinjal varieties with the Cry1Ac gene (Bt brinjal). Bangladesh is the first developing country to release a commercial genetically modified (GM) food crop. Since its approval in 2013, the number of farmers adopting the crop has steadily increased, from 20 farmers in 2014 to more than 27,000 in 2018. A previous study conducted by BARI also indicated that farmers saved 61% of pesticide cost compared to non-Bt brinjal farmers with no yield losses. The study likewise noted a six-fold increase in profit ($2,151/ha for Bt brinjal as compared to $357/ha for non-Bt brinjal) during the 2016-2017 cropping season.
The researchers attributed the success of Bt brinjal in Bangladesh to several factors, most notable of which is the strong political support from key Bangladeshi leaders and agencies as well as the growing engagements of the private sector seed companies and the use of multimedia platforms to share information and build awareness on the benefits of Bt brinjal.
For more details, read the full journal article on Cold Spring Harbor Perspectives in Biology.
Europe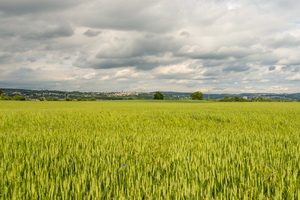 The Federal Office for the Environment (FOEN) of Switzerland has given permission to the University of Zurich to conduct field trials of genetically modified (GM) barley under strict conditions on June 12, 2019.
The FOEN approved the application and set out the measures that the university had to take to prevent GM material from spreading outside the experimental area. These requirements are comparable to those made in previous trials conducted in Switzerland. The field trial has been restricted to five cultivation periods from spring 2019 to autumn 2023 and will be carried out on a protected site at the Reckenholz (ZH) site of the Swiss Federal Research Station Agroscope.
The barley that will be tested has been modified with the wheat resistance gene Lr34. The researchers want to find out whether the gene can also protect corn and barley. The crop will be exposed to barley leaf rust and powdery mildew fungi to test resistance. The field trials will also test whether the genetic modifications have any effect on crop development and yield.
For more details, read the media release (in German) in The Federal Council website. The application release is available here.
Research
Drought is one of the abiotic factors that affect the yield of crops. Studies have shown that basic leucine zipper motif (bZIP) transcription factors play an important regulatory function in plant drought stress responses. However, the functions of bZIP transcription factors in rice are still mysterious. Scientists from Shanghai Agrobiological Gene Center identified and characterized a novel drought stress-related bZIP transcription factor in rice—OsbZIP62. The findings are published in BMC Plant Biology.
Results showed that the expression of OsbZIP62 was induced by drought, hydrogen peroxide, and abscisic acid (ABA). Overexpression of OsbZIP62-VP64 (OsbZIP62V) led to improved tolerance to drought and oxidative stress exhibited by transgenic rice, while osbzip62 mutants showed the opposite response. OsbZIP62-GFP was found to be localized to the nucleus, and the N-terminal sequence was required to activate the transcription of OsbZIP62. Furthermore, analysis showed that the expression of several stress-related genes was upregulated in OsbZIP62V plants.
The findings imply that OsbZIP62 is important in ABA signaling pathways and positively regulates rice drought tolerance by controlling the expression of stress-related genes, and this gene could be used to genetically engineer important crops with better drought tolerance.
Read the research article in BMC Plant Biology.
[ Send to a Friend | Rate this Article ]
---
Aphids and the plant viruses they spread cause billions of dollars worth of crop damage globally every year. Scientists at the USDA Agricultural Research Service and Boyce Thompson Institute (BTI) are investigating this relationship at the molecular level with an objective of finding new ways to control the pests. Their findings are published in Phytobiomes Journal.
The researchers developed small RNA sequencing techniques to understand the relationship between plant viruses and aphids. They found a plant virus and an insect virus working together to increase the likelihood that both viruses will spread to other plant and aphid hosts. This relationship could be the first reported example of cooperation between a plant virus and an insect virus.
The study is centered on green peach aphid (Myzus persicae), which feeds on several crops such as peaches, tomatoes, potatoes, cabbage, corn, and many others, and has the capacity to transmit over a hundred plant viruses. There is high attention towards potato leafroll virus (PLRV) because it can cause up to 50% yield damage or 20 million tons of global yield losses in a year. They found that PLRV suppressed the aphid's immune system, and this suppression was mediated by a single virus protein (P0). P0 is a PLRV protein expressed in the plant tissue and not in the aphids. While P0 had been previously shown to suppress plants' immune systems, the protein's impact on the insect's immune system was a surprise to the researchers.
Read more results in Phytobiomes Journal and from BTI.
New Breeding Technologies
Genome editing in maize using CRISPR-Cas9 is an effective technique and researchers aim to target several genes at the same time. Genetic transformation of maize is expensive and requires a lot of work, thus, it would be beneficial for researchers to have vectors that target multiple genomic loci from one transformation event. One of the techniques to achieve this is to arrange Cas9 guides into a multiplex array that is transformed as a single locus to the plant. However, these arrays are difficult to create using traditional assembly methods. Researchers from the University of Massachusetts Amherst, USA, developed the MoClo system, which is an elaboration of Golden Gate cloning and tailor-fit for assembling larger multiplexed Cas9 guide arrays.
The system is detailed in Bio-101, an online database of life science protocols.
[ Send to a Friend | Rate this Article ]
---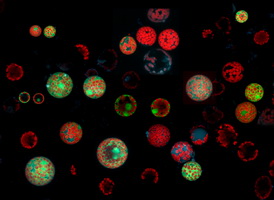 CRISPR-Cas9 is a popular method used to edit genes in various organisms. However, the system may not work properly in the presence of complex high ploidy genomes and inefficient or poorly controlled CRISPR-Cas9 delivery to cells with regenerative potential. Thus, experts from the University of Copenhagen aimed to improve the system's efficiency using Fluorescence Activated Cell Sorting (FACS) of protoplasts. The results are published in BMC Biotechnology.
The researchers used Agrobacterium tumefaciens infiltration in leaves of Nicotiana benthamiana, a tobacco relative, to deliver the improved CRISPR-Cas9 system targeting two locations in the genome. Then they isolated the protoplasts from the infiltrated leaves and subjected them to FACS to select green fluorescent protein (GFP)-enriched protoplast populations. The results showed a 3 to 5-fold increase in mutation frequencies as manifested by various analyses conducted.
Based on the findings, FACS of protoplasts expressing green fluorescent protein-tagged CRISPR-Cas9 delivered through A. tumefaciens infiltration facilitated clear CRISPR-Cas9 mediated mutation enrichment in selected protoplast populations.
Read more about the study in BMC Biotechnology.
Beyond Crop Biotech
Oxitec Ltd. has announced the successful completion of the first field trial in Brazil of its 2nd Generation Friendly™ Aedes aegypti technology. The pilot project was conducted in the city of Indaiatuba, and showed the new strain's effectiveness in suppressing populations of A. aegypti, the primary vector of Dengue, Zika, Chikungunya, and Yellow Fever.
Friendly™ Aedes aegypti mosquitoes were released in four separate communities approved by CTNBio, Brazil's national biosafety authority during a year-long trial that started in May 2018. The trial was set to test the performance of 2nd Generation Friendly™ Aedes aegypti technology. The numbers of wild A. aegypti were kept at low levels during the high season in all treated neighborhoods, while the populations in untreated areas rose as normal.
An average 89% peak suppression was recorded in two communities treated with a low release of mosquitoes, and an average of 98% across two communities treated with a higher release rate. An optimal suppression rate of 96% was observed in one community with a high release rate over a four-week period was achieved.
Dr. Graziela Garcia, the City of Indaiatuba's secretary of health said that the "collaboration between the city and Oxitec has been positive and transparent, and the suppression results in the areas that received Oxitec mosquitoes were excellent."
For more details, read the news release from Oxitec.
[ Send to a Friend | Rate this Article ]
---
A team of scientists from the Lawrence Livermore National Laboratory (LLNL) and the Joint BioEnergy Institute published their new findings about identifying bacterial isolates and strains that are that are tolerant to high levels of two widely used Imidazolium ionic liquids or IILs. Specifically, they worked with two IIL tolerant Bacillus isolates and IIL tolerant E. coli laboratory strain. IILs are reagents that extract sugars from plants. In particular, a nearly limitless supply of sugar come from the plant cell walls. These are used to make biochemicals and biofuels. But during the treatment of biomass using IIL, residuals contaminate the sugar and bacterial and yeast growth are repressed. Bacterial and yeast growths are needed for the biochemical production of biofuels.
With the new discovery by the LLNL Team, a mechanism in the bacteria was found to withstand manipulation to promote IIL tolerance which resulted to a resistance to the cytotoxic effects of IIL. This involved an identified membrane transporter, or pump, in the bacteria responsible for exporting the toxic IIL. The scientists also identified two cases wherein this pump gene contained alterations in the RNA sequence of a regulatory guanidine riboswitch. Guanidine is a toxic byproduct of normal biological processes. The unmodified riboswitch was found to interact with guanidine, leading to conformational changes that cause the pump to switch on and make the bacterial cells IIL-resistant.
This may enable a more efficient biochemical production since, at an industrial level, it is essential to find less-harmful reagents and microbes that are resistant to cytotoxic effects. The results also overcome a key gap in biofuels and industrial biochemical production processes. Based on this new knowledge, new genetic engineering strategies can be proposed to improve the conversion of cellulosic sugars into biofuels and biochemicals in processes where a low concentration of ionic liquids exceed bacterial tolerance.
Read more from the Journal of Bacteriology.
Announcements
What: 6th Plant Genomics and Gene Editing Congress: Asia
When: July 29-30, 2019
Where: Grand Millennium Hotel Kuala Lumpur, Malaysia
Over the recent years, plant research and its associated technologies have improved drastically as a result of revolutionary breakthroughs such as new gene editing technology and the reduction in the cost of sequencing. As many plants have now been successfully sequenced and a wide range of biological data-set made available, plant scientists are now making use of state of the art technology platforms to help explain biological principals, advance research and therefore enable benefits such as crop improvement and breeding techniques.
Meanwhile, the mass variety of microbes within the plant and soil are not only crucial in plant growth, yield & health, but also in pest management and fixation cycles. The crop quality improving technologies and the new pest control technologies are now becoming important tools to farmers.
This year, Global Engage, the University of Nottingham (Malaysia), and Crops for the Future, are pleased to announce that the congress is co-located with Microbiome for Agriculture Congress Asia 2019. This congress is part of our highly respected Plant Genomic Series held in Europe each May and the US every September each year.
Main topics:
Next Generation Sequencing
Omics Technology
Gene Editing Technology
Plant Bioinformatics
Join the congress in Kuala Lumpur, Malaysia on July 29-30, 2019! With ISAAA as the official media partner for this event, all Crop Biotech Update subscribers are entitled to get 10% off (valid till before event date) by applying the discount code SK/ISAAA/10 when you register online.

For more details, visit the following important links: