Genetic male sterility has been studied for its biological significance and commercial use in hybrid seed production. Although many male-sterile mutants have been identified in maize (Zea mays L.), most genes that cause male sterility are unknown. The team of Ke Xie from the University of Science and Technology Beijing in China reports a maize mutant, male sterility33 (ms33), which has small, pale yellow anthers, and complete male sterility.
Researchers identified that the mutation in the maize GRMZM2G070304 gene was responsible for the mutant. Using CRISPR-Cas9, the team knocked out the GRMZM2G070304 gene. The resulting gene-edited lines had similar traits as the ms33 mutant, confirming GRMZM2G070304 to be the gene responsible for the mutant.
The gene was found to encode a sn-2glycerol-3-phosphate acyltransferase (GPAT) in maize. Expression of the gene was also revealed to rescue the male-sterile phenotype of the male-sterile ms33 mutant. The gene, denoted as ZmMs33, was found to be expressed in immature anthers and root tissues.
The study reveals that the monocot-specific GPAT3 protein plays an important role in male fertility in maize. This gene may be of great value in maize male-sterile line breeding and hybrid seed production.
For more information on the study, read the article in Theoretical and Applied Genetics.
[ Send to a Friend | Rate this Article ]
---
Many vegetable and oilseed crops belong to Brassica species. The seed production of these crops is limited by abnormal floral organs, especially under unfavorable abiotic conditions. Furthermore, the genetic mechanisms for abnormal floral organs remains poorly understood. The team of Yanfeng Zhang from the Hybrid Rape Research Center in China, report a novel pistil-like flower mutant of turnip (Brassica rapa).
The mutant possesses a flower where the four sepals are merged into one carpel, enveloping some abnormal stamens and a pistil, and resulting in poor seed production. This novel mutant is named sepal-carpel modification (scm). Analysis revealed that the BrAP2a gene, which specifies sepal identity, loses its function in scm mutants due to an insertion.
Expression of BrAP2b, as well as its paralog BrAP2a, rescues the sepal defective phenotype of the ap2-5 mutant of Arabidopsis. The researchers then used CRSIPR-Cas9 on oilseed rape (Brassica napus) targeting its BnAP2 gene, an ortholog of the BrAP2 genes. The resulting CRISPR mutants exhibited scm-like phenotype, proving their hypothesis.
These results suggest that the BrAP2 gene plays a key role in sepal modification. This provides a look into the mechanism underlying controlling floral organs and will be useful for genetic manipulation for the improvement of flowering and seed production of Brassica crops.
For more information, read the article in Frontiers in Plant Science.
[ Send to a Friend | Rate this Article ]
---
Gene function studies for the cultivated strawberry (Fragaria × ananassa) are commonly conducted via gene silencing using intron hairpin RNA (ihpRNA)-based constructs. However, this system is not as efficient or stable as expected. Carmen Martin-Pizarro and David Posé Padilla of University of Malaga in Spain investigated the use of CRISPR-Cas9 system in this octoploid species, targeting the floral homeotic gene APETALA3 (AP3).
The developed gene-edited strawberry lines displayed defects in stamen and fruit development. Analysis of the targeted locus indicated differences in gene editing among different CRISPR-edited lines, and also found lines with mutations in all eight AP3 copies in the strawberry genome. More importantly, these mutations were maintained in clone plants generated from runners, ensuring the maintenance of the CRISPR-Cas9 edits during strawberry plant propagation.
CRISPR-Cas9 system is a functional tool to perform genome editing in cultivated strawberry. This system could be an alternative strategy for functional analysis of genes in this crop.
For more information, read the article in Repositorio International de la Universidad de Malaga.
[ Send to a Friend | Rate this Article ]
---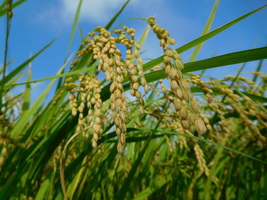 Lesion mimic mutants exhibit spontaneous cell death, thus, can be studied to understand the mechanism of cell death and disease-resistance. Although these mutants have been characterized in rice, the relationship between lesion formation and abscisic acid (ABA) is quite unknown. A team led by Liao Yongxiang from Sichuan Agricultural University in China identified a rice mutant, named lesion mimic mutant9150 (lmm9150). The mutant exhibits spontaneous cell death, enhanced growth, and resistance to rice bacterial and blast diseases.
Researchers found that cell death in the mutant was accompanied with excessive accumulation of hydrogen peroxide. Enhanced disease-resistance and upregulation of defense-related genes were also found to be associated with cell death. ABA levels in the lmm9150 mutant were also significantly reduced. Further analysis revealed a point mutation in the OsABA2 gene, a vital gene for ABA synthesis, in the lmm9150 mutants.
Through CRISPR-Cas9 knockout of OsABA2, the researchers generated gene-edited lines with similar phenotypes to lmm9150, proving that OsABA2 was truly responsible for the lmm9150 mutant.
This data revealed the connection of ABA deficiency to cell death and provided insights into the role of ABA in rice disease-resistance.
For more information, read the article in Frontiers in Plant Science.