News
Global
The Committee on World Food Security (CFS) opened its 43rd plenary on October 17, 2016, a day after the celebration of World Food Day, poised in the wake of international agreements on new global Sustainable Development Goals (SDGs) and the Paris Agreement on Climate Change. The call is to forge ahead with these goals in a coordinated action to transform the world's food systems and nutrition.
Food and Agriculture Organization (FAO) Director-General José Graziano da Silva told delegates that more than half of the world population suffer from one or more forms of malnutrition, and that CFS should look for solutions for the world's food problems.
Elisabeth Rasmussen, Assistant Executive Director of the UN's World Food Program said, "We must renew our efforts to build more sustainable food systems, which are better able to withstand changing weather patterns and extreme events and respond to nutritional needs -- building resilience into our food systems, mitigating the risks, and ensuring we are more prepared for climate shocks in the future."
For more details, read the news release at the UN FAO website.
[ Send to a Friend | Rate this Article ]
---
The Council for Agricultural Science and Technology (CAST) bestowed the 2016 Borlaug CAST Communication Award to Dr. Kevin Folta, Chair of the Horticultural Sciences Department at the University of Florida's Institute of Food and Agricultural Sciences. Through the annual award, CAST recognizes science or agriculture experts who demonstrate an exemplary ability to communicate through various forms of media. Dr. Folta is known for his efforts to educate students and the public about science, especially about facts on agricultural biotechnology. He has been previously honored with the National Science Foundation CAREER Award, the Howard Hughes Medical Institute Award for undergraduate mentoring, and the University of Florida Research Foundation Award.
Aside from his wide following and a constant engagement in the social media, Dr. Folta also maintains a blog (Illumination), which covers recent events at the interface between society and science, and a weekly podcast (Talking Biotech) which discusses genetic improvements in agriculture and medicine. He developed a communication workshop that trains scientists how to properly engage a skeptical public.
During the awarding on October 12, 2016 in Iowa, Dr. Folta delivered a memorable keynote address where he stated that scientists must explain the evidence-based risks and benefits of agricultural biotechnology, which can be tough to do in an age of misinformation. "Lead with your ethics—facts by themselves won't work…We need to listen, explain, and gain their trust by developing a shared understanding," stressed Dr. Folta.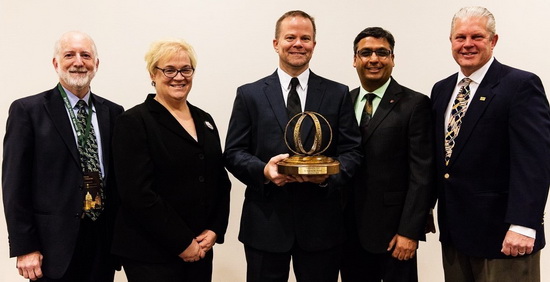 For more details, read the media release from CAST.
Africa
A one-day workshop was held at the National Research Center on October 10, 2016 to launch the ISAAA Report on the 20th Anniversary (1996 to 2015) of the Global Commercialization of Biotech Crops and Biotech Crop Highlights in 2015. The workshop was under the auspices of the President of National Research Center and the President of the Arab Center for the Studies of Arid zones and Dry lands (ACSAD). The workshop provided an academic environment for scientists in the field of biotechnology and covered basic information for the students.
Over 200 participants attended the event, including students, media practitioners, representatives for the ministries of agriculture from Arab countries, researchers from different universities and research institutes across the country. The presentations raised the issue of the biotechnological application research in different fields, including microbiome, plant and animal biotechnology.
Prof. Naglaa Abdallah, Director of the Egypt Biotechnology Information Center, gave a presentation covering the highlight of the report as well as the new breeding techniques for crop improvements. She said, "Egyptian researchers have developed a number of useful transgenic plants that are at the pipeline waiting for the approval of Biosafety law from the Parliament. The Minister of Environment has submitted the Egyptian Biosafety bill to the Parliament to review and to be passed into law. Ratification of the biosafety law will ensure safe development and use of modern biotech crops by researchers in Egypt."
She added that gene editing is the future for crop improvement and is expected to meet consumers' acceptability as it mimics regular breeding and mutations in most of its applications. The ISAAA report was presented to the Presidents of NRC and the ACSAD. They have come out strongly to support the adoption of new biotechnology techniques in the Arab region as they have the potential to enhance and increase productivity and address food security issues. Also, ISAAA translated publications and Science Carnival Journal were distributed to attendees.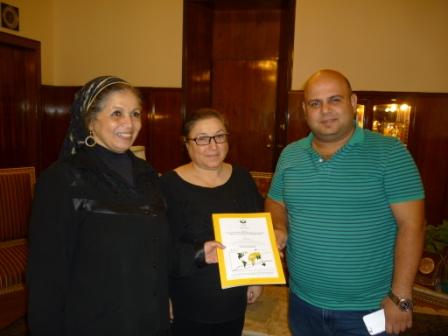 For more information about the workshop, contact Prof. Naglaa Abdallah, Director of the EBIC through naglaa.abdallah@agr.cu.edu.eg.
Americas
Researchers from DuPont Pioneer and Africa Harvest Biotech Foundation have shown that increasing vitamin E and beta-carotene production in sorghum significantly improves the availability and longevity of beta-carotene, which is converted to vitamin A in the human body.
According to researchers from DuPont Pioneer, oxidation is the main factor in the rapid breakdown of beta-carotene in sorghum grain. They were able to slow down the degradation process by inserting a gene from barley, which serves to increase vitamin E. A powerful anti-oxidant, vitamin E also helps more than double the half-life of beta-carotene in grain stored under normal conditions. Vitamin E improved an unprotected half-life of 2-3 weeks to 8-10 weeks.
Without biofortification, sorghum grain, which is a mainstay in many diets, is seriously deficient in vitamin A, iron, and zinc. Vitamin A deficiency causes a number of symptoms, including blindness and an increase in mortality from measles and diarrhea. Long-term deficiencies can cause permanent mental and physical impairment.
For more details, read the news release at DuPont Pioneer website.
[ Send to a Friend | Rate this Article ]
---
Scientists at Washington State University developed a technique to boost the quality and yield of soybeans. Their findings, published in Current Biology, could eventually help address the critical need to feed the growing human population and at the same time protect the environment.
Scientists have been attempting to speed up nitrogen fixation in legumes by modifying the rhizobia bacterioid function or interactions. Mechthild Tegeder and other researchers took another approach by increasing the number of proteins that transport nitrogen from the rhizobia bacteria to plant's leaves, seed-producing organs and other areas where it is necessary. The additional transport proteins sped up the overall export of nitrogen from root nodules. In effect, a feedback loop was initiated that caused the rhizobia to start fixing more atmospheric nitrogen, which the plant then use to make more seeds. According to Tegederm the soybean plants become bigger, grow faster, and generally look better than conventional soybean plants.
Boosting nitrogen fixation could enhance overall plant productivity for farmers who grow legumes while reducing or eliminating nitrogen fertilizer use.
Read the media release from WSU and the research article in Current Biology.
[ Send to a Friend | Rate this Article ]
---
A new sequencing technology, together with a new computer algorithm has been used to produce a high-quality draft genome sequence of cabernet sauvignon, the world's most popular red wine grape variety. The three-pronged, proof-of-concept study used an open-source genome assembly process called FALCON-unzip, developed by Pacific Biosciences in California.
Dario Cantu, plant geneticist in UC Davis Department of Viticulture and Enology said that the new genomic information will accelerate the development of new disease-resistant wine grape varieties that are better suited to environmental changes. The sequencing effort also answered questions about the ancestry of cabernet sauvignon.
Success of the new genome assembly was also demonstrated on Arabidopsis thaliana and the coral mushroom (Clavicorona pyxidata).
For more information, read the news release at the UC Davis website.
Asia and the Pacific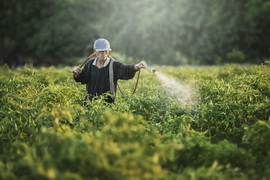 The use of glyphosate-tolerant GM crops not only increases glyphosate use, but also reduces the use of non-glyphosate herbicides, while adoption of GM insect resistant crops significantly reduces insecticide use. While the hazards of pesticide use are well known, little is known about the effects of different pesticides related to GM crops in an integrated framework.
Chinese researchers led by Chao Zhang of the Beijing Institute of Technology, aim to associate the uses of different pesticides related to GM crops with the health condition of Chinese farmers. The pesticides used by these farmers were recorded and classified as glyphosate herbicides, non-glyphosate herbicides, chemical lepidopteran insecticides, biological lepidopteran insecticides, non-lepidopteran insecticides and fungicides.
The team's analysis revealed that none of the examined health indicators were associated with glyphosate. However, the use of non-glyphosate herbicides was found to induce renal dysfunction. Meanwhile, the use of chemical lepidopteran insecticides could be associated with hepatic dysfunction, inflammation, and severe nerve damage.
The results of this study show that adoption of GM crops will cause the replacement of other herbicides with glyphosate, which may actually benefit farmer health in China and around the world, and has positive implications for GM crops.
For more on this study, read the article on Nature.
[ Send to a Friend | Rate this Article ]
---
Filipino farmers, local government constituents, and students and faculty from General Santos City and surrounding municipalities in the southern island group of Mindanao, Philippines took part in the third leg of the series of public briefings on the Joint Department Circular No. 1 (Rules and Regulations for the Research and Development, Handling and Use, Transboundary Movement, Release into the Environment, and Management of Genetically-Modified Plant and Plant Products Derived from the Use of Modern Biotechnology) and symposia on agricultural modernization.
The activity, held on October 12, 2016 in General Santos City, familiarized the stakeholders with the new guidelines which were approved by five government agencies namely the Departments of Agriculture, Science and Technology; Health; Environment and Natural Resources: and Interior and Local Government. It also briefed them on the science, environmental and food safety, and potential socio-economic benefits of modern biotechnology in the Philippines, and introduced the concept of agricultural modernization. Speakers include Dr. Rhodora Aldemita of ISAAA, biotech corn farmer-leader Edwin Paraluman, and president of the Coalition for Agricultural Modernization in the Philippines (CAMP) Dr. Benigno Peczon. Representatives from the five government departments also served as panelists during the open forum where participants clarified their concerns towards the new guidelines.
The activity was organized by the Southeast Asian Regional Center for Graduate Study and Research in Agriculture – Biotechnology Information Center (SEARCA BIC), ISAAA, and CAMP, in collaboration with Mindanao State University.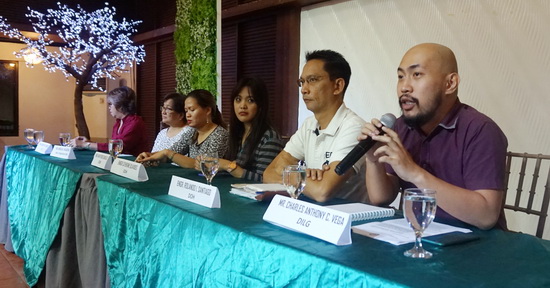 For more information about biotechnology in the Philippines, visit the SEARCA BIC website.
Research
Several metal transporters in plants accommodate multiple cations, including some which are toxic to humans. Attempts at increasing iron and zinc content of rice endosperm by overexpressing metal transporters unintentionally led to accumulation of copper, manganese, and cadmium. Unlike other metal transporters, the barley Yellow Stripe 1 (HvYS1) is specific for iron.
The team of Raviraj Banakar of the Universitat de Lleida-Agrotecnio Center Lleida investigated the basis of this preference by expressing HvYS1 in rice under the control of the maize ubiquitin1 promoter. Plants expressing HvYS1 had slight increases in iron uptake, translocation, seed accumulation, and endosperm loading, but had no changes in the uptake of zinc, manganese or copper. The zinc and manganese levels in the endosperm did not differ between the wild-type and HvYS1 lines, but the latter had significantly lower copper levels. The transgenic lines also showed a significantly reduced cadmium uptake, translocation, and accumulation in the rice seeds.
These results suggest that HvYS1 promotes the preferential mobilization and loading of iron. The increased loading of iron displaces copper and cadmium in the rice seeds.
For more information, read the full article in Plant Biotechnology Journal.
New Breeding Technologies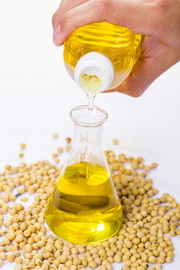 Controlling levels of individual fatty acids in soybean oil can be used to increase its shelf-life, frying stability, and nutrition. In previous studies, soybean lines with knockout mutations within fatty acid desaturase 2-1A (FAD2-1A) and FAD2-1B genes were generated, resulting in oil with increased levels of monounsaturated oleic acid and decreased levels of linoleic and linolenic acid.
The team of Zachary L. Demorest from Calyxt Inc. aimed to stack mutations within FAD2-1A and FAD2-1B with mutations in fatty acid desaturase 3A (FAD3A) to further decrease levels of linolenic acid. Mutations were introduced into FAD3A by directly delivering TALENs into fad2-1a fad2-1b soybean plants.
Oil from fad2-1a fad2-1b fad3a plants had significantly lower levels of linolenic acid as compared to fad2-1a fad2-1b plants. Moreover, oil had significantly lower levels of linoleic acid and significantly higher levels of oleic acid.
The results here provide a means for using sequence-specific nucleases to stack quality traits in soybean.
For more on this study, read the full article in BMC Plant Biology.
Beyond Crop Biotech
Researchers from the United Kingdom have successfully sequenced the Zika virus (ZIKV) genome isolated from the semen of a man who was diagnosed with ZIKV infection after a trip to the Caribbean.
Transmission of ZIKV to humans typically occurs through the bite of infected mosquitoes. However, 11 countries have reported cases of non-mosquito-borne transmission. In the paper published in Genome Announcements, the researchers wrote, "Sequence data for the virus isolated from a clinical semen sample align well with other sequences of ZIKV from the outbreak, including those from the Caribbean region, where the patient acquired the infection. The characterization of ZIKV isolated from semen samples will help improve our understanding of possible viral polymorphisms resulting from infection in different cellular environments."
When the researchers analyzed the new genome sequence data, they found that the ZIKV from the semen sample resembled previously described Caribbean Zika viruses. The researchers suggest that additional ZIKV sequencing from semen samples will help in understanding adaptation to different types of tissues, and provide clues about sexual transmission of the virus.
For more, read the paper in Genome Announcements.
Announcements
Who: All stakeholders interested in the field of allergenicity assessment (e.g. industry, competent authorities of Member States, academia, public and private research institutes as well as non-governmental organizations and patient's representatives)
What: Info session on supplementary guidance - GMO - technical meeting with stakeholders on supplementary guidance for allergenicity assessment of GM plants
Where: European Food Safety Authority (EFSA), Via Carlo Magno 1A, Parma, Italy
When: November 23, 2016
For more details on attendance and registration, visit the EFSA website.
Document Reminders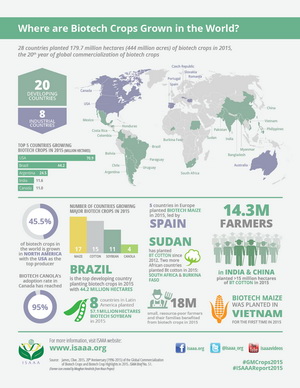 ISAAA releases a new infographic titled Where are Biotech Crops Grown in the World? The infographic contains information about the 28 countries that planted biotech crops in 2015, based on ISAAA Brief 51: 20th Anniversary (1996 to 2015) of the Global Commercialization of Biotech Crops and Biotech Crop Highlights in 2015.
Download the infographic from ISAAA.
From The BICs
Dr. Mohamed Tawfik, Head of the Oil Crops Biotechnology Lab (OCBL) at the Agricultural Genetic Engineering Research Institute (AGERI), Giza, Egypt, discussed the status of developing oil plants in Egypt with Prof. Naglaa Abdallah, Director of the Egypt Biotechnology Information Center (EBIC) during an interview.
According to Dr. Tawfik, Egypt's production of vegetable oils is limited and only covers about 3-5% of its need. Over the past 25 years, vegetable-oil consumption in Egypt increased from 8.7 kg up to 23.4 kg/ capita. Therefore, the only way to minimize this gap is by changing the consumer's consumption pattern and increasing cultivation of oil-producing crops via expanding into new reclaimed arid areas.
"The fact that we are lacking new genotypes of sesame that could be planted into new reclaimed desert-areas is a major restricting factor, limiting expansion of sesame cultivation into new lands. We are working on providing plant breeders with new sesame lines as a new genetic materials based on a commercial variety which is well adapted to the Egyptian conditions," Dr. Tawfik added.
Dr. Tawfik and his research team aimed to minimize yield loss in sesame by understanding the mechanisms determining seed shattering and engineering enhanced dehydration stress tolerance in sesame plant. "We are addressing the enhancement seed-shattering resistance in sesame via understanding the different genes involved in the maturation, and cell-wall degrading enzymes of sesame capsules. Several candidates were identified and currently we have both partial and full-length gene clones of some of the key gene plays; we are currently in the process of introducing the different constructs into sesame plants. Also, we are working on enhancement of dehydration-stress tolerance in sesame by introducing the LOS5 gene, encoding for an ABA biosynthesis enzyme needed in the last step of ABA biosynthesis in plants. So far we have 14 overexpressing transgenic lines of sesame and currently, several T1 lines are being tested and evaluated under greenhouse conditions," said Dr. Tawfik.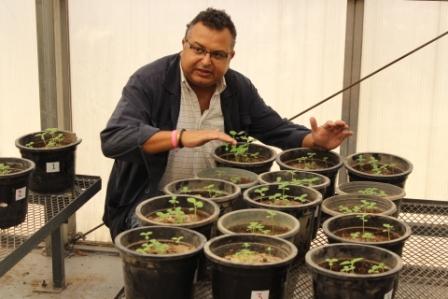 For more information about biotechnology in Egypt, contact Dr. Naglaa Abdallah at naglaa.abdallah@agr.cu.edu.eg.
---
More than a hundred officials and members of women's and consumer groups, Pasig City government officials and constituents, and students and faculty of the Pamantasan ng Lungsod ng Pasig learned about modern biotech, its science, safety, benefits, and products in the pipeline in the Philippines during the seminar-workshop "Women and biotechnology" held on September 26, 2016 in Pasig City. The activity aimed to enhance their awareness and appreciation on the applications of modern biotechnology, and the impact of biotechnology products on women's concerns. Resource persons include Philippine Genome Center-Agriculture Program Deputy Director, Dr. Maribel Zaporteza; UP Manila College of Public Health professor, Dr. Nina Gloriani; and Bt eggplant study leader from the University of the Philippines, Dr. Lourdes Taylo. Biotech corn farmer-leader Rosalie Ellasus also shared her experience as a lady farmer and biotech advocate.
The activity was organized by the Southeast Asian Regional Center for Graduate Study and Research in Agriculture - Biotechnology Information Center (SEARCA BIC), Program for Biosafety Systems (PBS) Philippines, Biotechnology Coalition of the Philippines (BCP), and the Gender and Development (GAD) Wellness Center of the Municipality of Pasig.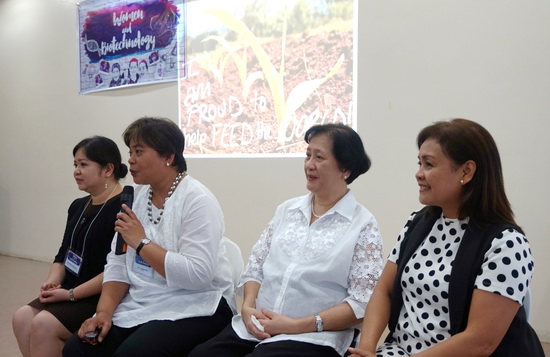 For more information about biotechnology in the Philippines, visit the SEARCA BIC website.