News
Global
Fall Armyworm is likely to spread from India to other countries in South East Asia and South China, putting food security and farmer livelihoods at risk. This news is according to the warning of the Food and Agriculture Organization of the United Nations (FAO).
The pest was first reported in Asia affecting crops in India. The insect has the ability to fly over long distances (100 km per night) and destroy crops such as maize, rice, vegetables, groundnuts, and cotton. Fall armyworm was native to the Americas and has already spread across Africa, where it was first reported in 2016.
FAO offered their expertise to farmers and governments in Asia on managing the pest through the following actions:
Implement the Fall Armyworm Monitoring and Early Warning System (FAMEWS);
Produce accurate estimates of potential crop-loss;
Provide policy and technical advice about best management options for farmers;
Rollout a continent-wide programme of farmer education and communication; and
Maintain technical backstopping and coordination efforts at country, sub-regional, regional, and global level.
Read more from FAO.
Africa
"We need a bold move... to help farmers just as Nigeria has done," said Daniel Osei Ofosu, Ghana country coordinator of the Program for Biosafety Systems (PBS) of the International Food Policy Research Institute (IFPRI). Only the most encouraging words were said by the PBS-IFRI Country Coordinator, together with Dr. Richard Ampadu Ameyaw, Ghana coordinator of the Open Forum on Agricultural Biotechnology (OFAB), about how Ghana should follow the footsteps of Nigeria in commercializing Bt cotton in the country.
Bt cotton, which was approved in Nigeria in July 2018, has higher yield and can resist bollworms and thus, can decrease pesticide use and the crop's environmental impact. Cotton production in Ghana has struggled for many years, mainly due to poor quality seeds. GMO cotton trials in Ghana have also been suspended in 2016 due to lack of funding.
The stakeholders in Ghana hopes that their country would take a cue from Nigeria regarding Bt cotton commercialization for more jobs and the progress of their textile industry.
For more information, read the article in Cornell Alliance for Science.
[ Send to a Friend | Rate this Article ]
---
The Kenya Chapter of Open Forum on Agricultural Biotechnology in Africa (OFAB) has recognized journalists for their consistent reporting on agricultural biotechnology. The event, held in Nairobi on August 9, 2018, brought together more than 150 biotechnology stakeholders, including journalists, scientists, policy makers, regulators, and producers.
Presiding over the event, Principal Secretary (PS) in the State Department of Agriculture Research at the Ministry of Agriculture, Livestock, Fisheries and Irrigation, Prof. Hamadi Boga, lauded OFAB's role in engaging the media and supporting their efforts in educating the public about agricultural biotechnology. He challenged journalists to deeply interrogate scientific issues, then decode and interpret complex biotechnology issues for better understanding by the public. "This event is an exercise that will stimulate journalists to talk more about science, especially biotechnology and other emerging technologies," the PS observed.
ISAAA AfriCenter Director and OFAB-Kenya chapter chair, Dr. Margaret Karembu, acknowledged the role of media in cultivating public awareness. "Armed with accurate information, journalists have a critical role in shaping public and policy opinions that can lead to speedy adoption of agricultural biotechnology, noting even as Africa debates, global adoption continues to rise. This has contributed to higher yields and increased farm incomes greatly reducing poverty, hunger and malnutrition in some regions most prone to these challenges. These benefits have spurred an increase in global acreage of biotech crops from 1.7 million hectares in 1996 to 189.8 million hectares in 2017. Biotechnology can thus make a significant contribution towards achieving the Kenyan Government's Big Four Agenda, and the media are best placed to pass this information to the wider public," she said.
Four journalists were awarded for their consistency in reporting and sensitizing the public on agricultural biotechnology The top winners were Philip Keitany and cameraman Japheth Makau of Kenya Television Network (KTN). Radio Maisha's Rose Mukonyo, Brian Okinda of Daily Nation were the first and second runner-up winners, respectively. The winning journalists will participate in OFAB Africa Media Awards (OMAs) in September 2018 to be held in Burkina Faso.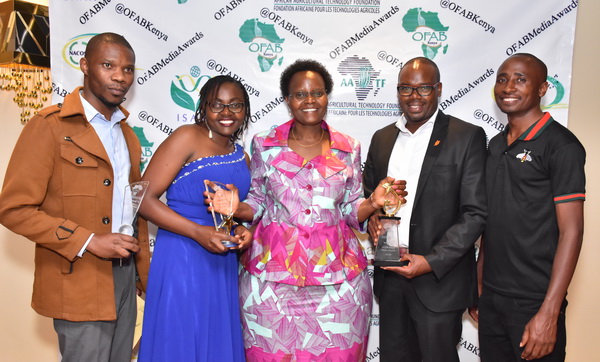 For more on OFAB-Kenya media awards, contact Dr. Margaret Karembu on mkarembu@isaaa.org.
Americas
A multidisciplinary research team from the University of California, Davis, the University of Wisconsin–Madison, and Mars, Incorporated have discovered that an indigenous variety of corn from Mexico can "fix nitrogen" from the atmosphere instead of requiring synthetic fertilizers.
The study found that a corn variety growing in Mexico's Sierra Mixe region gets 28-82 percent of its nitrogen from the atmosphere. The corn grows a series of aerial roots that secrete a gel-like substance or mucilage. The mucilage provides the low-oxygen and sugar-rich environment that attracts bacteria that can transform nitrogen from the air into a form the corn can use.
"Our research has demonstrated that the mucilage found in this Sierra Mixe corn forms a key component of its nitrogen fixation," said co-author Jean-Michel Ané, professor of Agronomy and Bacteriology in the College of Agricultural and Life Sciences at UW–Madison. "We have shown this through growth of the plant both in Mexico and Wisconsin."
For more details, read the news from UC Davis.
[ Send to a Friend | Rate this Article ]
---
A new soybean trait is bound to help farmers get compelling yield increases even under challenging climate conditions. The new technology dubbed as the HB4 soybean trait was presented by Verdeca at the AAPRESID Congress held in Cordoba, Argentina on August 8-10, 2018. The introduction of the new technology aims to invite soybean growers to participate in the testing of the trait as the initial step towards commercialization.
"HB4 technology will give growers a unique tool to help combat the challenges of managing climate variability," said Federico Trucco, CEO of Bioceres. Verdeca is a joint venture of Bioceres and Arcadia Biosciences. "Field trials conducted in the difficult drought conditions faced by Argentina's farmers in 2018 further validated this belief." "Positive results of our HB4 technology have been demonstrated in numerous field trials in major soybean production areas in South America and the U.S.," said Raj Ketkar, president and CEO of Arcadia Biosciences. "The technology is currently being bred into elite soybean varieties by Verdeca's seed company partners, and we are preparing for the commercial launch of HB4 in 2019, pending regulatory approval in China."
Argentina and the U.S. Food & Drug Administration have released approvals for the HB4 trait. Regulatory submissions are currently under consideration by the U.S. Department of Agriculture, Brazil, and China.
Read the media release from Arcadia Biosciences.
[ Send to a Friend | Rate this Article ]
---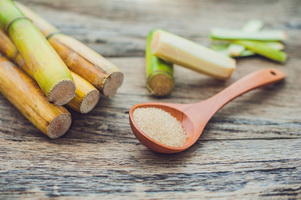 The United States Food and Drug Administration (US FDA) has concluded that raw and refined sugar from genetically engineered insect resistant sugarcane CTC175-A developed by the Centro de Tecnologia Canavieira (CTC) in Brazil are as safe as raw and refined sugar derived from conventional sugarcane varieties.
The US FDA's Biotechnology Consultation states that the "raw and refined sugar derived from its sugarcane borer-resistant variety CTC175-A are not materially different in composition from raw and refined sugar from other sugarcane varieties grown, marketed, and consumed."
For more details, read the Biotechnology Consultation file.
Asia and the Pacific
Various strategies on securing food were highlighted at the 4th International Conference on Food Safety and Food Security organized by the Asian Food Safety Association (AFSA). A range of conventional to modern methods of agriculture research and development were presented by 18 countries during the forum, with the goal of contributing to the achievement of the 2016-2030 United Nations Sustainable Development Goals. It was also the first-time for modern biotechnology to be tackled in the conference.
Dr. Rhodora R. Aldemita, Director of the ISAAA Global Knowledge Center on Crop Biotechnology, presented the highlights of the ISAAA report on the Global Status of Commercialized Biotech/GM Crops: 2018 (ISAAA Brief 53), which stirred interests among the 260 participants. Copies of Brief 53 Executive Summary were distributed to the participants. Various issues on food and environmental safety raised during the open forum were addressed. A concurrent session on food security, which dealt mostly on conventional agriculture, will be improved in the next conference for participants to be informed on modern agriculture and new breeding innovations.
The conference held in Siem Reap, Cambodia from August 9 to 12 was organized by AFSA, in collaboration with Royal University of Cambodia, Mekong Institute Thailand, and supported by the Asia Pacific Institute of Food Professionals, the International Union of Microbiology Societies, and USAID-Horticulture Innovation Lab. National and international experts, entrepreneurs, scientific and technical personnel, policy makers, and civil society participated in the event.

For information, contact knowledge.center@isaaa.org or visit the AFSA website.
Europe
University of York scientists have identified a key gene that helps seeds decide whether to germinate.
Scientists have known that the plant hormones abscisic acid (ABA) and gibberelins (GA) play an important role in seed germination. However, in this breakthrough research, they identified the MFT gene as the key component that integrates signals from ABA and GA.
The MFT gene is regulated by light quality and stops seeds from germinating when they are in the dark or shady area, where their survival rates would be poor. In dark or shady conditions, it directs the production of MFT protein, which regulates germination by switching on a block of growth-preventing genes and switching off another block of growth-promoting genes.
For more details, read the research news from the University of York.
Research
The discovery of the ability of sRNAs to travel from the pest or pathogen to the host cell to block the host's ability to fight back allows new possibilities for pre- and post-harvest management in crops. This ability of sRNAs is called "cross-kingdom RNAi". This RNA-based pesticide that works through spray-induced gene silencing (SIGS) is a more environmentally friendly way of protecting crops from pre- and post-harvest pest and pathogen attacks.
This new method was tested as an insecticide and fungicide in plants, and the results were promising. Nanoparticle technology is also being utilized for the successful delivery of sRNAs to the pest or the host for delivery to the pest. Crop loss during post-harvest is 20-25 percent in the USA and up to 50 percent in developing countries. Thus, technologies like SIGS is important to economic development and sustainability.
For more details, read the article in Current Opinion in Plant Biology.
[ Send to a Friend | Rate this Article ]
---
Bt corn, a lepidopteran-resistant corn plant, has helped lessen crop loss caused by insect infestation, however, the farm landscape structure still requires attention and appropriate planning is needed for successful pest management. Thus, studying the spatial distribution of corn ear pests and the losses they cause is important.
In the study conducted in Brazil, scientists compared the distribution and damage caused by cornsilk fly, earworm and fall armyworm caterpillars, weevils, and grain beetles on Bt and non-Bt corn. Results showed that the damages between the two genotypes were significantly different. The damage and spatial distributions were the same in both genotypes, with aggregate damage distribution and moderate to strong spatial dependence.
The study substantially contributes to the monitoring of these corn ear pests and for developing strategies to reduce grain losses in the field and storage.
For more information, read the article in
PLoS ONE
.
[ Send to a Friend | Rate this Article ]
---
The availability of cotton DNA and RNA sequences enabled scientists to perform several characterizations on cotton LOX stress resistance gene family. The growth of cotton, an important "cash crop" in many developing countries, is negatively affected by salinity stress. Thus, research contributing to the management of such stress in cotton is constantly relevant. The LOX gene family has been found to have roles in several plant responses to biotic and abiotic stresses. LOX has been comprehensively studied in Arabidopsis and several crops, but not in cotton.
In the said study, the researchers have derived the phylogenetic relationship, chromosomal distribution, synteny, structure, and expression patterns in various organs under different abiotic stresses and in response to exogenous phytohormones among four cotton species. Results showed that genes from the LOX family are mostly expressed in vegetative tissues and associated with heat and salt stress. The results of the study will aid the selection of appropriate candidate genes for cotton development and stress response studies.
For more information, read the article in BMC Genomics.
[ Send to a Friend | Rate this Article ]
---
Nitrate (NO3−) is the major source of nitrogen for higher plants. Improving N use efficiency of crops has been sought after to promote sustainable agriculture. The plant regulation mechanism associated with N uptake and other related processes affect the plants N starvation tolerance. Zhipeng Liu and Yingjia Zhao from the Agricultural University of Hebei in China explored the mechanism underlying nitrogen use efficiency (NUE) and the genes that can be used in the molecular breeding of crops.
The team studied the function of TaNBP1, a guanine-binding protein subunit beta gene of wheat (Triticum aestivum), in the plant's N starvation response. The TaNBP1 protein was found to be concentrated at the cytoplasm membrane and the cytosol. TaNBP1 transcripts were upregulated in the roots and leaves during N starvation stress, and this upregulation is altered by N recovery treatment.
TaNBP1 overexpression confers improved phenotype, enlarged root system architecture, and increased biomass for plants during N deprivation compared with wild types, associating with its role in enhancing N accumulation and improving reactive oxygen species homeostasis. The nitrate transporter gene and antioxidant enzyme genes were also regulated by TaNBP1, contributing to improved N acquisition.
This study helps explain the mechanism of plant N starvation responses and would serve as a basis for developing crops with improved NUE under low N conditions.
For more information, read the article in BMC Plant Biology.
New Breeding Technologies
Tragopogon or salsifies from the Asteraceae family is an excellent model for polyploidy studies. An efficient CRISPR-Cas9-based genome editing technique for salsifies will greatly aid studies on the genetics of polyploidy. University of Florida researchers led by Shengchen Shan aimed at developing a CRISPR-Cas9 system for salsifies.
The team established a feasible tissue culture and transformation method for Tragopogon. Through protoplast transient assays, the TragCRISPR system (the CRISPR-Cas9 system adapted for Tragopogon) was able to introduce site-specific mutations in Tragopogon protoplasts. Agrobacterium‐mediated transformation with Cas9‐sgRNA constructs targeting the phytoene desaturase gene (TraPDS) was implemented in this model polyploid system.
Analysis of the albino shoots of the transformed individuals indicated simultaneous mutations of two TraPDS alleles from T. porrifolius, a diploid. In T. mirus, a tetraploid, four TraPDS alleles were also found to have mutations. The frequencies of the successfully transformed calli with the albino phenotype were 87% and 78% in the diploid and polyploid, respectively.
This study reveals that the application of CRISPR-Cas9 system can enable investigations and permit unique studies in polyploids.
For more information, read the article in Molecular Ecology Resources.
[ Send to a Friend | Rate this Article ]
---
Camelina (Camelina sativa) fatty acids have important industry uses, such as for biodiesels or as nutritional supplements. Very long chain fatty acid (VLCFAs) are undesirable for human consumption and produced by the action of fatty acid elongase1 (FAE1). Camelina has three FAE1 alleles, namely, FAE1-A, FAE1-B, and FAE1-C, due to its allohexaploid nature.
Mehmet Erkan Ozseyhan from Montana State University investigated the effect of knocking out these alleles using CRISPR-Cas9. Homozygous FAE1-knockout mutants were successfully created in a single generation. Analysis of the generated mutants revealed a significant decrease in VLCFA accumulation from 22% to only 2% of the total fatty acids.
Analysis of the fatty acid composition after four transgenic generations indicated that the mutations that cause low VLCFA genotype were heritable. No significant difference was found in the growth and development of the FAE1-knockout mutants and wild types.
For more information, read the article in the Montana State University website.
[ Send to a Friend | Rate this Article ]
---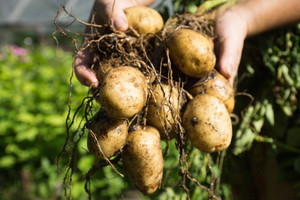 Most tissues in potato (Solanum tuberosum) accumulate steroidal glycoalkaloids (SGAs) α-solanine and α-chaconine. These molecules confer a bitter taste to humans and are toxic to various organisms. Hence, reducing the SGA content in the tubers is requisite for potato breeding. Previous studies suggested that silencing several SGA synthetic genes leads to a decrease in SGAs.
Masaru Nakayasu, a scientist from Kobe University in Japan, led a team of Japanese researchers in knocking out St16DOX, a vital gene in SGA synthesis, in hopes of completely turning off SGA accumulation in potato hairy roots. The team used the potato hairy root culture system for the introduction of CRISPR-Cas9 vectors.
Two independent genome-edited potato hairy root lines showed no detectable SGAs but have high levels of the St16DOX protein substrate. Analysis of these two lines revealed successfully-mutated sequences of St16DOX. This experimental system can aid the generation of SGA-free tetraploid potato.
For more information, read the article in Plant Physiology and Biochemistry.
Beyond Crop Biotech
A novel CRISPR-Cas9 method called Genome-editing via Oviductal Nucleic Acids Delivery (GONAD) was initially developed in mice. Working from this method, the team of Tomoe Kobayashi, Masumi Namba, and Takayuki Koyano from Shigei Medical Research Institute developed the "improved GONAD" (i-GONAD), which does not require ex vivo handling of embryos, to work on mice. However, the technology has been limited only to mice. In the latest study, the team aimed to apply their technology to rats (rGONAD).
To investigate the feasibility of the method in generating genome-edited rats, the team targeted the tyrosinase (Tyr) gene. Some of the generated mutant rats showed albino-colored coat, indicating the disruption of Tyr gene. Furthermore, the team confirmed that rGONAD can be used to introduce genetic changes to the rat genome.
The rGONAD method demonstrated high efficiency in producing knock-out and knock-in rats. The method can also be readily applicable in guinea pigs, hamsters, cows, pigs, and other mammals.
For more information, read the article in BMC Biotechnology.
Announcements
What: 6th Annual South Asia Biosafety Conference
When: September 15, 2018 – September 17, 2018
Where: Dhaka, Bangladesh
For more details, visit the conference website.