News
Africa
The Association of National Biosafety Agencies in Africa (ANBAA) held its first African Biosafety Leadership Summit on August 15 and 16, 2016 in Nairobi, Kenya. The summit brought together over eighty delegates from local, regional and international organizations involved in biosafety. According to a joint communique, ANBAA committed to work towards "development of regional policies and common approaches to regulatory systems acceptable to most countries in the region." This is so as "to reduce trade barriers, facilitate trans-boundary movements of Living Modified Organisms (LMOs) and strengthen expertise across Africa."
The ANBAA membership is also committed to:
Serve as the African voice on biosafety issues and advocate for adoption of internationally agreed best practices in the continent;
Enhance the Pan-African collaboration, networking and joint implementation of programmes in biosafety and support compliance to international agreements in Africa;
Reduce biosafety risks by collaborating with governments and other institutions to explore mechanisms and policies that are consistent with international guidelines, norms and requirements;
Encourage participation of other agencies in Africa to establish a critical mass of NBAs with determination to facilitate safe use of modern biotechnology;
Reduce hurdles in sharing data and information on biotechnology and biosafety between countries; and
Initiate regional and local training, exchange and mentorship programmes.
The summit was held in collaboration with NEPAD Agency and Kenya's National Biosafety Authority (NBA) under the theme 'Leadership in the Face of Challenging Regulatory Environments.' Its aim was to bring together biosafety agencies and leading biotechnology and biosafety stakeholders to share experiences and analyze key capacity building needs. This is in the face of new and emerging challenges in development and implementation of workable regulatory frameworks at national and sub-regional levels.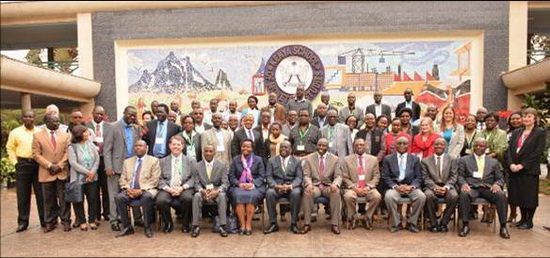 For more information about the ANBAA summit contact Dr. Willy Tonui on ceo@biosafetykenya.go.ke.
[ Send to a Friend | Rate this Article ]
---
Parliamentarians and representatives from biosafety authorities gathered for the 5th Annual Biosafety Conference held on August 15-18, 2016 in Nairobi, Kenya. The theme of the conference was "Strengthening global, regional, national collaboration, partnerships and capacity towards meeting international obligations in Biosafety."
During the opening ceremony, Kenyan Cabinet Secretary for Ministry of Agriculture, Livestock and Fisheries, Hon. Willy Bett, highlighted the government's commitment to utilize modern technologies in crop production, saying that this was the only way to increase food production. Hon. Bett called on biosafety and biotechnology stakeholders to engage the public to ensure wide acceptance of GM crops. The Director of Center for Environment Risk Assessment at International Life Sciences Institute, Dr. Andrew Roberts, gave the keynote address on data transportability, a new concept, which if implemented will reduce the need to have confined field trials for crops whose proof of concept, safety and agronomic data exists in other countries.
Dr. Faith Nguthi of ISAAA AfriCenter made a presentation on socio economic considerations in biosafety decision-making. She encouraged African party states to participate in international biosafety discussions and negotiations to ensure Africa's unique challenges are factored in decision-making.
Participants included Members of Parliament of Kenyan and Ugandan parliaments, Chief Executive Officers of biosafety authorities from 8 African countries, representatives from African Biosafety Network of Expertise, USAID representatives, Kenya Agricultural Research Organization and Kenyan university scientists, and biotechnology students among others.
In his closing remarks the Principal Secretary Dr. Richard Lesiyampe of Agriculture, Livestock and Fisheries echoed the Cabinet Secretary's call for public engagement. "If we cannot cause a revolution at the top, we must cause a revolution at the bottom", said Dr. Lesiyampe emphasizing the importance of sensitizing farmers on the benefits of biotech crops at the grassroots.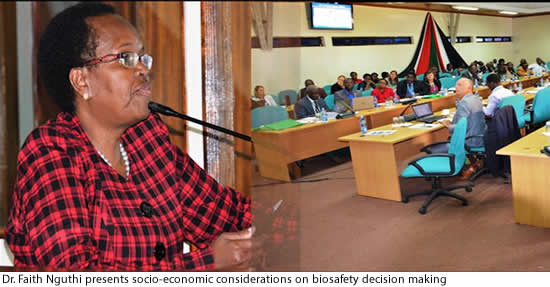 For more details, send an e-mail to Dr. Margaret Karembu at mkarembu@isaaa.org.
Asia and the Pacific
A research team led by Queensland Alliance for Agriculture and Food Innovation researcher Professor Robert Henry has discovered that photosynthesis occurs in wheat seeds as well as in plant leaves.
The research characterized a previously unknown photosynthetic C4 pathway in the seeds of wheat – which is not a C4 plant. Professor Henry said the team discovered that wheat has all the C4 genes in different parts, on different chromosomes.
"Wheat's photosynthetic pathway evolved 100 million years ago when atmospheric carbon dioxide levels were up to 10 times higher than they are today. One theory is that as carbon dioxide began to decline, the plant's seeds evolved a C4 pathway to capture more sunlight to convert to energy," he said.
For more details, read the news release at The University of Queensland website.
[ Send to a Friend | Rate this Article ]
---
The Office of the Gene Technology Regulator (OGTR) of Australia announced that they have received a license application from Monsanto for field trial biotech cotton (DIR 147) with insect resistance and herbicide tolerance traits. According to the application, the trial is proposed to be conducted from March 2017 to July 2021 in 50 sites each year. As a response, the OGTR is preparing a Risk Assessment and Risk Management Plan for the application, which is expected to be released in November 2016 for public comment.
Read more from the OGTR.
[ Send to a Friend | Rate this Article ]
---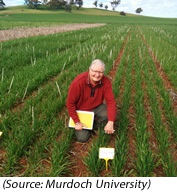 Researchers at Murdoch University in Australia have increased the protein content of wheat to more than 14 percent in a new high-yielding variety.
Dr. Ian Edwards, adjunct professor and head of wheat research project at the Western Australian State Agricultural Biotechnology Centre (SABC) said that increasing the protein yield of Australian crops will increase the revenue that Australia receives for its wheat crop.
Dr. Edwards and his research team have worked for nine years to develop a wheat variety with more than 14 percent grain protein content (GPC), which requires less nitrogen fertilizer per unit of grain protein. The new wheat variety, named Tungsten, has been tested in National Variety Trials and is now ready for full commercialization in 2017.
For more details, read the news release at Murdoch University website.
Europe
The European Seed Association (ESA), on behalf of the European plant breeding and seed sector, responded to an online consultation on the work programme 2018-2020 of Horizon2020. ESA underlined the priorities for the European plant breeding and seed industry, asking the Commission to recognize the important role of the sector in addressing societal challenges.
Horizon 2020 is the EU Research and Innovation programme with nearly €80 billion of funding available over 7 years (2014 to 2020), and promises more breakthroughs, discoveries and world-firsts by taking great ideas from the lab to the market.
ESA states that to meet future challenges, work will have to focus on sustainable and innovative solutions. Plant genetic resources help breeders develop crop varieties adapted to different climatic conditions, but more knowledge about unexplored resources is required. Pre-breeding research, to first identify and then characterize those resources for all crops, will need to be at the center of the next research and innovation projects.
For more details, read the news release at the ESA website.
[ Send to a Friend | Rate this Article ]
---
The Panel on Genetically Modified Organisms of the European Food Safety Authority (GMO Panel) has published the Scientific Opinion on an application submitted by Pioneer for the placing on the market of the herbicide tolerant, high oleic acid, genetically modified soybean 305423 × 40-3-2 for food and feed uses, import and processing under Regulation (EC) No. 1829/2003.
The GMO Panel has previously assessed the two single events in soybean 305423 × 40-3-2, and did not identify safety concerns. It also stated that no new data on the single events affecting the original conclusions were identified. Based on the molecular, agronomic, phenotypic and compositional characteristics, the combination of soybean events 305423 and 40-3-2 in the two-event stack soybean did not raise concerns regarding food and feed safety or nutrition.
The combination of the newly expressed proteins in the two-event stack soybean did not raise human or animal health concerns. Nutritional assessment of food products from soybean 305423 × 40-3-2 identified no concerns for human health and nutrition.
The GMO Panel is of the opinion that soybean 305423 × 40-3-2 is as safe as the non-GM comparator and non-GM commercial soybean varieties with respect to potential effects on human and animal health and environment in the context of its scope. The GMO panel recommends a post-market monitoring plan.
For more details, read the Scientific Opinion in the EFSA Journal.
Research
Potato leaf roll virus (PLRV) is one of the most prevalent pathogens of potato, causing serious economic yield losses globally. Producers control PLRV by using certified seeds and by applying insecticides. However, these practices are costly and such products are not always available to small-scale farmers. Thus, scientists from the International Potato Center (CIP) developed marker-free transgenic potato plants with intense resistance to PLRV.
The researchers created an inverted repeat construct corresponding to a portion of the PLRV coat protein gene under the control of a constitutive promoter. Then they transferred it into a transformation vector with Cre-loxP system to cut the nptII antibiotic resistance marker gene. The team generated a total of 58 transgenic events, with seven events showing high resistance. Of the seven transgenic events, four events showed extremely high resistance, a degree which has not been reported in previous studies. Further analysis showed the correlation of the PLRV silencing RNA accumulation and the level of resistance to PLRV.
Read the research article in Transgenic Research.
[ Send to a Friend | Rate this Article ]
---
Although there have been many achievements in oilseed rape (Brassica napus) breeding, searching for new materials conferring efficient plant types and higher yields is still important. The team of Yankun Wang, Wenjing Chen and Pu Chu from Nanjing Agricultural University in China studied a new dwarf architecture with down-curved leaf mutant, Bndwf/dcl1. The mutant was isolated from an ethyl methanesulphonate (EMS)-mutagenized B. napus line.
The team constructed a single-nucleotide polymorphism (SNP) map using a backcross population from the Bndwf/dcl1 mutant and the canola cultivar 'zhongshuang11' (ZS11). Using this, they mapped the dwarf architecture with the down-curved leaf dominant locus, BnDWF/DCL1. Further mapping with other materials derived from Bndwf/dcl1 narrowed the interval harboring BnDWF/DCL1 to 175 kb, where the 16 annotated genes were located. Further quantitative trait locus mappings also indicated that the mapped QTLs for plant type traits were also located in the same position as the BnDWF/DCL1 locus.
The results suggest that the BnDWF/DCL1 locus is a major pleiotropic locus/QTL in B. napus, which may reduce plant height, alter plant type traits and change leaf shape, and may result in compact plant phenotype. This locus could potentially be used for increasing plant density.
For more on the study, read the full article in BMC Plant Biology.
New Breeding Technologies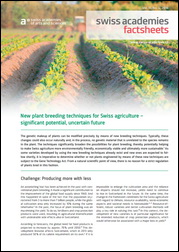 The Swiss Academies of Sciences released a new fact sheet on New Breeding Technologies for Swiss Agriculture - Significant Potential, Uncertain Future. According to the Swiss Academies, there is no reason for a strict regulation of plants bred through new plant breeding techniques. This conclusion is similar to the statements of other scientific academies.
According to the fact sheet, the modifications done through NBTs can also occur naturally and no foreign genetic material remains in the plant. Thus, NBTs offer more environmentally friendly, economically viable, and more sustainable to Swiss agriculture. It is expected that more products of NBTs will be released in the coming years.
Download the fact sheet from Swiss Academies. The document is also available in German and French.
[ Send to a Friend | Rate this Article ]
---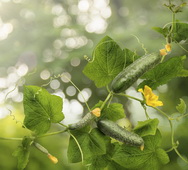 Genome editing in plants has advanced due to the development of CRISPR/Cas9 technology. Jeyabharathy Chandrasekaran, together with other researchers from the Volcani Center in Israel, present the development of virus resistance in cucumber (Cucumis sativus L.) using Cas9/subgenomic RNA (sgRNA) technology to disrupt the function of the recessive eIF4E gene.
Cas9/sgRNA constructs were designed to target the N′ and C′ termini of the eIF4E gene. Small deletions and single nucleotide polymorphisms (SNPs) were observed in the eIF4E gene targeted sites of transformed T1 cucumber plants. Non-transgenic heterozygous eif4e mutant plants were then selected for the production of non-transgenic homozygous T3 generation plants.
Following Cas9/sgRNA that had been targeted to both eif4e sites, homozygous T3 exhibited immunity to Cucumber vein yellowing virus (Ipomovirus) infection and resistance to the potyviruses Zucchini yellow mosaic virus (ZMV) and Papaya ring spot mosaic virus-W (PRSV). In contrast, heterozygous mutant and non-mutant plants were highly susceptible to these viruses.
This study marks the first time that virus resistance was developed in cucumber, non-transgenically, via the Crispr/Cas9 technology. This approach can also be applied to several crops.
For more on this study, read the full article in Molecular Plant Pathology.
Beyond Crop Biotech
Santa Maria (Calophyllum brasiliense) is an important source of calanolides, which inhibit the reverse transcriptase of human immunodeficiency virus type 1. Despite its great medicinal importance, enzymes involved in calanolide as well as its biosynthetic pathway are still unknown.
Hilda-Beatriz Gómez-Robledo from Universidad Anáhuac in Mexico and colleagues analyzed the transcriptome of C. brasiliense leaves, stem, and roots. Using the transcriptome dataset as well as the structures of the calanolides, the team proposed several biosynthetic pathways to study. Finally, candidate genes in the dataset potentially involved in the calanolide biosynthetic pathway were recorded.
The data generated in this study could serve as an important basis for further molecular studies of C. brasiliense, especially for functional analysis of candidate genes involved in biosynthetic pathway of calanolides.
For more information on this study, read the full article in BMC Plant Biology.
Announcements
Cornell University offers a free Massive Open Online Course (MOOC) on the Science and Politics of GMO at edX.org. Participants will learn about the basics of genetic engineering and biotechnology, and the politics surrounding the technology. The MOOC aims to give participants critical thinking and scientific literacy tools necessary to make informed decisions, and to understand the broader impacts of those decisions.
The course starts on September 13, 2016 and will run for five weeks. Visit the MOOC site now to register.
[ Send to a Friend | Rate this Article ]
---
What: IUMS Congresses 2017, organized by the Singapore Society for Microbiology and Biotechnology (SSMB) will bring together three Congresses:
15th International Congress of Bacteriology and Applied Microbiology,
15th International Congress of Mycology and Eukaryotic Microbiology, and
17th International Congress of Virology.
Where: Marina Bay Sands Convention Center, Singapore
When: July 17-21, 2017
For more information, visit the Congress website.
Document Reminders
ISAAA releases the second batch in the revised series Biotech Country Facts and Trends. This set features the five developing biotech countries of Pakistan, South Africa, Uruguay, Boliva and Philippines. Biotech Country Facts and Trends are concise summaries highlighting the commercialization of biotech crops in specific countries.
Data on biotech crop commercialization (hectarage and adoption), approvals and planting, benefits and future prospects for each country are presented in a brief and easily understandable manner. The contents are based on ISAAA Brief 51, 20th Anniversary (1996 to 2015) of the Global Commercialization of Biotech Crops and Biotech Crop Highlights in 2015, authored by Clive James, Founder and Emeritus Chair of ISAAA.
The Biotech Country Facts and Trends are available for download at the ISAAA website.