News
Global
The two-week 2018 United Nations Biodiversity Conference commenced on November 17, 2018, in Sharm el-Sheikh, Egypt, with an opening address from President of Egypt, H.E. Abdel Fattah Saeed Hussein Khalil el-Sisi.
"The theme of our conference Investing in Biodiversity for People and Planet reflects our collective vision of the necessity to integrate biodiversity conservation into all walks of life. This shall contribute to preserving the natural resources and managing them in a sustainable way," President Abdel Fattah El Sisi said.
During the conference, the delegates from the 196 Parties of the Convention on Biological Diversity (CBD) are expected to renew their commitment to achieving global biodiversity targets by 2020 and set a roadmap for negotiations on the post-2020 biodiversity framework.
ISAAA and its network of Biotechnology Information Centers (BIC) are actively participating in the conference events. ISAAA has released statements related to biotechnology, particularly in socio-economic considerations, capacity building, Biosafety Clearing House, and assessment and review of the effectiveness of the Protocol.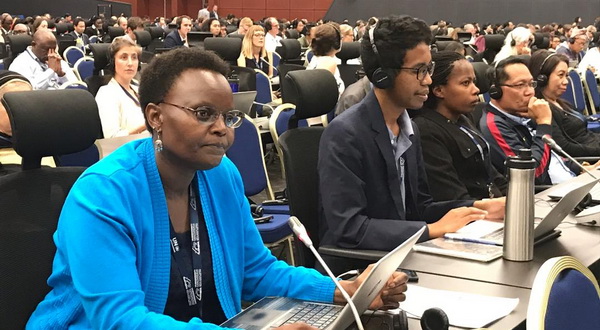 Read more from the ISAAA statements, President Abdel Fattah El Sisis's address, and CBD's press release about the event.
Americas
The Canadian Seed Trade Association (CSTA) applauds the World Trade Organization's (WTO) International Statement on Agricultural Applications of Precision Biotechnology and supports continued global coordination on biotechnology. Canada, together with other countries including the United States of America signed the Statement on October 30, 2018 during the WTO Committee on the Application of Sanitary and Phytosanitary Measures in Geneva.
CSTA Executive Director Dave Carey said, "WTO's statement demonstrates a worldwide recognition of the critical role that plant breeding techniques play in global food production. Seed is the first link in the agri-food value chain and innovative techniques are required now more than ever to meet the growing demand for high-quality food and feed that is produced in an efficient and sustainable manner."
To date, the following countries and organizations have endorsed the WTO statement: Argentina, leading this effort, as well as Australia, Brazil, Canada, Colombia, the Dominican Republic, Guatemala, Honduras, Jordan, Paraguay, the United States, Uruguay, Vietnam, and the Secretariat of the Economic Community of West African States.
For more details, read the CSTA news release.
[ Send to a Friend | Rate this Article ]
---
Eighteen organizations in the United States, representing agriculture and science communities have recently joined together in signing a statement in support of the World Trade Organization's (WTO) International Statement on Agricultural Applications of Precision Biotechnology.
The groups stated, "We commend the governments that initiated and supported the statement in taking this positive step toward improved international coordination. This is crucial to the ability of breeders to utilize new and innovative methods, to increasing choice for farmers and to maintaining trade in agricultural products."
Read the full statement and list of signing organizations.
[ Send to a Friend | Rate this Article ]
---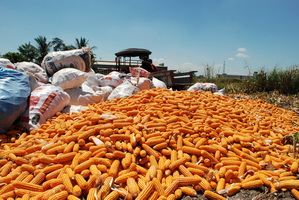 Economists Jesse Tack from Kansas State University and Ariel Ortiz-Bobea of Cornell University published a study in Environmental Research Letters that looked at the impact of climate change on corn yields in eight Midwestern states. They paired 35 years of climatic data with United States producers' adoption of genetically engineered (GE) corn to find out if incorporating a new technology can offset the effects of higher temperatures and other weather impacts.
The study showed yield trends increased by nearly 70 percent during the rapid adoption period in 1996 after U.S. corn producers adopted these varieties, from approximate gains of 0.94 percent per year prior to 1996 to 1.6 percent afterward.
The study also looked at corn yields from 1981 to 2015 in eight states and 500 counties. From the climatic conditions during those same years, the researchers built trend lines that gave them a better idea of how weather conditions affected yields before and after the adoption of GE corn. Tack noted their study assumes average weather during the growing season and acknowledged that technology alone is not the answer to increasing yields in changing climates. Producers tend to adjust their management strategies based on weather or other climatic factors.
For more details, read the K-State Research and Extension News.
Asia and the Pacific
Brazil's soybean exports to China could increase further, according to Odilson Ribeiro e Silva, Brazil's Vice Minister of International Affairs.
About 80 percent of Brazil's soybean exports was sent to China this year, estimated to have hit a record of 83 million tonnes in total. Silva said that it could go more than this, hoping that they could also export soy meal. Last year, Brazil submitted a list of soymeal producers to China for export authorizations. He also mentioned that some GM products approved in Brazil have yet to be approved by China, preventing their widespread use in Brazil and the productivity gains they would bring.
Read more from the Genetic Literacy Project.
[ Send to a Friend | Rate this Article ]
---
Queensland Alliance for Agriculture and Food Innovation (QAAFI) Senior Research Fellow Dr. Lee Hickey said that plant speed breeding could be part of the solution to minimize the devastating effects of drought and climate change on crops in the future. He added that the technique can enable researchers and plant breeders to deliver more tolerant varieties of crops to farmers sooner.
Dr. Hickey said it can take up to 20 years to develop an improved variety. Speed breeding can slash this time because it allows for growing up to six plant generations in a year, instead of just one. Speed breeding works for crops such as wheat, barley, chickpea, and canola, and uses specially modified glasshouses fitted with LED lighting to grow plants under extended photoperiods – accelerating crop research and the development of more robust plant varieties through rapid crossbreeding and generation advance.
With scientists from the John Innes Centre in the United Kingdom, Dr. Hickey's group has taken the next step and developed the protocols to scale-up speed breeding to large glasshouse facilities as well as instructions on how to build your own low-cost speed breeding cabinet.
For more details, read the news release from the University of Queensland.
[ Send to a Friend | Rate this Article ]
---
With the theme, Pambansang Hamon, Pambansang Solusyon (Our Nation's Challenge, Our Nation's Solution), the 14th National Biotechnology Week (NBW) of the Philippines highlighted the contributions of biotechnology in agriculture and food security, equitable health care services, development of industries and business enterprises, sustainable environment, and economic development, among others. The NBW celebration ran from November 13-17, 2018 at the World Trade Center, Manila.
The one-week event hosted by the Department of Science and Technology featured trade fairs, career talks, fora, competitions (i.e. poster-making contest, speech choir contest, jingle-making contest), and exhibits. ISAAA along with the SEARCA Biotechnology Information Center (SEARCA BIC) participated in the exhibit. SEARCA BIC's booth was a favorite among students and teachers from various schools and universities who wished to learn more about agri-biotechnology, agriculture, and science through interactive games.
SEARCA BIC also conducted the BIOTEKasayahan, a series of interactive and educational games for the NBW guests and exhibitors, on November 16. BIOTEKasayahan was organized in collaboration with the UP Genetic Researchers and Agricultural Innovators Society (UP GRAINS) and UP League of Agricultural Biotechnology Students (UP LABS). Both UP LABS and UP GRAINS are academic, student-based organization composed of students taking up BS Agricultural Biotechnology at the University of the Philippines Los Baños.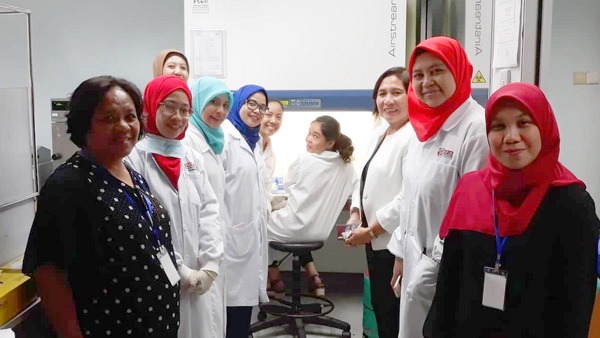 For more updates on biotech in the Philippines, visit the SEARCA BIC website.
Europe
Scientists from VIB and Ghent University led by Prof. Dr. Jenny Russinova uncovered a novel mechanism in plants that controls an important decision step in stomatal lineage to divide asymmetrically or to differentiate.
It has been known that a GSK3-like kinase simultaneously promotes and inhibits stomatal formation, but it wasn't clear how this exists in the same stomatal lineage cell. Using protein interactomics approaches established at the VIB-UGent Center for Plant Systems Biology and at the Wageningen University, the researchers identified a plant- and stomatal lineage-specific scaffolding protein, POLAR, that can regulate the subcellular locations of the GSK3-like kinase.
The group found that when POLAR and GSK3-like kinases are co-expressed, the kinase is targeted to the plasma membrane and polarized at one side of the stomatal precursor cell, leading to asymmetric cell division. On the other hand, when POLAR is absent, the kinase is located in the nucleus to promote cell differentiation.
For more details, read the VIB news release.
[ Send to a Friend | Rate this Article ]
---
Despite the support of competent authorities of many European countries, including the Swedish Board of Agriculture and European Food Safety Authority, and the positive advise of the former Chief Scientific Advisor to the President of the European Commission and the European Academies Science Advisory Council about gene-edited (GE) products, the European Court of Justice has decided to regulate these GE products similar to genetically modified crops. In an article published in Frontiers in Plant Science, scientist Aurelie Jouanin from Wageningen University & Research in Netherlands and colleagues discuss several implications of this ruling, especially on the hampering of the development of wheat with hypoimmunogenic gluten for Coeliac Disease (CD) patients.

CD is an auto-immune reaction to gluten that happens in one to two percent of the population, and the only way to manage this disease is to have a gluten-free diet. A gluten-free diet is almost impossible for CD patients as several products contain amounts of gluten to give them viscoelastic characteristics. As wheat has a complex genome and contains many genes related to gluten production, genome editing is the most applicable method to produce gluten-free wheat. However, the EU ruling on genome editing makes it impossible for this product to penetrate the market any time soon.

The authors also touched on the inconsistency in regulating mutation breeding products, which contains more modifications in a genome compared with gene edited products but are treated similar as products produced through conventional breeding. Furthermore, since other countries like the US is not regulating gene-edited products, they do not label these products. This means that EU will not be able to detect the entry of these products in these countries, thereby disrupting the world trade system. Other regulatory tests are also not applicable in gene-editing product, such as the detection of the transgene, which GE products do not have. Lastly, the authors recommend the reconsideration of the EU ruling on GE products.


For more information, read the article in Frontiers in Plant Science.

[ Send to a Friend | Rate this Article ]
---
The European Commission's chief scientific advisors urged the EC to revise the existing GMO directive 2001/18/EC because the recent ruling of the European Court of Justice has revealed that it is not in line with scientific evidence. "There is a need to improve EU GMO legislation to be clear, evidence-based, implementable, proportionate and flexible enough to cope with future advances in science and technology in this area," they said.
The advisors particularly recommended verifying if the Directive's paradigm of "naturalness" can be sustained since the gene-edited crops are impossible to differentiate from crops with natural mutations. The advisors argue that it has been shown that "unintended effects will occur less frequently in gene edited products" and that "these products are potentially safer than the products of random mutagenesis." For evaluation of new crops if they pose a risk for human health and the environment, they recommended to "examine the features of the final products regardless of the underlying technique used to generate that product."
The advisors said that they do not recommend revising the GMO Directive without public consultation. Through a social dialogue, the public would be informed about how food is produced in Europe and also establish the highest possible protection of health and environment and create a favorable regulatory environment for science and technology innovation.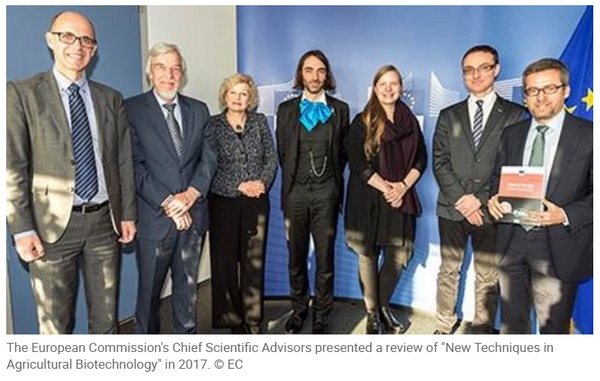 Read the original article from European Biotechnology.
Research
Pepper is an agriculturally important crop that is highly affected by heat stress, which causes major losses in crop productivity globally. In humid conditions, heat stress increases pepper's susceptibility to diseases. A group of enzymes called transcription factors (TF) play roles in the plant's response to heat stress. WRKY TFs are observed to have varying levels of expression in plants under heat stress, indicating the role of these TFs in heat response.

Using qRT PCR, researcher Fengfeng Dang from Fujian Agriculture and Forestry University in China and colleagues determined the expression of a WRKY gene CaWRKY27 in pepper during heat stress and found a maximum of 3-fold increase of gene expression than normal plants during stress. To confirm the role of the gene in heat stress response, the gene was expressed in Arabidopsis using Agrobacterium-mediated transformation, and the researchers found induction of gene expression when subjected to heat stress. Thus, they concluded that the pepper gene CaWRKY27 might be involved in heat stress response.

For more information, read the article Frontiers in Plant Science.
New Breeding Technologies
Cotton bollworm is a major crop pest that feeds on over 300 hosts from 68 plant families. Due to its reported resistance to most insecticides, determining its mechanism of detoxifying these phytochemicals and insecticides is important in managing this pest.

Researcher Yidong Wu from Nanjing Agricultural University in China and colleagues used CRISPR-Cas9 to knockout a cluster of nine P450 genes in cotton bollworm through embryo microinjection. The knockout strain was subjected to different phytochemicals and synthetic insecticides, including xanthotoxin, gossypol acetate, 2-tridecanone, coumarin, nicotine, esfenvalerate, indoxacarb, emamectin benzoate, and chlorantraniliprole. Gene expression was also determined using qRT PCR. Results showed significantly reduced survival rate of the pests with the knockout when subjected to phytochemicals and insecticides. CRISPR-Cas9 proved to be an effective approach to identifying genes involved in insecticide resistance in pests like cotton bollworm.

For more information, read the article in Nature.
[ Send to a Friend | Rate this Article ]
---
Brassica vegetables are economically important vegetables with high nutritional value. CRISPR-Cas9-mediated gene editing has been demonstrated in several crops but not in Brassica vegetables. For the first time, researcher Haoru Tang from Sichuan Agricultural University in China and colleagues demonstrate the applicability of CRISPR-Cas9 in editing genes in Chinese kale, a Brassica vegetable that has good flavor and high levels of antioxidants and anticarcinogenic compounds, including vitamin C, carotenoids, total phenolics, and glucosinolates.
The researchers targeted the phytoene desaturase (PDS) gene, which is commonly selected as the target gene for CRISPR/Cas9 experiments in plants because disrupting this gene results in an albino phenotype, which is easily recognizable. Homologous PDS genes BaPDS1 and BaPDS2 were targeted in this study through Agrobacterium-mediated genetic transformation. Results showed more than three-fourths of the plants with mutations, where one-fifth have mutations for both homologous genes and more than half mutation for either of the homologous genes. These results indicate the high applicability of the CRISPR-Cas9 technology in Chinese kale and Brassica vegetables, providing a foundation for more studies in such species.
For more information, read the article in Nature.
[ Send to a Friend | Rate this Article ]
---
Plant viruses such as the members of class geminiviridae cause in major losses in crop yield and revenue. Unfortunately, techniques such as pathogen-derived resistance and RNA interference showed low rates of success. With increasing developments in the usage of CRISPR-Cas9 technology, researcher Caixia Gao from the University of Chinese Academy of Sciences and colleagues take advantage of this technique to confer virus resistance in plants.
In their study published in BMC Genome Biology, the researchers first determined the effect of off-target mutations on plant virus resistance and further construct two virus-inducible CRISPR/Cas9 vectors to stop the accumulation of beet severe curly top virus (BSCTV) in tobacco and Arabidopsis through stable and transient expressions. Results showed no detectable off-target mutations caused by the developed genome editing system. The authors end by recommending the technique to be used on crops.
For more information, read the article in BMC Genome Biology.
[ Send to a Friend | Rate this Article ]
---
Auxin is a plant hormone that regulates plant growth and physiology. By studying the location and mechanism of auxin production, scientist Anna Stepanova from NC State University aims to precisely control where and when this hormone is expressed so that the technique can be applied using other plant substances, such as toxins that can kill pests. She aims to resolve the phenomenon called "leakiness," which is the tendency of a gene to be expressed in non-targeted tissues.

Using CRISPR-Cas9 technology, she plans to turn on and off the production of auxin in plant parts, especially in the roots, at will. Besides this plan, she also works on creating a university course with laboratory work out of the techniques and tests being used in the auxin study. She also plans on expanding the knowledge to the youth by doing an outreach activities through live demonstrations in museums and schools.

For more information, read the article in NC State University.
Beyond Crop Biotech
An international consortium led by Francis Martin and his colleagues at the French National Institute for Agricultural Research (INRA), Genoscope, and University of Torino, and including researchers at the U.S. Department of Energy (DOE) Joint Genome Institute (JGI), sought insights into the ectomycorrhizal (ECM) lifestyle of truffle-forming species. The team conducted a comparative analysis of eight Pezizomycete fungi, including four species prized as delicacies.
While truffles signify dining extravagance, they play an important role in soil ecosystem services. Truffles are the fruiting bodies of the ECM fungal symbionts residing on host plant roots. JGI de novo sequenced the genomes of two truffle-forming fungi: the Pig truffle (Choiromyces venosus) and the Desert truffle (Terfezia boudieri), as well as of two other Pezizomycetes not forming truffles: Ascobolus immersus and Morchella importuna. These four genomes as well as the genome of the Piedmont white truffle (Tuber magnatum) were annotated through the JGI's pipeline. The genome of the Burgundy Truffle (T. aestivum) was sequenced by Genoscope.
This work builds on earlier studies involving the first ECM fungal genome (Laccaria bicolor, sequenced a decade ago by the JGI), and the first truffle genome (T. melanosporum) sequenced by Genoscope. The team learned from the L. bicolor and T. melanosporum genome that the ECM symbiosis evolved by the massive loss of genes involved in plant cell wall degradation (CAZymes) and de novo innovation of communication proteins, such as the mycorrhiza-induced small secreted proteins controlling the host plant immunity.
The team also found that about 50 molecules constitute the typical fragrance of each of the different species of truffles. The genes involved in the synthesis of these fragrances are active in the various truffles studied, allowing the production of very particular aromatic molecules, including many sulfur compounds. The composition of the characteristic fragrance of each of the truffles is the result of the differential activity of the genes in mature fructifications.
For more details, read the news releases from INRA (French) and JGI.
Document Reminders
Canada is known for its agricultural innovations, the protection of which is important for commercial success. Lexology released a detailed review of the requirements to obtain a Plant Breeders' Rights (PBR) certificate in Canada — a form of protection consistent with Canada's obligations under the International Union for the Protection of New Varieties of Plants (UPOV) Convention.
Download the Guide to Plant Breeders' Rights in Canada publication.
---
Over 100 images related to agricultural biotechnology are available for public use. Biotech stakeholders, especially the media practitioners, are encouraged to use the ISAAA photos to better represent biotechnology in their articles and replace fear-mongering images that are widespread in the media, especially online.
Download the images at www.isaaa.org/imagegallery.