News
Africa
Malawi is one of the African countries with promising developments towards commercialization of GM crops. With a fully functional biosafety framework, field trials of cotton, cowpea, and banana are currently taking place in the country.
The Biosafety Act of Malawi was passed in 2002, the biosafety regulations in 2007, and the National Biotechnology and Biosafety Policy was implemented in 2008. A biosafety regulatory committee and biosafety registrar's office have been set to take charge of applications for trials. To date, Bt cotton is at the variety registration trial stage, while Bt cowpea is in its second year of confined field trials (CFT), and virus resistant banana is in its first year of CFTs at the proof-of-concept stage.
Read more from Cornell Alliance for Science.
[ Send to a Friend | Rate this Article ]
---
Kenyan women in biosciences expressed their concerns on the unpredictable biotechnology and biosafety policy environment and urged the government to streamline coordination between relevant regulatory arms to enable research. The women were speaking during the inaugural Women in Biosciences Forum held in Nairobi, Kenya on April 20, 2017.
Dr. Felister Makini, Deputy Director General (crops) at the Kenya Agricultural & Livestock Research Organization (KALRO), noted that African women play a critical role in ensuring food security. She urged the government to make farming easier for them by providing modern tools such as biotechnology. "As African women, we are the ones who suffer most whenever drought and food shortages strike, despite the availability of technological solutions to these problems," she said. "We need to speak with one voice and advocate for a predictable policy environment. I have children and a family to protect. I cannot advocate for something that I know would affect them" she added.
Hailing Kenyan government's intention to revive the textile industry by introducing Bt cotton, Dr. Margaret Karembu, Director, ISAAA AfriCenter, observed that despite demonstrated will and long history of safe use "conflicting messages" between different ministries and regulatory agencies were hampering progress in delivering the technology to farmers. She also echoed the need for African women in science to intensify engagement with government and help clarify long-standing misconceptions on the technology.
On her part, Prof. Caroline Thoruwa, Chairperson, African Women in Science and Engineering (AWSE), noted that for Africa to advance in agri-biotech, women must be involved. "It is time to tell the public about the positive side of biotechnology. We need to raise up the status of women in biotechnology and also encourage women to network in order to achieve the noble goal of sharing their science," she said.
Participants pledged commitment to speak up for the technology and urged the President and his deputy to increase investment in biotechnology, enhance participation of women scientists in decision making and review the GMO ban to enable advancement of local research, training, and innovation.
The forum was attended by over 60 professional women with interest and passion for science from academia, research, policy, and industry. It was organized by ISAAA AfriCenter in partnership with AWSE, Program for Biosafety Systems (PBS) and OFAB-Kenya. Its main objective was to bring together women in science to amplify their voices on issues touching on biotechnology and biosafety.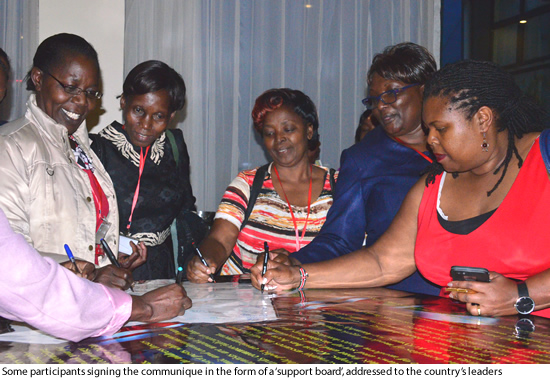 For more information on the event contact Mary Mwangi, Secretary, African Women in Science and Engineering at mwangi.mary@ku.ac.ke.
Americas
The U.S. Food and Drug Administration announced the extension of comment period for the use of genome editing techniques to develop new plant varieties for food or feed. The docket was announced in the Federal Register on January 19, 2017 which was subjected to a 90-day comment period until April 19, 2017. A new deadline has been set as per request of various parties to accommodate more comments until June 19, 2017.
More details of the announcement are posted in the Federal Register.
[ Send to a Friend | Rate this Article ]
---
Roots serve as the plant's mouth, absorbing, storing, and channeling water and nutrients essential for survival. Tremendous research has been done to develop plants that are more effective at these tasks. In a new study, researchers at the University of Pennsylvania have identified two proteins - SERRATE and GRP8 - that regulate whether a cell in plant roots forms a hair cell or a non-hair cell. Plants that overexpressed GRP8 thrived despite the absence of a key nutrient, phosphorous.
SERRATE plays a role in alternative splicing and microRNA biogenesis, processes that can alter gene expression in different ways. The researchers looked at plants with reduced SERRATE levels and found the plants had more and longer hair cells.
The second RNA binding protein they identified was GRP8, known to affect plant response to stress through regulating processes that affect gene expression. The researchers found that GRP8-overexpressing plants could turn on genes that increase the ability to take up and transport phosphate compared to normal plants, resulting in larger plants. Such plants also produce more hair cells, readily absorb water from the soil, and do well under drought conditions.
For more information, read the news article at PennNews.
[ Send to a Friend | Rate this Article ]
---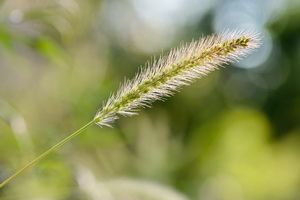 A gene that influences grain yield in grasses that are related to food crops was discovered by researchers at the Donald Danforth Plant Science Center's Enterprise Rent-A-Car Institute for Renewable Fuels (Enterprise Institute).
In a paper published in Nature Plants on April 18, 2017, a team led by Dr. Thomas Brutnell, director of the Enterprise Institute, and researchers at the U.S. Department of Energy Joint Genome Institute (DOE JGI), conducted genetic screens to identify genes that may play a role in flower development on the panicle of green foxtail. Green foxtail is a wild relative of foxtail millet, and these Setaria species are related to several candidate bioenergy grasses (switchgrass and Miscanthus) and serve as model systems to study grasses that photosynthetically fix carbon from CO2 through a water-conserving (C4) pathway.
The research team identified four mutations that lead to reduced and uneven flower clusters. They also identified the gene in green foxtail that could be a determinant in controlling grain yield, which is crucial in improving food crops such as maize. To identify the causative mutation, the Brutnell lab screened 2,700 M2 families and deep sequenced a mutant pool. They confirmed that a homologous gene in maize played a similar role.
For more details, read the article at the Danforth Center News and Media page.
Asia and the Pacific
The Philippine government was urged to promote high-yielding biotech corn seeds to boost production and enable farmers to export. This call was given by Monsanto Philippines Commercial Lead, Rachelle Lomibao during an interview after the launch of the company's new hybrid corn variety, Dekalb 6999S.
She stressed that expanding the use of modern technology will help the government achieve its target of exporting corn soon. The Department of Agriculture projects that the Filipino farmers will be able to export corn this year due to the surplus of corn. However, Lomibao said that exporting corn may not occur yet in the current year due to the gap between the supply and demand.
"If you just increase the yield average per hectare then you don't have to increase the number of hectares to be planted with corn. You just increase productivity per hectare and that's not impossible," said Lomibao. She added that aside from high-yielding seeds, other factors such as fertilization, correct agronomic practices, and proper management of resources should be considered in exporting corn.
Read the original article in Business Mirror. For more information about high-yielding biotech corn seeds, visit the Monsanto Philippines website.
Europe
The most accurate and complete DNA analyses of the wheat genome to date has been reported in the journal Genome Research by a group of scientists at the John Innes Centre (JIC), in collaboration with colleagues at the Earlham Institute, The Sainsbury Laboratory, and the European Bioinformatics Institute.
The scientists have generated a new wheat whole-genome shotgun sequence assembly using a combination of optimized data types and an assembly algorithm designed to deal with large and complex genomes. The new assembly represents >78% of the genome with a scaffold N50 of 88.8 kb that has a high fidelity to the input data.
The team identified 104,091 high-confidence protein-coding genes and 10,156 noncoding RNA genes, and confirmed three known and identified one novel genome rearrangements. Their approach enables rapid and scalable assembly of wheat genomes, identification of structural variants, and definition of complete gene models, all powerful resources for trait analysis and breeding of this key global crop.
For more details, read the article at the JIC website, or read the open access article at Genome Research.
Research
Flowering time is an important agronomic trait which significantly affects yield potential for cereal crops. The CONSTANS (CO)-like gene family plays roles in the regulation of flowering time. CO-like proteins are divided into four phylogenetic groups in rice. While several genes from groups I, III, and IV have been characterized, little is known about the genes in group II in rice.
Weixun Wu, together with researchers from China National Rice Research Institute and the Chinese Academy of Agricultural Sciences, performed functional characterization of the constitutive floral inhibitor, OsCOL16 in rice. The gene encodes a group-II CO-like protein that delays flowering time and increases plant height and grain yield.
Overexpression of OsCOL16 resulted in late heading in both long-day and short-day conditions. The team also found that OsCOL16 upregulates the expression of the floral repressor Grain number plant height and heading date 7 (Ghd7), leading to downregulation of the expression of Early heading date 1, Heading date 3a, and RICE FLOWERING LOCUS T1, leading to late flowering.
Analyses revealed that OsCOL16 plays an important role in regulating rice photoperiodic flowering, allowing the rice plant to adapt to its environment.
For more on this study, read the article in Plant Science.
[ Send to a Friend | Rate this Article ]
---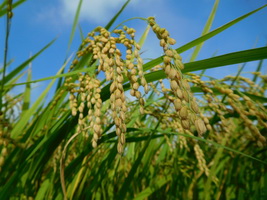 Resveratrol is a popular antioxidant present in grape skins, which might have helpful benefits for the heart. Thus, scientists developed resveratrol-enriched rice (RR) containing stilbene synthase gene to induce resveratrol production and phosphinothricin-N-acetyltransferase gene to confer herbicide resistance. Min Sung Kim of Incheon National University, South Korea, and a team of researchers evaluated if there are metabolic changes in rice enriched with resveratrol.
They planted the non-RR and RR plants for two seasons in three different areas in South Korea with different climatic conditions. Then they analyzed the principal components of the two rice varieties, which showed that chemical composition was affected more by growing season and location than genetic transformation. Furthermore, statistical analysis revealed that there were no significant differences in the biochemical structures of RR compared with the non-RR plants. The results also showed that herbicide treatment did not affect the chemical composition of RR.
Read the research article in Applied Biological Chemistry.
New Breeding Technologies
The CRISPR-Cas9 system has been widely used for genome editing in various plants because of its simplicity, high efficiency and design flexibility. However, there are only a few reports on the application of CRISPR-Cas9-mediated targeted mutagenesis in cotton.
The team led by Xiugui Chen from the Chinese Academy of Agricultural Sciences and Huazhong Agricultural University reports genome editing in upland cotton (Gossypium hirsutum) using the CRISPR/Cas9 system. The team designed two guide RNAs to target distinct sites of the cotton Cloroplastos alterados 1 (GhCLA1) and vacuolar H+-pyrophosphatase (GhVP) genes. Mutations in these two genes were detected in cotton protoplasts.
The vectors were then transformed into cotton shoot apexes through Agrobacterium-mediated transformation, resulting in efficient target gene editing. Most of the mutations were nucleotide deletions, and the mutation efficiencies were 47.6–81.8% in genome-edited cotton plants. No off-target mutations were also detected.
These results indicate that the CRISPR-Cas9 system is an efficient and specific tool for targeted mutagenesis of the cotton genome.
For more information, read the article in Scientific Reports.
[ Send to a Friend | Rate this Article ]
---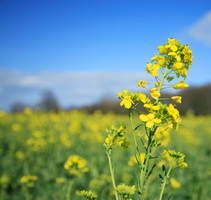 In polyploid species, altering a trait by random mutagenesis is highly inefficient due to gene redundancy. The ALC gene is involved in valve-margin development and contributes to seed shattering from mature fruits. Knocking out ALC would increase shatter resistance and avoid seed loss during mechanical harvest. Janina Braatz from the Christian-Albrechts-University of Kiel in Germany, together with her team, used CRISPR-Cas9 to target two ALCATRAZ (ALC) homoeologs in tetraploid oilseed rape.
The team obtained a T1 plant with four alc mutant alleles. All mutations were stably inherited to the T2 progeny. The T2 generation was devoid of any wild type ALC alleles. T-DNA and ALC loci were not linked as indicated by random segregation in the T2 generation. Hence, double mutants lacking the T-DNA already could be selected in the first offspring generation.
While the whole genome sequencing data revealed at least five independent insertions of vector backbone sequences, the team did not detect any off-target effects in two genome regions homologous to the target sequence.
The simultaneous editing of multiple homoeologs in a polyploid species by CRISPR-Cas9 mutagenesis will offer new approaches for rapeseed breeding.
For more on this study, read the article in Plant Physiology.
Beyond Crop Biotech
The CRISPR gene editing technology has been popularly used together with Cas9, a protein that works like a snipping tool. Another protein, the CPf1, is now showing greater promise in editing human cells because of its smaller size and simplicity.
Scientists from the Univerity of Texas reported in Science Advances that CRISPR-Cpf1 can be used to correct mutations associated with Duchenne muscular dystrophy, a disease that leads to muscular degeneration. They used the CRISPR-Cpf1 in human heart muscle cells and successfully prevented the progress of the disease. In mice with such disease, the genetic tool successfully reversed an inflammatory symptom.
The researchers stressed that CRISPR-Cpf1 could be a powerful tool in finding a cure for human diseases linked to various mutations.
Read more in Science Advances.
[ Send to a Friend | Rate this Article ]
---
A research team led by a group at Texas A&M AgriLife Research has released a draft genome of the fuel-producing green microalga Botryococcus braunii.
According to Dr. Tim Devarenne, AgriLife Research biochemist and principal investigator in College Station, the alga is colony-forming, with lots of individual cells growing to form the colony. The cells make lots of hydrocarbons that can be converted into fuels.
The size of the B. braunii genome is estimated to be about 166 million bases. The team found about 18,500 genes in the genome, and there are portions of genes called untranslated regions that are very long. Dr. Devarenne said it was a challenge to assemble the B. braunii genome because of lots of repetitive sequences in it.
For more information, read the news article at AgriLife Today.
Announcements
What: 1-credit, graduate level online course in Plant Breeding for Drought Tolerance (Fall 2017)
Where: Colorado State University
When: August 21 to December 15, 2017
More information is available at the course website.
Document Reminders
The Academy of Science of South Africa's (ASSAf) published a consensus study report on The Regulatory Implications of New Breeding Techniques.
New breeding techniques (NBTs) are a wide range of techniques aimed at modifying genomes and/or gene expression and using these on a whole organism level. The relative accessibility and use of these techniques have led to the commercialization of its products. With the release of these products, the similarities and overlaps between the products of NBTs and genetic modification technology have started a discussion on the regulation of the techniques and their products. The ASSAf consensus study examined possible regulatory implications of NBTs within the South African context.
Based on the report, regulation should only be triggered at a point beyond which explicit risk management is required. The panel also believes that such an approach will provide effective and appropriate oversight to ensure the safety and sustainability of all relevant products.
Download the report from ASSAf.