Leyte Farmers, Local Officials Briefed on PH Biosafety Regulations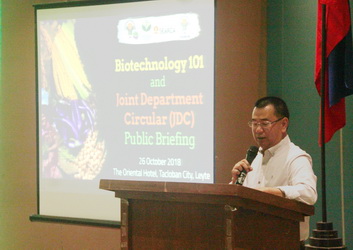 "The greatest resource of a nation is its people. We consider our farmers as our jewels in Leyte," said Governor Leopoldo Dominico Petilla of Leyte as he welcomed more than 150 farmers and officials of selected municipalities in Leyte to the Biotech 101 and Joint Department Circular (JDC) Public Briefing held at the Oriental Hotel in Tacloban City on October 26, 2018. Governor Petilla said that the objectives of the activity were aligned with the local government's thrust of improving the province's economy through agriculture. "Science is good if we use it wisely for the benefit of the people," he added.
Scientists Discover Key Genes and Proteins Plants Use to Redirect Nitrogen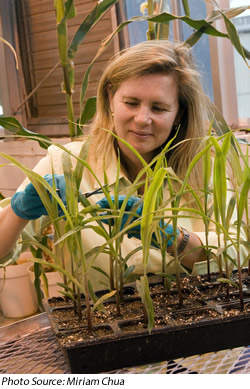 Agricultural Research Service (ARS) scientists have identified networks of genes and gene regulators that allow plants to direct nitrogen to different parts. Scientists have known that plants actively redirect nitrogen to their different parts, especially when the amount of nitrogen available in the soil is limited. But they have not identified the actual genes and proteins that add up to a plant-wide nitrogen regulatory system.
Researchers Develop a Tool to Predict Off-target Editing by CRISPR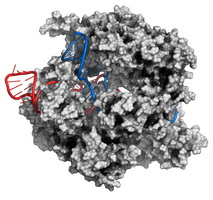 A successfully designed CRISPR gene editing system is one with a minimal presence of "off-target mutations," or modifications of DNA outside the target DNA sequence. Computational tools used by researchers to detect off-targets for a specific targeting sequence largely rely on the accurate scoring of the presence of these off-targets. Thus, researcher Jan Gorodkin from University of Copenhagen in Denmark and colleagues designed a tool called CRISPRoff, which uses energy parameters for the binding of RNA-RNA, DNA-DNA, and RNA-DNA to detect off-targets. The researchers compared the developed tool with other tools presently available and found that CRISPRoff has the highest true positive rates and the lowest false-positive rates among the programs. The findings in the study not only allow more accurate off-target prediction, but also open doors in studying binding energies further, as these have major impact in off-target mechanisms.

A biweekly update on gene editing research, regulations, and impact
produced by ISAAA Inc.

A monthly update on gene drive research and development provided by ISAAA in collaboration with the Outreach Network for Gene Drive Research
Biotech Updates is a weekly newsletter of ISAAA, a not-for-profit organization. It is distributed for free to over 22,000 subscribers worldwide to inform them about the key developments in biosciences, especially in biotechnology. Your support will help us in our mission to feed the world with knowledge. You can help by donating as little as $10.