Stakeholders in Mindanao, Philippines Educated on Local Biotechnology
July 6, 2012
Media practitioners, university professors and students from various areas in the island group of Mindanao, Philippines learned the status, development, and experiences in biotech from experts during the Scientific Forum on Biotechnology for Communicators last June 28, 2012 in Davao City, Philippines.
Chair of the Department of Agriculture's (DA) Biotechnology Program Office Dr. Candida Adalla shared business opportunities that can be gleaned from biotechnology and the efforts and support of the government in developing agricultural businesses. Dr. Adalla also clarified the DA's stand on issues raised regarding Bt eggplant, saying that the DA upholds and respects farmers' choice and national biosafety policies, hence their non-opposition to the field trials.
Biotech communication experts also shared their experiences and challenges in the local biotech debate. Ms. Jenny Panopio of the Southeast Asian Regional Center for Graduate Study and Research in Agriculture Biotechnology Information Center (SEARCA BIC) stressed the importance of knowing and connecting with the right people, particularly scientists and experts, as sources on biotechnology. Mr. Joel Paredes, Program Director of the Biotechnology for Life Media and Advocacy Resource Center (BMARC), gave insights on challenges in communicating biotechnology and highlighted the important role of the media in such field. In Mindanao, the Philippine Information Agency (PIA) has been conducting biotech education efforts with various stakeholders for more than a decade already, said PIA Regional Director for Davao Region XI Efren Elbanbuena.
In his keynote address, S&T and environmental advocate Congressman Angelo Palmones explained that biotechnology can certainly help in food security through improving crop quality, and enhancing balance in the ecosystem. He informed that House Bill 844 or the Bioindustry Development Act is being advanced by his office to promote the growth of a biotechnology industry in the country and address relevant challenges in national S&T. The forum was organized by the Biotechnology Coalition of the Philippines, BMARC, and the PIA - Davao Region XI.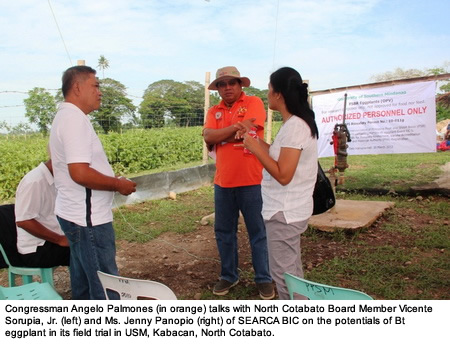 For more information about biotechnology in the Philippines, visit http://www.bic.searca.org or e-mail bic@agri.searca.org.
Biotech Updates is a weekly newsletter of ISAAA, a not-for-profit organization. It is distributed for free to over 22,000 subscribers worldwide to inform them about the key developments in biosciences, especially in biotechnology. Your support will help us in our mission to feed the world with knowledge. You can help by donating as little as $10.