Coffman Receives 2011 Mentoring Award
November 11, 2011
Dr. Ronnie Coffman, director of International Programs at Cornell and international professor of plant breeding and genetics, and board member of the International Service for the Acquisition of Agri-biotech Applications (ISAAA) received the 2011 Mentoring Award from the Women in Agronomy, Crops, Soil and Environmental Sciences (WACSES).
"Supporting young women and men based on their ability, as opposed to their gender, is clearly the right thing to do," Coffman said. "I have never felt that I did anything special in supporting women. The truth of the matter is that I have derived most of the benefit by associating with outstanding people." Coffman was cited for "enhancing the careers of many women scientists in agriculture and plant breeding; for making a remarkable difference at pivotal points in many women's careers around the world due to his advocacy, humility, and encouragement; and for recognizing the importance of gender equity when working toward a food-secure world."
Coffman received the award during the 2011 annual meeting of the American Society of Agronomy (ASA), Crop Science Society of America (CSSA), and Soil Science Society of America (SSSA) in San Antonio, Texas, on October 18, 2011.
At Cornell, Coffman has served as the director of International Programs for 10 years, chair of the Department of Plant Breeding for a total of 12 years, and associate Dean for Research for eight years. He received his B.S. and M.S. from the University of Kentucky, in 1965 and 1967, respectively, and his Ph.D. from Cornell in 1971.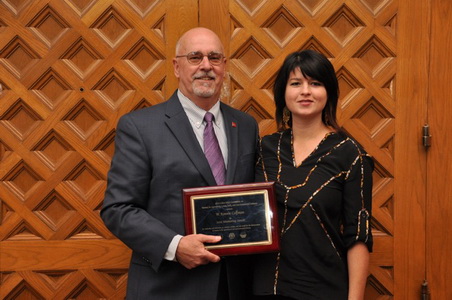 For more information about the Award email Linda McCandless of Cornell at llm3@cornell.edu
Biotech Updates is a weekly newsletter of ISAAA, a not-for-profit organization. It is distributed for free to over 22,000 subscribers worldwide to inform them about the key developments in biosciences, especially in biotechnology. Your support will help us in our mission to feed the world with knowledge. You can help by donating as little as $10.