Indonesian Farmers Learn Biotech Crop Adoption in the Philippines
September 23, 2011
Indonesian farmers learned the basic science, regulation, and issues and concerns related to biotechnology during the five day Farmer to Farmer Workshop: Agricultural Biotechnology Outreach and Capacity Building at the New World Hotel, Makati City, Philippines on September 19-23, 2011. Knowledge on biotechnology were shared by various scientists and experts from the Philippines including the proponents of the fruit and shoot borer resistant Bt eggplant, the delayed ripening virus resistant papaya, and the vitamin A-enriched Golden Rice in the Philippines.
The activity provided an avenue for the farmers to network with key stakeholders in the region. In addition, Filipino biotech corn farmers shared their first-hand experiences to the Indonesians. The workshop also included study visits to a seed processing plant and biotech corn farms in Pangasinan and Pampanga, as well as to laboratories and screen house trials in the International Rice Research Institute (IRRI) in Laguna; the farmers were able to see drought tolerant rice as well as the Golden Rice.
Dr. Gil C. Saguiguit, Director of the SEAMEO Southeast Asian Regional Center on Graduate Study and Research in Agriculture (SEARCA), in his opening message, highlighted the importance of educating the farmers about agri-biotechnology as they are the end users. Dr. Randy Hautea, Director of the International Service for the Acquisition of Agri-biotech Applications (ISAAA) said that he hoped the farmer participants would be teachers of biotech to other farmers in Indonesia.
The Indonesian farmers were delighted of the new learnings they acquired as they expressed their support of biotechnology. They unanimously agreed to endorse the technology to the government.
The Workshop was co-organized by ISAAA, SEARCA – Biotechnology Information Center (SEARCA BIC), and the United States Department of Agriculture Foreign Agricultural Service (USDA FAS).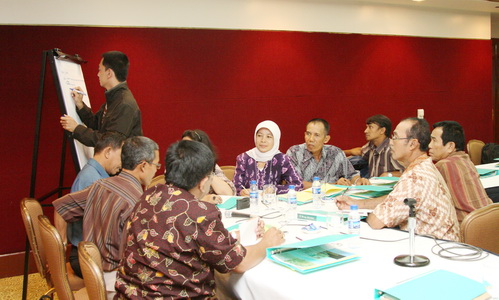 For more details about the workshop, visit SEARCA BIC's website http://www.bic.searca.org or e-mail bic@agri.searca.org.
Biotech Updates is a weekly newsletter of ISAAA, a not-for-profit organization. It is distributed for free to over 22,000 subscribers worldwide to inform them about the key developments in biosciences, especially in biotechnology. Your support will help us in our mission to feed the world with knowledge. You can help by donating as little as $10.