Bangladesh Government Supports Biotech R&D
January 21, 2011
The Bangladesh government is focused on making the country self sufficient in food production. It is doing this initially through the introduction of hybrid technology. Permission has been granted to introduce fruit and shoot borer resistant eggplant, late blight resistant potato and golden rice which are now in contained and confined field trials. Agriculture Minister Begum Matia Chowdhury gave these remarks during the 6th International Plant Tissue Culture and Biotechnology Conference with the theme "Role of biotechnology in food security and climate change."
The minister also mentioned that "we should not ignore the potential of the new GM technology for producing stress tolerant crop varieties." She said that the government has already developed biosafety guidelines and other enabling stringent regulatory mechanisms to avoid untoward health and environmental problems.
Bangladesh Association for Plant Tissue Culture and Biotechnology in collaboration with the Dhaka University, Bangladesh Agricultural Research Council (BARC), Ministry of Science and Information and Communication Technology, and the National Institute of Biotechnology (NIB) organized the event.
Some 35 foreign participants from India, Pakistan, Nepal, Malaysia, U.S., and Germany and about 200 local stakeholders attended the conference. Nine scientific sessions were on the following topics: large scale production of different economically important crops through in vitro techniques; conservation of biodiversity through biotechnology; biosafety and public acceptance of GM plant; use of molecular markers in crop improvement; development of plants resistant to biotic stress; functional genomics and proteomics; biotechnology in waste management; plant genetic transformation and progress; and prospect of commercialization of in vitro derived plants and value-added products.
Dr. Wais Kabir, executive chairman, Bangladesh Agricultural Research Center (BARC), mentioned that initiatives are being done to develop guidelines for the confined field trials of genetically engineered (GE) plants, standard operating procedures (SOPs) for confined field trials of GE plants, inspector's manual for confined field trials of GE plants, and guidelines for the safety assessment of foods derived from GE plants. Science Secretary Md. Abdur Rob Howlader stressed that support will be given to biotech research and development (R&D). He added that the government will establish a Biotechnology Cell under the Ministry. Biotechnologists will get more fellowships and opportunities to do R&D.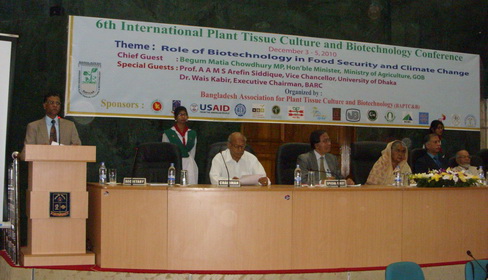 For more news on biotech in Bangladesh email Dr. Khondoker Nasiruddin of the Bangladesh Biotechnology Information Center at nasirbiotech@yahoo.com.
The Crop Biotech Update is a weekly newsletter of ISAAA, a non-for-profit organization. The CBU is distributed for free to over 23,000 subscribers worldwide to inform them about the key developments in biosciences, especially in agricultural biotechnology. Your support will help us in our mission to feed the world with knowledge. You can help by donating as little as $10.
See more articles:

News from Around the World

Research Highlights

Announcements

Resources


Subscribe to CBU: