U.S. FDA Approves Arctic® Fuji Apple
May 2, 2019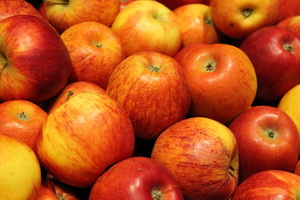 The United States Food and Drug Authority (FDA) has completed its voluntary review on the Arctic® Fuji Apple, according to Okanagan Specialty Fruit Inc. (OSF). OSF received FDA's notice of review completion on April 26, 2019. They said that this is the last step in the regulatory process that the Arctic® Fuji needs to officially join the commercial orchards, along with Arctic® Golden and Arctic® Granny apples which were previously approved in 2015.
Arctic® apples are known for their non-browning feature, which is a result of genetic engineering. To summarize, the apple's enzyme responsible for browning were turned off. This means that the Arctic® apple's flesh does not become brown from getting bruised, sliced or bitten which protects the apple's flavor and nutritional value and, at the same time, makes it more appealing to consumers. More appealing apples are less likely to be thrown away, thus reducing food waste significantly.
See OSF's press release to find out more.
Biotech Updates is a weekly newsletter of ISAAA, a not-for-profit organization. It is distributed for free to over 22,000 subscribers worldwide to inform them about the key developments in biosciences, especially in biotechnology. Your support will help us in our mission to feed the world with knowledge. You can help by donating as little as $10.