Isabela Governor: "Golden Rice is a Responsible Research"
February 27, 2019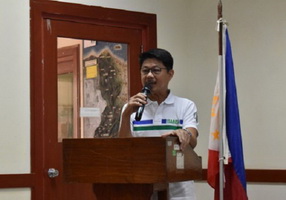 At the public dialogue held in Isabela Province, Philippines on February 11, 2019, Governor Faustino Dy III commended the Golden Rice Project for securing all the necessary requirements first before conducting field-testing, and for initiating dialogues among researchers, policymakers, and the public.
"We can see that the researchers behind the Golden Rice Project are really responsible for complying with all the requirements before they proceed to the actual field trial. Hence, let us give them the benefit of the doubt that they are doing this project for the sake of the greater number of people in our community," said Governor Dy.
During the open forum, Governor Dy emphasized how research helps the national government achieve its goal of achieving food security in the country. He assured the public that the local government units of Isabela prioritize the safety of their citizens. He also encouraged farmers' groups to continue monitoring the project to ensure the security of rice consumers.
For more details, read the news release from PhilRice.
The Crop Biotech Update is a weekly newsletter of ISAAA, a non-for-profit organization. The CBU is distributed for free to over 23,000 subscribers worldwide to inform them about the key developments in biosciences, especially in agricultural biotechnology. Your support will help us in our mission to feed the world with knowledge. You can help by donating as little as $10.