Biotech Cotton in Pakistan Reached Highest Adoption in 2017
December 12, 2018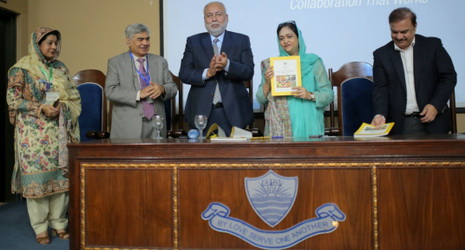 Biotech cotton area in Pakistan reached an all-time high of 3 million hectares in 2017, which is equal to 96% of total cotton production in the country. This was highlighted by Pakistan Biotechnology Information Center Lahore Chapter during the launch ISAAA Brief 53: Global Status of Commercialized Biotech/GM Crops in 2017. The report launch was held on November 27, 2018 at the two-day workshop on Plant Biotechnology for Food Security held at Forman Christian College, Lahore. Over 150 participants attended the event, including researchers, representatives from the private industry, regulatory body, different universities, farmers associations, media agencies; and biotech students.
Chief Guest for the session was Ms. Farzana Altaf Shah, Director General of Pakistan's Environmental Protection Agency. She talked about the efforts that ISAAA has been putting in to ease out the adoption of technology for the resource-poor farmers of developing countries. Dr. Kauser A. Malik, Director of PABIC Lahore chapter also emphasized on the need and importance of biotechnology in the country and what wonders can be achieved with it. Ms. Ayesha Aslam, Manager PABIC Lahore Chapter presented the highlights of the brief and explained Pakistan's position in the top 10 biotech countries.
For more details, send an e-mail to pabiclahorechapter@gmail.com.
Biotech Updates is a weekly newsletter of ISAAA, a not-for-profit organization. It is distributed for free to over 22,000 subscribers worldwide to inform them about the key developments in biosciences, especially in biotechnology. Your support will help us in our mission to feed the world with knowledge. You can help by donating as little as $10.