SEARCA BIC Organizes 3rd Agri-biotech Boot Camp for Senior High School Students
November 14, 2018
Eighteen senior high school students and their teachers from seven provinces (Laguna, Pampanga, Cagayan de Oro, Davao, Agusan del Norte, Iloilo, and Leyte) in the Philippines were selected to represent their respective schools at the Agri-biotech Boot Camp organized by the SEARCA Biotechnology Information Center (SEARCA BIC) on November 6-8, 2018.
For the first day of the boot camp, the participants were oriented on several topics such as edible landscaping; applications of biotechnology in crops and livestock; Simple Nutrient Addition Program (SNAP) Hydroponics; and SEARCA's initiatives in Farm Tourism and the School and Home Gardens Project. They also visited various research and development institutions in UP Los Baños on their second day. Their first stop was for a tour of UPLB's National Institute of Molecular Biology and Biotechnology. The participants then proceeded to the International Research Institute (IRRI), where they were introduced to IRRI's projects on rice varieties. Last on their itinerary was a visit to the UPLB Institute of Plant Breeding. Another highlight of Day 2 was the hands-on workshop session on DNA extraction using household chemicals. It sparked the interest of the participants as this was their first time performing the experiment.
On the third and last day of the Boot Camp, The UP League of Agricultural Biotechnology Students and the UP Genetic Researchers and Agricultural Innovators Society conducted interactive games which tested the participants' knowledge on agri-biotech and gave them a chance to bond with their teammates.
Lance Dominic Tria, a student from the Philippine Science High School - Southern Mindanao Campus spoke in behalf of the students. "I hope we can apply the lessons we learned here in whatever field we go into. Even if I don't end up pursuing an agriculture course in college, I hope that in whatever I take, I'll still be able to help the people working for agriculture because in the end, agriculture will not disappear and people will always need food," he said.
The agri-biotech boot camp, which is SEARCA BIC's build-up activity for the annual National Biotechnology Week, aims to create awareness of agriculture, introduce traditional technologies and biotechnology used in agriculture, and build interest among high school students and consider agriculture, specifically biotechnology, as a career.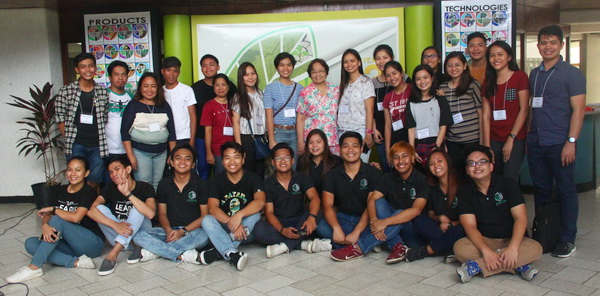 For more updates about biotech development in the Philippines, visit the SEARCA BIC website.
Biotech Updates is a weekly newsletter of ISAAA, a not-for-profit organization. It is distributed for free to over 22,000 subscribers worldwide to inform them about the key developments in biosciences, especially in biotechnology. Your support will help us in our mission to feed the world with knowledge. You can help by donating as little as $10.