HarvXtra® Alfalfa Trait Deregulated in Argentina
June 20, 2018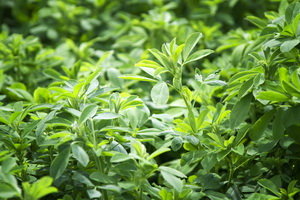 HarvXtra® Alfalfa, the forage industry's first genetically enhanced, reduced-lignin alfalfa trait, developed to maximize quality by reducing the amount of lignin in the plant, has been deregulated by authorities in Argentina, making it the third country to deregulate the product following the United States and Canada.
HarvXtra® Alfalfa gives farmers flexibility, as the amount of lignin in the alfalfa plant is modified beyond what is possible with conventional breeding. This gives farmers the ability to maintain harvest for higher-quality forage or delay harvest to maximize yield potential without sacrificing quality. Just as in the U.S., HarvXtra® Alfalfa will be sold in a trait stack with Roundup Ready® Technology. HarvXtra® Alfalfa with Roundup Ready® Technology will be offered to farmers in Argentina for planting in 2019.
For more details, read the news article from Forage Genetics.
The Crop Biotech Update is a weekly newsletter of ISAAA, a not-for-profit organization. The CBU is distributed for free to over 23,000 subscribers worldwide to inform them about the key developments in biosciences, especially in agricultural biotechnology. Your support will help us in our mission to feed the world with knowledge. You can help by donating as little as $10.
See more articles:

News from Around the World

Research Highlights

Plant Breeding Innovations

Announcements


Read the latest:


Subscribe to CBU: