CRISPR Editing Tested on Carotenoid Synthesis Genes in Tomato
May 30, 2018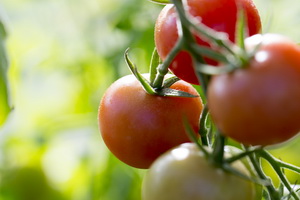 Carotenoids are plant secondary metabolites that are important in the diet of higher animals due to their functions in important physiological processes. The team of Caterina D'Ambrosio from Agenzia Lucana per lo Sviluppo e l'Innovazione in Agricoltura in Italy tested the efficacy of CRISPR-Cas9 in tomato by targeting two key genes of carotenoid biosynthesis, Psy1 and CrtR-b2.
Psy1 and CrtR-b2 were chosen as targets for CRISPR since their knockout is easily detectable. Two CRISPR-Cas9 constructs were designed to target each gene. Thirty-four out of forty-nine (69%) transformed plants showed the loss-of-function phenotypes due to the editing of both loci. However, by including plants edited only in either of the two loci, the genome-editing rate reached 84%.
These results prove that the CRISPR-Cas9 system can be an efficient and quick method for generating useful mutations in tomato for use in breeding programs.
For more information, read the article in Transgenic Research.
Biotech Updates is a weekly newsletter of ISAAA, a not-for-profit organization. It is distributed for free to over 22,000 subscribers worldwide to inform them about the key developments in biosciences, especially in biotechnology. Your support will help us in our mission to feed the world with knowledge. You can help by donating as little as $10.
See more articles:

News from Around the World

Research Highlights

Beyond Crop Biotech

Announcements

Resources

Plant


Read the latest:


Subscribe to BU: