Golden Rice Gets Approval from Health Canada
March 21, 2018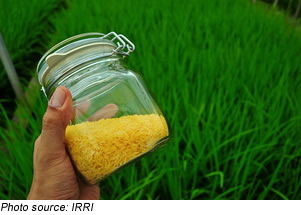 On March 16, 2018, Health Canada has notified the International Rice Research Institute (IRRI) that it has no objection to the food use of Provitamin A Biofortified Rice Event GR2E, more commonly known as Golden Rice. The decision coincides with the approval from Food Standards Australia New Zealand (FSANZ) in December 2017.
In their announcement, Health Canada said that "the changes made in this rice variety did not pose a greater risk to human health than rice varieties currently available on the Canadian market." In addition, Health Canada also concluded that GR2E would have no impact on allergies, and that there were no differences in the nutritional value of GR2E compared to other traditional rice varieties available for consumption except for increased levels of provitamin A.
Scientists with expertise in molecular biology, microbiology, toxicology, chemistry, and nutrition conducted a thorough analysis of the data and the protocols provided by IRRI to ensure the validity of the results. Health Canada conducted a comprehensive assessment of Golden Rice according to its Guidelines for the Safety Assessment of Novel Foods. Their approach in the safety assessment of GM foods is based upon scientific principles developed through expert international consultation over the last 20 years with agencies such as the World Health Organization (WHO), the Food and Agriculture Organization of the United Nations (FAO), and the Organization for Economic Co-operation and Development (OECD). This approach is also currently applied by regulatory agencies around the world in countries such as the European Union, Australia/New Zealand, Japan, and the United States.
For more details, read the decision announcement and technical summary in Health Canada's website.
Biotech Updates is a weekly newsletter of ISAAA, a not-for-profit organization. It is distributed for free to over 22,000 subscribers worldwide to inform them about the key developments in biosciences, especially in biotechnology. Your support will help us in our mission to feed the world with knowledge. You can help by donating as little as $10.