Plague-Resistant Tomatoes Developed through Genetic Engineering
February 7, 2018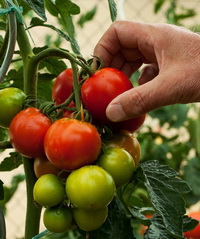 A study conducted by researchers at the Plant Molecular and Cellular Biology Institute (IBMCP), a joint venture of the Universitat Politècnica de València and the Spanish National Research Council (CSIC), reveals how genetically modified tomato plants have increased resistance towards Tuta absoluta insect plagues.
An estimated 40% of the worldwide annual crop production is lost to plagues and pathogens, and 13% to insects. Luis Cañas, researcher of the CSIC at the IBMCP, explains that "the miner insect Tuta absoluta has become one of the main plagues that threaten tomato plantations across the world, and without the appropriate management it can cause losses of between 80% and 100% of their production."
The researchers turned to genetic engineering to strengthen the tomato plant by giving it defensive genes such as the protease inhibitors in barley. A serine proteinase inhibitor (BTI-CMe) and a cysteine proteinase inhibitor (Hv-CPI2) were investigated, isolated from the barley plant, on the Tuta absoluta insect. Both inhibitors were tested separately, as well as together in transgenic tomato plants. The Tuta absoluta larvae which were fed the double transgenic plants showed noticeable weight loss, and only 56% of the larvae reached their adult stage. Those that reached their adult phase had wing deformities and fertility reduction.
For more details, read the news release at R&I World.
Biotech Updates is a weekly newsletter of ISAAA, a not-for-profit organization. It is distributed for free to over 22,000 subscribers worldwide to inform them about the key developments in biosciences, especially in biotechnology. Your support will help us in our mission to feed the world with knowledge. You can help by donating as little as $10.
See more articles:

News from Around the World

Research Highlights

Beyond Crop Biotech

Resources

Plant


Read the latest:


Subscribe to BU: