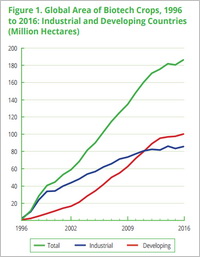 In 2016, the global area of biotech crops reached 185.1 million hectares, according to a research paper authored by Drs. Rhodora Aldemita and Randy Hautea of the International Service for the Acquisition of Agri-biotech Applications (ISAAA). The results of their study are published on February 2, 2018 in GM Crops and Food.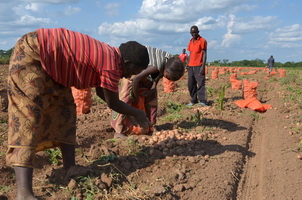 Biotechnology has been recognized as one of the tools to boost food security by several countries, however, some remain to be skeptical about adopting it. Rwanda is one of the latest countries that made actions towards legalizing GM crops. According to an official at the Rwanda Environment Management Authority (REMA), they have drafted a law regulating GM crops. Furthermore, Gérardine Mukeshimana, Minister for Agriculture and Animal Resources, expressed his support to adopt GM technology, saying it would help feed the growing population. "You can't forever stick to crops and methods of farming that our forefathers practiced in 1900," she said. Mukeshimana is a plant researcher and holds both a master's degree and PhD in plant breeding, genetics, and biotechnology from Michigan State University in the United States.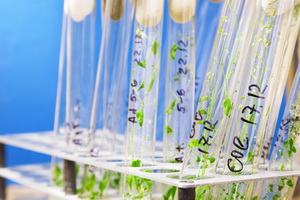 Glutamate:glyoxylate aminotransferase 1 (GGAT1) is a key enzyme in plants' photorespiration pathway. However, the mechanism of its regulation is unknown. With the generation of mutated ggat1 from the Col-0 genetic background, mutated ggat1 from the Ler genetic background should be useful in the study of GGAT1. However, the latter are not currently available.

A biweekly update on gene editing research, regulations, and impact
produced by ISAAA Inc.

A monthly update on gene drive research and development provided by ISAAA in collaboration with the Outreach Network for Gene Drive Research
Biotech Updates is a weekly newsletter of ISAAA, a not-for-profit organization. It is distributed for free to over 22,000 subscribers worldwide to inform them about the key developments in biosciences, especially in biotechnology. Your support will help us in our mission to feed the world with knowledge. You can help by donating as little as $10.