Vietnam Hosts Project Meeting for Advancement of Biofuel Crops in Asia
August 2, 2017
http://agi.gov.vn/vi/hop-tac-quoc-te/300/phat-trien-cay-trong-nhien-lieu-sinh-hoc-de-toi-uu-hoa-nang-suat-su-dung-dat-xau-thong-qua-chon-giong-dot-bien-va-cong-nghe-sinh-hoc
The Institute of Agricultural Genetics, in collaboration with the International Atomic Energy Agency (IAEA), held an IAEA/RAS5070-9003 Coordination Meeting to review the progress of the field trials within the framework of the project "Developing biofuel crops to optimize marginal land productivity through mutation breeding and related techniques (RCA)". The event was held from July 3 to 7, 2017 at the Bao Son Hotel, Hanoi, Vietnam.
With the increasing pressure on land resources and food security, the IAEA/RCA RAS/ 5070 project on "Biofuel Crop Development" began in 2014 to support member countries in breeding and development of biofuel crops. The project involves 16 RCA member countries including Bangladesh, China, India, Indonesia, Korea, Malaysia, Myanmar, Nepal, Pakistan, Philippines, Sri Lanka, Mongolia, Thailand, Cambodia, Laos, and Vietnam.
Thirty participants representing the 16 countries attended the workshop. During the seminar, Dr. Fatma Sarsu, IAEA expert on Plant Breeding and Genetic Section, presented the impacts of mutation breeding and biotechnology in relatioin to food security. Dr. Mohammad Zaman, IAEA expert on Soil, Water and Plant Nutrition, IAEA shared the challenges, issues in food security and the role of isotopic and nuclear technologies.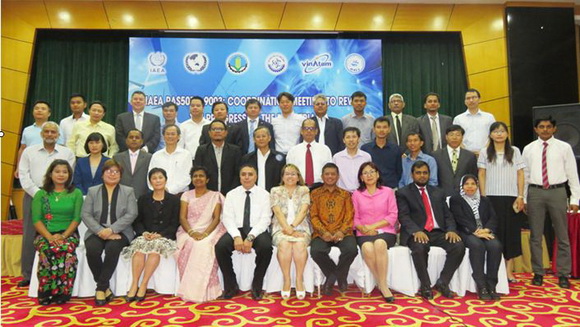 Participants of the event discussed several issues including the current status of plant breeding and soil and water management practices on marginal land, the roles of nuclear and isotopic techniques in the project, gaps and needs for the application of soil and water management techniques for developing bioenergy crops, and the recommendations and proposals for the next activities for the RAS/5070 project.
The Crop Biotech Update is a weekly newsletter of ISAAA, a non-for-profit organization. The CBU is distributed for free to over 23,000 subscribers worldwide to inform them about the key developments in biosciences, especially in agricultural biotechnology. Your support will help us in our mission to feed the world with knowledge. You can help by donating as little as $10.
See more articles:

News from Around the World

Research Highlights

Plant Breeding Innovations

Beyond Crop Biotech

From the BICs

Announcements


Subscribe to CBU: