Princess Anne Says Ruling Out GM Crops Not Practical
March 29, 2017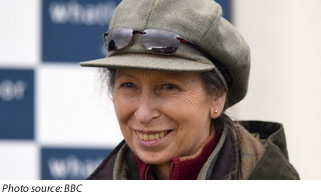 In an interview on BBC Radio 4's Farming Today aired on March 23, 2017, Great Britain's Princess Anne has said genetically modified (GM) crops have important benefits for providing food and she would be open to growing them on her own land. She said "we have to accept" the process could help production and livestock health.
Speaking from Buckingham Palace, the Princess Royal said she saw no problem with modifying crops if it improved their ability to grow. "Gene technology has got real benefits to offer," she said, and added that she would be happy to use GM for crops and livestock on her own farming estate. Princess Anne also said, "To say we mustn't go there 'just in case' is probably not a practical argument." Her brother, Prince Charles has long opposed GM crops and warned that the technology could cause an environmental disaster.
In the interview, Princess Anne told Farming Today that "GM is one of those things that divides people." She said, "Surely, if we're going to be better at producing food of the right value, then we have to accept that genetic technology... is going to be part of that." She also discussed biofuels, the use of science in farming and what kind of subsidies could help farmers in the future.
Read more about the Princess Royal's interview at BBC News. To listen to the interview, visit BBC Radio 4's Farming Today.
Biotech Updates is a weekly newsletter of ISAAA, a not-for-profit organization. It is distributed for free to over 22,000 subscribers worldwide to inform them about the key developments in biosciences, especially in biotechnology. Your support will help us in our mission to feed the world with knowledge. You can help by donating as little as $10.