Americans Divided Over Food Science
December 7, 2016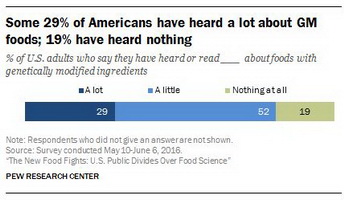 A new survey conducted by the Pew Research Center finds that U.S. public opinion is divided over how people assess the health effects of organic and genetically modified (GM) foods.
Drawn from a nationally representative panel of 1,480 randomly selected U.S. adults living in households, the survey found that half of Americans (48%) say GM foods are no different than other foods, 39% say GM foods are worse for one's health, and 10% say such foods are better for one's health. However, 55% of U.S. adults believe organically grown produce is healthier than conventionally grown varieties.
The new survey also found that 16% of U.S. adults say they care a great deal about the issue of GM foods, 37% care some about the issue, 31% do not care too much, and 15% do not care at all about the GM foods issue.
Three-in-ten (30%) Americans say research on GM foods is often based on the best available evidence. Public trust in information about the health effects of GM foods is higher for scientists than it is for food industry leaders, the media, and elected officials.
For more details, read the full report at the Pew Research Center website.
Biotech Updates is a weekly newsletter of ISAAA, a not-for-profit organization. It is distributed for free to over 22,000 subscribers worldwide to inform them about the key developments in biosciences, especially in biotechnology. Your support will help us in our mission to feed the world with knowledge. You can help by donating as little as $10.