Researchers Discover Microbes Use Plant Hormones to Protect Plants
March 23, 2016
Researchers from the Department of Plant and Environmental Sciences at the University of Copenhagen have shown, for the first time, that the production of a plant hormone by a beneficial microbe is protecting a plant from a pathogenic microbe by inducing plant resistance.
Plant beneficial microbes mediate biocontrol of diseases by interfering with pathogens or via strengthening the host, but the microorganisms' production of phytohormones, including cytokinins, has not been considered as a biocontrol mechanism before. The research team has now identified a novel mechanism of how bacterial production of cytokinin contributes to its ability to control plant diseases. According to Dominik Kilian Grosskinsky from the Department of Plant and Environmental Sciences, they have identified the ability of a bacterium to efficiently control a pathogen infection in a model plant by producing cytokinin, allowing the plant to maintain tissue integrity and ultimately biomass yield. The group has also shown the close link of the plant growth stimulating hormones to regulation of plant carbohydrate metabolism, and they linked the findings to the microbial activity related green islands in autumn leaves.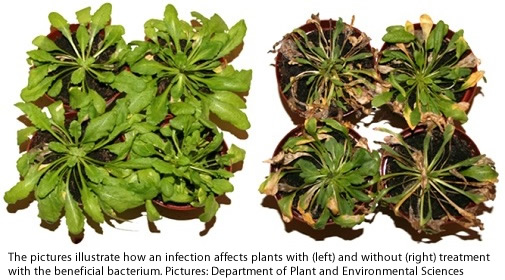 More details are available at the University of Copenhagen website.
The Crop Biotech Update is a weekly newsletter of ISAAA, a not-for-profit organization. The CBU is distributed for free to over 23,000 subscribers worldwide to inform them about the key developments in biosciences, especially in agricultural biotechnology. Your support will help us in our mission to feed the world with knowledge. You can help by donating as little as $10.
See more articles:

News from Around the World

Research Highlights

Beyond Crop Biotech

Announcements


Read the latest:


Subscribe to CBU: