Brassica ERD4 Gene Enhances Growth, Salt and Drought Tolerance in Arabidopsis
February 24, 2016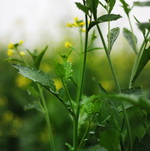 Early responsive to dehydration (ERD) genes are a group of plant genes with roles in plant stress tolerance and development. The research team led by Archana N. Rai of the Bhabha Atomic Research Centre in India isolated and characterized a Brassica juncea 'ERD' gene (BjERD4) which encodes a novel RNA binding protein.
Expression patterns of ERD4 were analyzed under different stress conditions and showed that the gene was upregulated under dehydration, sodium chloride, low temperature, heat, abscisic acid and salicylic acid treatments. The BjERD4 was found to be localized in the chloroplasts. To study the function, transgenic Arabidopsis plants were generated and analyzed for various parameters. The transgenic lines overexpressing BjERD4 showed significant increase in the number of leaves with more leaf area and larger siliques compared to wild types, while RNAi transgenics with knockdown ERD4 showed reduced leaf number, leaf area, dwarf phenotype and delayed seed germination.
Transgenic Arabidopsis overexpressing BjERD4 also exhibited enhanced tolerance to dehydration and salt stresses, while the knockdown lines were susceptible as compared to wild type plants under similar stress conditions.The overall results show that the BjERD4 is involved in abiotic stress tolerance besides offering new clues about the possible roles of ERD4 in plant growth and development.
For more information, read the full article on Plant Molecular Biology.
Biotech Updates is a weekly newsletter of ISAAA, a not-for-profit organization. It is distributed for free to over 22,000 subscribers worldwide to inform them about the key developments in biosciences, especially in biotechnology. Your support will help us in our mission to feed the world with knowledge. You can help by donating as little as $10.
See more articles:

News from Around the World

Research Highlights

Beyond Crop Biotech

From the BICs

Announcements


Read the latest:


Subscribe to BU: