New Genetic Advancements in Wheat Aimed Towards Enhancing Yield
February 24, 2016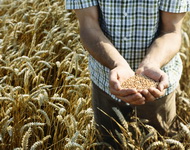 Researchers from Texas A&M AgriLife Research Dr. Shuyu Liu are about to close the knowledge gap on the location of key traits in the wheat genome and how to access them. The study included three wheat populations from two popular AgriLife Research cultivars, TAM 111 and TAM 112, and other diverse wheat crops.
Single nucleotide polymorphisms (SNPs) are the most common type of genetic variation in plants, animals, or humans, and such variations are found throughout the wheat genome, acting as biological markers. An array chip with 90,000 SNP markers was developed by the international wheat community, and has become a common genetic marker method used by wheat breeders and geneticists. Of the 90,000 markers, only about 40,000 of them had been mapped onto chromosomes, according to Liu. The AgriLife study has confirmed that 13,000 previously mapped SNPs in their three wheat population crosses, and newly mapped 2,190 unique SNPs. The 15,000 SNPs they have confirmed are being used to study complex traits such as yield, yield components and heat tolerance, as well as disease and insect resistance controlled by single dominant genes.
For more details, read the news release at the Texas A&M AgriLife Research website.
Biotech Updates is a weekly newsletter of ISAAA, a not-for-profit organization. It is distributed for free to over 22,000 subscribers worldwide to inform them about the key developments in biosciences, especially in biotechnology. Your support will help us in our mission to feed the world with knowledge. You can help by donating as little as $10.
See more articles:

News from Around the World

Research Highlights

Beyond Crop Biotech

From the BICs

Announcements


Read the latest:


Subscribe to BU: