Zambia National Biosafety Authority Launched
December 16, 2015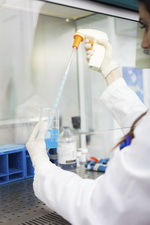 The Zambian government has launched the National Biosafety Authority (NBA), whose core business is to regulate genetically modified organisms (GMOs) or products of GMOs in the country. The launch that took place on November 26, 2015 at Radisson Blu Hotel, in Lusaka was officiated by the Minister of Higher Education, Dr. Michael Kaingu who said that the National Biosafety Authority is now fully functional in order to ensure that Zambia benefits from the safe application and use of modern biotechnology.
"Safety will now be ensured in the development, use and handling of all gene modification technologies and products thereof because the NBA has put in place a system for notification and handling applications for permits and other key matters of biosafety," Dr. Kaingu said. During a parliamentary meeting held on December 2, 2015, members of parliament were informed by Hon. Dr. Michael Kaingu, that the Authority will oversee GM crop research. "We are now on a clear path for the development of biotechnology. Our scientists are hard working to regulate and develop genetically modified crops, and we now have the capacity to regulate them," said Dr. Kaingu.
He informed parliament that his ministry in collaboration with the ministry of agriculture, livestock and fisheries has been working hand in hand to put in place a biosafety framework and policy. The minister indicated that other ministries involved in biotechnology and biosafety policy formulation included the ministries of health, lands, natural resources and environmental protection as well as the ministry of local government and housing.
For more information on the Zambian National Biosafety Authority, contact Doris Musondaat dorismusonda@gmail.com.
Biotech Updates is a weekly newsletter of ISAAA, a not-for-profit organization. It is distributed for free to over 22,000 subscribers worldwide to inform them about the key developments in biosciences, especially in biotechnology. Your support will help us in our mission to feed the world with knowledge. You can help by donating as little as $10.