Scientists Sequence Walnut Genome
December 16, 2015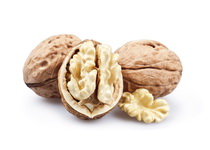 Scientists at the University of California, Davis have sequenced the genome of a commercial walnut variety, Chandler, the first reference genome sequence for a nut crop. The information will help accelerate the rate of breeding and variety improvement in walnuts and help breeders select for desired traits such as insect and disease resistance, and drought tolerance.
California produces 99 percent of U.S. commercial walnuts, which are the state's fourth largest agricultural export. Chandler was used for the sequencing project because it is the leading variety of walnut in California.
The walnut genome sequencing information is publicly available at the Walnut Genomics Implementation Group website.
For more information, read the news release from UC Davis.
Biotech Updates is a weekly newsletter of ISAAA, a not-for-profit organization. It is distributed for free to over 22,000 subscribers worldwide to inform them about the key developments in biosciences, especially in biotechnology. Your support will help us in our mission to feed the world with knowledge. You can help by donating as little as $10.